Ypsilanti is a hidden gem of a town. Too often overshadowed by its neighboring cities, Ypsilanti is worth repeat visits and is a beautiful place to call home. Further, the city is teeming with creativity and character. From farmers to artists to small business owners, the town draws a unique mix of interesting people. And yes, there's plenty to do! To help save you time on Google, we've put together a day-trip guide of what to do in Ypsilanti. We only have about 12-hours of daylight, so let's make the most of it. 
Okay, we're starting our day out in Ypsilanti early. Here we go! 
307 N River St, Ypsilanti, MI 48198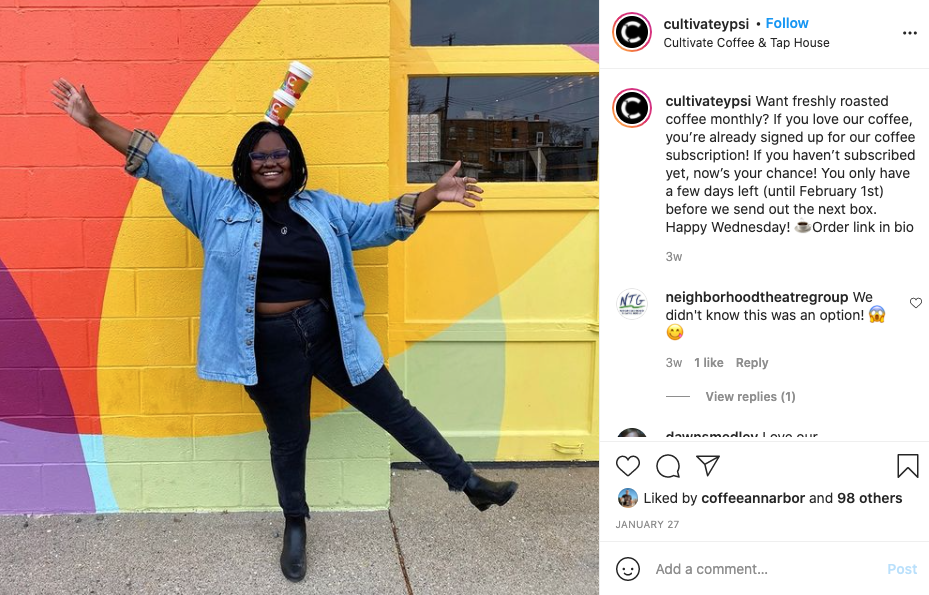 We have a full day of Ypsi fun planned, so best to get caffeinated. Luxuriate in a freshly brewed house drip coffee, latte, cappuccino, or different iteration of the bean. Cultivate aims "for round, juicy coffees with a balance of acidity and sweetness." That's right; the day is getting juicy, and the sun is still rising. Not a coffee fan? No worries, enjoy a cuppa tea or hot chocolate instead. 
And while morning might not be the best time for beer, we encourage those of legal age to try Cultivate's fermented creations. Perhaps head back here at the end of the day for a Cultivate Amber, the Taphouse's take on a red ale; a bready, semi-sweet delight. 
Like many small businesses in Ypsilanti, Cultivate is committed to the community it serves. Learn more about Cultivate's impact and partnerships. 
Are you feeling perky? Good! Now, you must be starving; let's get breakfast. 
20 N Washington St, Ypsilanti, MI 48197
The most important meal of the day! Load up on egg sandwiches and scrambles, french toast, bagels, and more at Beezy's Cafe. What draws eaters back again and again to Beezy's? The food is "simple and honest." Now, we don't mean simple as in boring or bland; oh no, we mean simple as in tried and tested ingredients and recipes prepared with mastery.
Beezy's offers a classic, approachable dish with its Breakfast Plate: scrambled eggs with two slices of applewood smoked bacon or two sausage links, homefries, and a slice of thick-cut toast with jam. Or, for something spicier, try the chorizo scramble: scrambled eggs with chorizo & cheddar, topped with avocado slices and a side of salsa fresca. 
Oh, and the French Toast? Enjoy two thick slices of wheat, raisin, or sourdough, battered in vanilla custard and griddled until golden; served with butter, real maple syrup, and a sprinkle of powdered sugar. You had us at "battered in vanilla custard." 
Okay, that was a hardy meal. Let's get some exercise.
Savor some nature at North Bay Park 
Take a breath. Put your phone in your pocket and embrace the scenery. Nature is there for those willing to be patient and look closely. Your reward? A heron fishing in the pond, a turtle warming in the sun, a cool breeze on your face. Moreover, you might even feel a sense of calm and connectedness.  
Isn't nature wonderful? Thankfully, Ypsilanti is home to many green areas and a short drive from metro and state parks. For the sake of keeping travel to a minimum, we suggest a walk in North Bay Park. This 139-acre lakefront park offers visitors plenty of trails, a boardwalk, and fishing. 
After that big breakfast, it didn't seem possible to eat again, yet here we are. It's time for lunch.
15 W Michigan Ave, Ypsilanti, MI 48197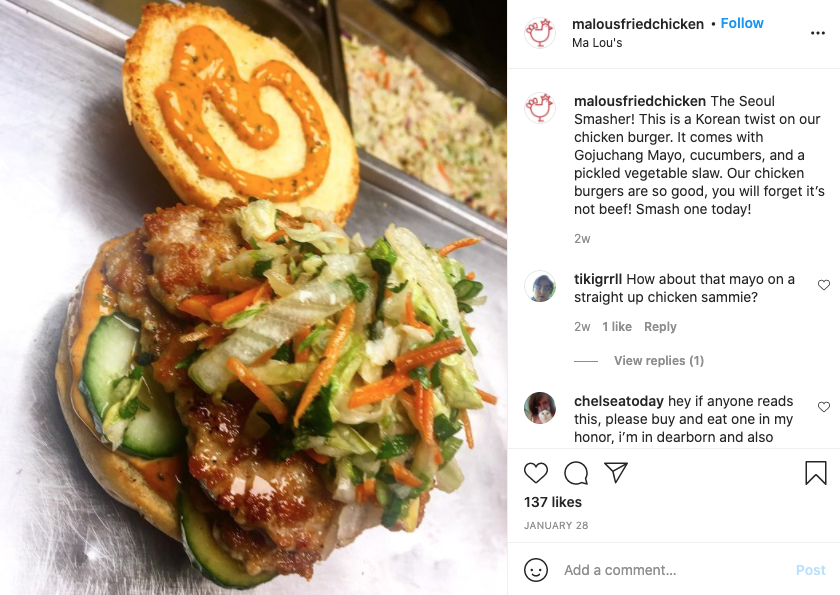 We hope that lovey walk also worked up an appetite because Ma Lou's is serving up a lunch you won't soon forget. Throw any healthy eating reservations aside and get lost in the spicy, crispy, moist bird. From sandwiches to wings to chicken and waffles, you'll have plenty of succulent options—for example, The Seoul Burger:  Chicken patties, gochujang-mayoili, cucumber, and pickled vegetable salad. 
Don't sleep on the sides. Complement your fried chicken with a serving of baked beans, sweet potato fries, or house potato salad. Moreover, finish your lunch with Ma Lou's Banana Pudding w/ nilla wafer crumb & whipped cream. 
Alright, we might need another walk or two after that meal. Read our list of the best nature hikes in Ypsilanti. 
Onward.
214 W Michigan Ave, Ypsilanti, MI 48197
Now that you've had lunch, it's time to feed your mind. Head to Black Stone Books on W Michigan Ave for some literature. 
There's something romantic about visiting a genuine bookstore. While it's convenient to order books on Amazon, and mega-chain bookstores are impressive to see, you just can't beat a local shop. Even if it's a relatively new bookstore (Black Stone started in 2013), you get a sense of history and community when visiting. Further, local bookstores serve a purpose beyond supplying literature. Neighborhood shops such as Black Stone offer a place to gather (that day will come again); they spark needed conversations and help define a town's character. 
According to its website, Black Stone Books aims "to be a place where journalists, writers, professors, students and bona fide lovers of African-American literature & culture will find a spot of solace in the heart. We host author readings, book clubs, and children's storytimes."
Need a book suggestion? Check out the Black Stone Books staff reading suggestions. 
Are you feeling thirsty? 
15 E Cross St, Ypsilanti, MI 48198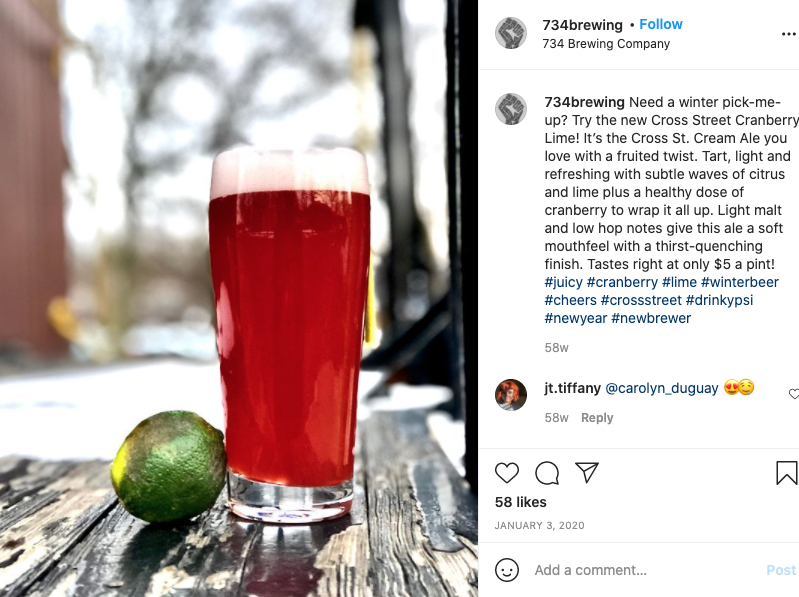 The number of breweries in Ypsilanti would be surprising if this were any other state than Michigan. Staying true to our state's expertise in all things hops and yeast, Ypsi's breweries serve up gratifying craft beers and ciders. Sadly, many breweries have struggled the past year due to COVID. Do your part by picking up a six-pack or growler from a local brewery—we suggest 734 Brewing Company. 
734 Brewing Company offers unpretentious, accessible, diverse, and delicious beers. According to its site, "734 Brewing Company was started by three locals who grew up in the multicultural, quirky town of Ypsilanti, MI. Proud to be from Ypsi, we want our beer to showcase what it means to be from such a great place."
You'll feel the Ypsi pride when you taste 734 Brewing's Cross St. Cream Ale. It's so good! 
Okay, don't have too many beers because we still need to get dinner. 
533 W Cross St, Ypsilanti, MI 48197
After fried chicken for lunch, we think a plant-based dinner is a good idea. We recommend the newly opened Gora's Grill. Opting for the "choose your destiny" type menu (think Chipotle), Gora's has many selections. Here's how it works: restaurant-goers choose one of four base options (burger bun, bowl, wrap, or beyond burger). Next, select your plant-based proteins (i.e., black beans). Finally, finish off your creation with your choice of sauce and toppings. 
If this sounds like too much work, try out one of Gora's classic combos. For example, you can't go wrong with The Bhisma, spinach wrap with rice, bird's nest protein (chickpeas, not birds), and Tzatziki. 
For a refreshing addition to your meal, wash it all down with Gora's Ginger Tonic. 
There's much more to explore in Ypsilanti
Well, that was fun. We hope our day-trip guide on what to do in Ypsilanti encourages you to return again and again. 
Finally, if you're planning on moving to Ypsilanti, check out our McKinley apartments.