Which do you think is more impressive: Santa's workshop or any of IKEA's 433 stores? That's tricky. We wouldn't be surprised to learn that Santa has directional arrows to help the elves stay organized. Further, Santa would benefit from IKEA's supply chain management expertise. And we can't imagine Santa turning down a warm cinnamon bun. Wait, is that Santa checking out a rattan armchair in the seating section? Well, if Santa is doing his shopping here, then let's help him out with our list of five holiday gift ideas from IKEA for apartment renters. 
Tomten is coming to town.
Before we get to our list of IKEA holiday gift ideas, we should mention that "Santa" isn't the right word in this context. In Sweden, they call the jolly, gift-giving man Jultomten, or simply "Tomten." We should also suggest putting your cookies out early because Tomten visits in the afternoon. A less clandestine decision, but at least he gets his eight hours. 
You might not recognize Tomten. While he has the iconic white beard, his appearance is more of a garden gnome. According to Nature Travels, "The Swedish image of Jultomten, a hybrid of St. Nicholas, 'Julbocken' (the Swedish Christmas goat) and a garden gnome, is said to have been created by Swedish artist and illustrator Jenny Nyström in the first half of the 20th century."  
If you're surprised Tomten visits in the afternoon, we should note that Swedes open their gifts on Christmas Eve once the sun goes down. Keep in mind this is a Nordic country, so that could be around two in the afternoon. 
Okay, let's get to our list of five holiday gift ideas from IKEA for apartment renters.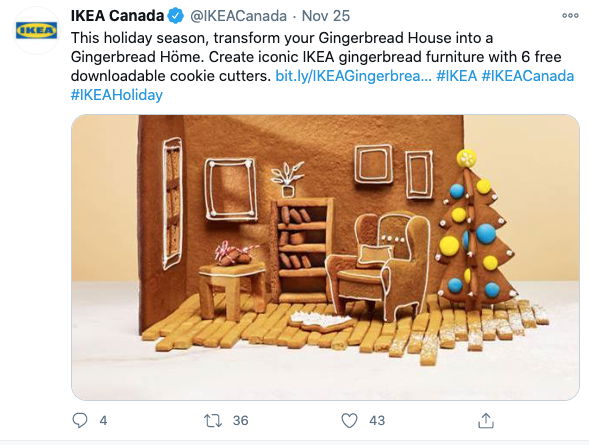 In the same way that your apartment is filled with sleek furniture with hard to pronounce Swedish names, your Gingerbread house will be too. In a deliciously brilliant holiday campaign, IKEA announced its new Gingerbread home. The kit comes with furniture-shaped cookie cutters that you can use along with these free printable assembly instructions. You can even add a rug! Moreover, if you get frustrated with the instructions, you can eat your creation and feel better about yourself. Since most of us will spend the holidays quarantining in our apartments, this gift offers a fun activity that someone can do on their own or with a roommate—remember to share your creation on social media (#IKEAHoliday)
Unless you know your gift recipient very well, decorations are similar to buying clothes for someone. While you might think it's nice, they might not always share the same taste. Further, if you are going to gift a decoration, we suggest playing it safe with a charming and traditional item. IKEA's LED "cabin in the woods" table decoration ($14.99) is a great option. Conjure cozy fantasies of running away to a secluded cabin nestled among snow-covered pine trees. We can almost feel the warmth from the fireplace.
Since the decoration is battery operated, the recipient will be able to place it anywhere in their apartment. 
3 Anything That Helps With Storage 
Being smart with space is key to a comfortable apartment experience. Thankfully, IKEA has many stylish items that help with storage. From containers to hangers, there are options for every room of the apartment. For example, for a great gift under $50, you can't go wrong with the NISSAFORS utility cart ($36.99). Whether they want to fill it with books, towels, or use it as a mobile bar, NISSAFORS will be a welcomed addition to their apartment. 
Check out this list of the best organization products from IKEA. 
Give the gift of music with IKEA's portable and chic Bluetooth speaker ($59.99). This battery-operated speaker can last 8 to 10 hours of playtime. In other words, you can listen to "Feliz Navidad" 200 times in a row before changing the batteries. 
The ENEBY speaker's compact size is ideal for apartment living. And don't let its size fool you. The speaker produces a clear and powerful sound. Please remind the recipient to be considerate of their neighbors. 
Gift cards are a thoughtful way of saying, "I'm thinking of you, but confident you can choose a better gift than I could ever pick out." And there's nothing wrong with that! Many of IKEA's items come in various colors, fabrics, etc., so it's best to leave it to your recipient to decide what they want. Also, the apartment dweller can shop from the safety of their sofa thanks to the IKEA website. 
If you're self-conscious of only giving a gift card, pair it with a handwritten letter and a sweet or two from IKEA. The store has many delicious desserts, from raspberry-filled cookies to sweet and sour gummies. 
There are many holiday gift ideas at IKEA for the apartment renter on your list. We hope our list has given you a few good options. Oh, and if you see Tomten at IKEA, please tell him "Hallå" for us! 
Need more ideas? Check out our McKinley Living IKEA lists:
10 Best IKEA Items for Your Apartment Kitchen