One nice aspect of living in an apartment is that the compact size and lack of outdoor chores can make it easy to maintain. But the reduced size can also be difficult because apartments can get cluttered and disorganized pretty quickly.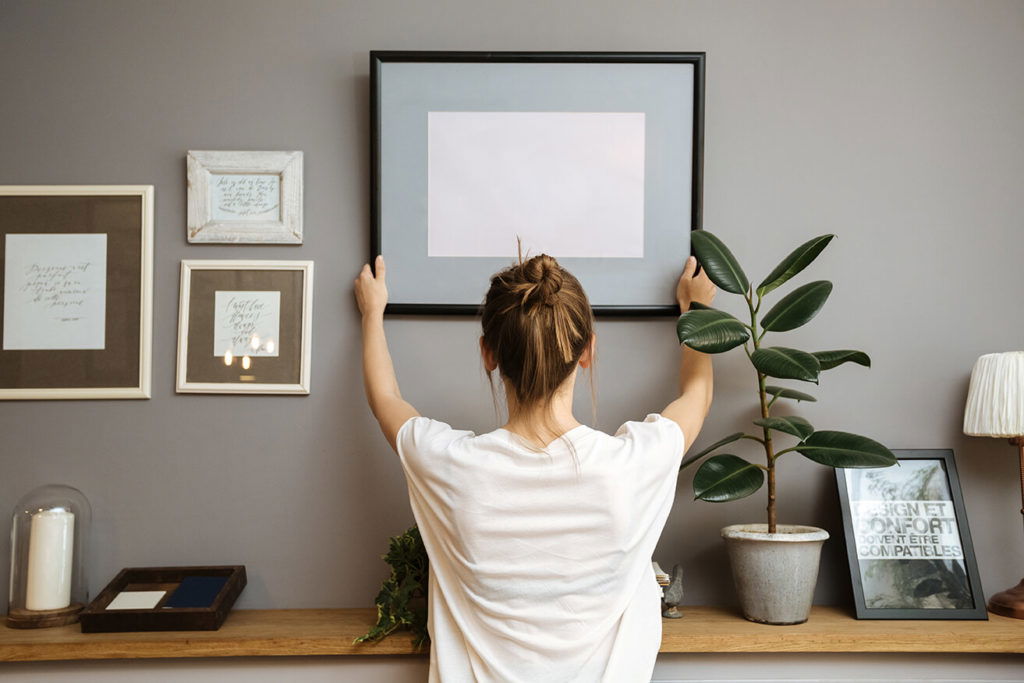 Stay on top of your humble abode with this declutter plan. These twelve tips will help keep your place clean over the long term:
Tip 1: Decluttering is best handled in small steps
Getting rid of clutter, even in a small apartment, is overwhelming. Experts recommend different systems for getting rid of clutter, but all the systems come down to one simple idea: the best approach is to break it into chunks. Whether you tackle one room at a time, get rid of 30 things in 30 days, or commit to working on it for 15 minutes a day, they all boil down to this same basic element. Choose the system that appeals to you and sounds most manageable and follow the rest of the tips here to implement it. In no time, you'll have a mess-free space that makes you proud.
Tip 2: Purge First
The best way to declutter is to get rid of stuff! Begin by looking for broken, ripped, expired, or other items that are no longer useful. Perhaps seek out old cosmetics or cleaning supplies and throw them away or recycle the empty containers. Next, identify items that you no longer need that are duplicates or still usable and put them aside in a pile to donate. Continue throughout the apartment until you have gotten rid of any easily identified items.
Tip 3: Use technology to limit physical belongings
For many people, items evoke powerful memories, and we struggle to part with them. Perhaps there are items that you don't want to keep, but you're afraid of losing the associated memory. Take a quick video of yourself holding the item and describing why it's important. Alternatively, write down the story and attach a photograph of it to the digital file. You can store thousands of stories with photos in a free service like Google Docs. Scan in old photos, recycle the originals and upload the digital file to Shutterfly, where every user has unlimited space, and your photos will never be deleted.
Tip 4: Multi-purpose living
Don't sacrifice space for a dedicated product if a multi-purpose one exists. For example, if you have framed photos scattered about the house, scan them onto a USB key that plays a slide show on your television. Or install a ceiling-mounted projector and retractable screen in place of a traditional TV. You could also get rid of bulky cable boxes by cutting the cord and signing up for a cloud-based DVR. Then incorporate Alexa Echo to control your entertainment system without five remotes on your coffee table.
Tip 5: Choose furniture with built-in storage
Invest in a few key pieces of furniture with storage potential. It's much simpler to keep junk out of your apartment when you have organization systems in place. Use a see-through bookcase with slots and shelves as a room divider, or a coffee table with drawers to hide magazines and remotes. Clean, sleek pieces of furniture with plenty of drawers and cabinet doors will help keep your apartment neat and tidy.

Tip 6: Use multi-functional furniture
Flexible furniture gives you the option to change the primary purpose of a room quickly. For instance, convertible seating that transforms to guest sleeping space or a Murphy bed that folds out of the way will help you make the most of a small space. If you live alone, opt for barstools instead of a full dining set to give you more space for an in-home office or crafting space.
Tip 7: Minimize visual clutter
The key to decorating a small space is to minimize visual clutter and maximize living space. Make smart design decisions with color, scale, and style to keep your small space looking neat and uncluttered. Use color instead of busy repeating patterns for textiles. Having one bright pop of color on a neutral background gives the eye a place to focus and eases the chaos. With fewer accessories, each one packs a punch.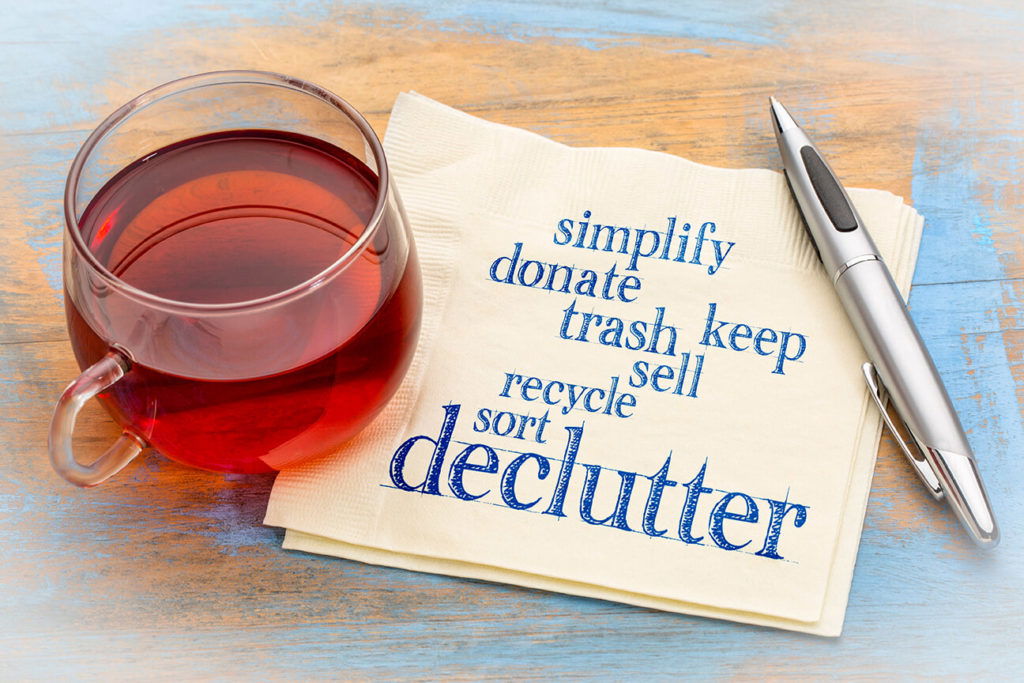 Tip 8: Organize
Maximize the amount of open space in your apartment, so things appear neat. That doesn't mean you need to do away with all of your keepsakes. Group like items into a cohesive collection that has an impact, or use baskets to keep functional items out of sight but within reach for everyday use.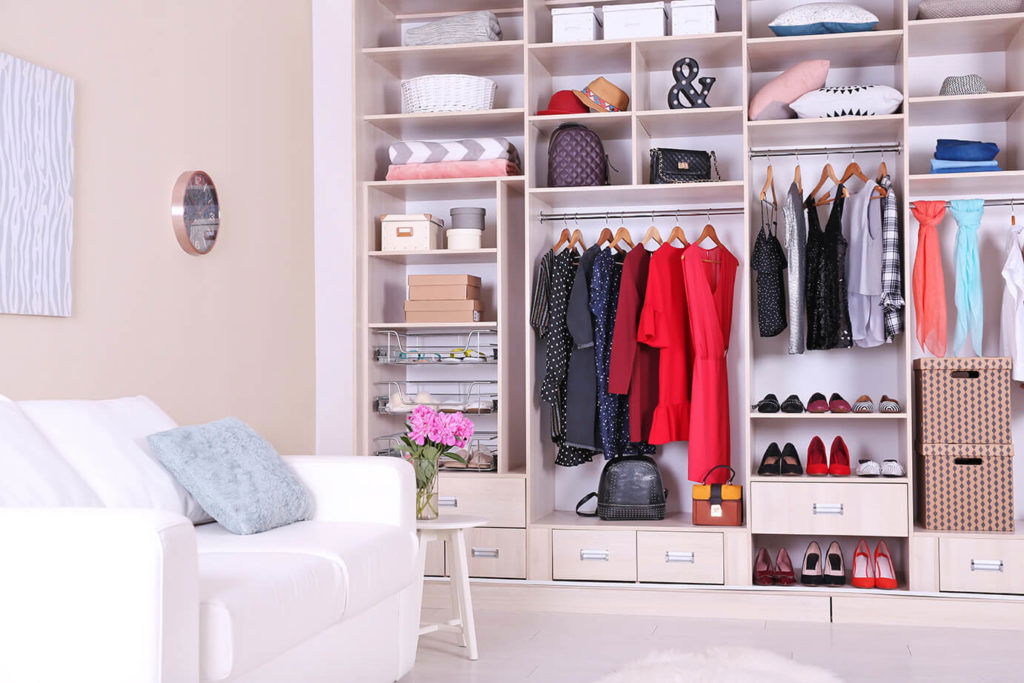 Tip 9: Leverage Vertical Space
Vertical space is essential to make the most out of any organizational system. Make the most of your vertical space by focusing on removing items from surfaces and floors. For example, use a pot rack in the kitchen to store pots and pans. Mount photos on the wall rather than setting them on tabletops. Hang up attractive serving bowls or antique measuring cups in a display so they serve as art pieces in between uses.
Tip 10: Prevent Future Clutter
Keep clutter from creeping back in by scheduling recurring chores on an app. The week after Memorial Day and Labor Day, go through your clothing and donate anything you haven't worn in a year. Check expiration dates on your condiments, cleaning products, toiletries, and makeup on the first day of each month and toss anything past its prime.
Tip 11: Prepare for ditching clothes later
Use a system like flipping your clothes hangers around on the rod or boxing old shirts for six months. At the end of the season, if you haven't pulled it out of the box or flipped the hanger back around because you haven't worn it, then it's time to let it go. Donate things you no longer need or upcycle them into keepsakes like a t-shirt blanket that will remain useful in a different way.
Tip 12: Put More Thought Behind New Purchases
When you live in a vibrant city that has chic shopping opportunities, it becomes a habit to purchase small trinkets that make you happy at the moment. When you're shopping, permit yourself to like an item without purchasing it. Pick it up, turn it over in your hands, or take a picture to share with your besties. Then set it down and walk away. You'll find yourself spending more on experiences than stuff. Eventually, you'll be more mindful when you're out and learn to appreciate window shopping just as much as purchasing.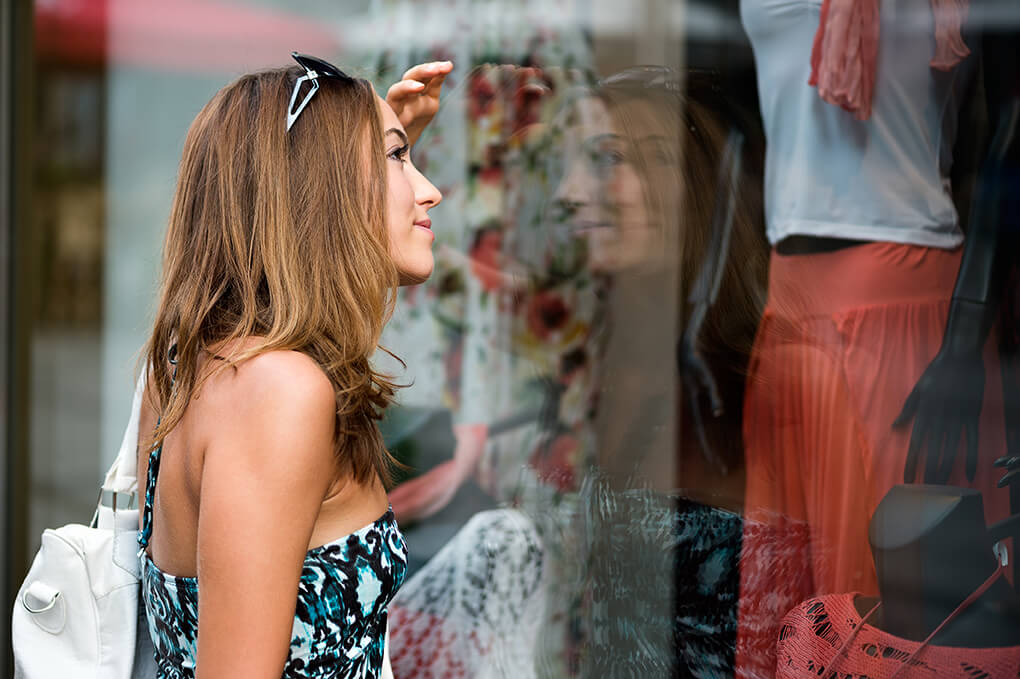 Conclusion
Start with a system that breaks the project into small chunks. Get rid of things that you no longer need, add some smart storage, and use patterns sparingly to create an efficient and organized space. Pat yourself on the back for your efforts and you'll have a neat, tidy, and easier to maintain space.

This guest post was brought to you by RENTCafe.com, a national apartment search websitethat enables you to find apartments and houses for rent directly from property managers.