Since students can't pull an all-nighter with green tea, many might consider Ann Arbor more of a coffee town. While that might be true, Ann Arbor is still an excellent destination for tea lovers. We've put together a list of the best spots for tea in Ann Arbor to help you out on your delicious journey. 
But first, a Quick Overview of Tea 
According to TeaUSA, Americans consumed over 84 billion servings of tea in 2019. To put that in context, that's over 3.8 billion gallons. 
Tea comes from the evergreen plant known as Camellia sinensis. From this plant, we enjoy white, green, oolong, and black teas. Four teas from the same plant? What separates the types of teas is the level of oxidation and processing the leaves receive. Black teas are fully oxidized, while white and green are not oxidized. Oolong is in the middle. 
Teas not made from the Camellia plant are considered herbal teas. Popular varieties include chamomile, rooibos, and peppermint. Iced tea is overwhelmingly popular in the US, but it's hard to beat a hot cup of tea in the cooler months. 
Okay, let's get to business. Here are the best places in Ann Arbor for tea. Cheers!
TeaHaus
204 N 4th Ave, Ann Arbor, MI 48104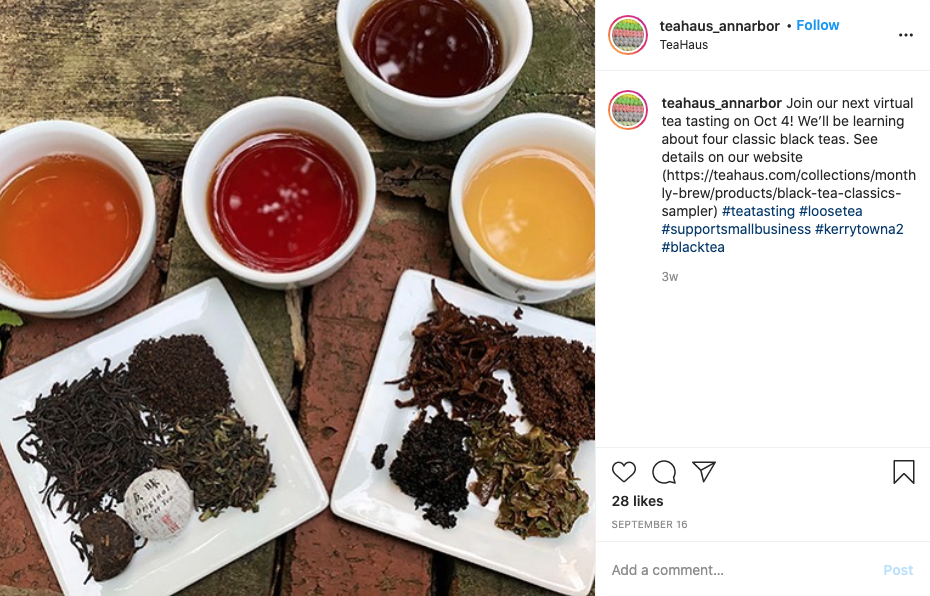 If you want tea done right, head to TeaHaus on 4th Avenue. High-standard loose-leaf tea is hard to come by, which is what makes TeaHaus' dedication to quality and detail so welcoming. 
Since distinctive tea types require different steeping times, you might have to wait an extra minute or two for your beverage, but trust us, it will be worth it. Also, there's a friendly staff to keep you company as you wait. 
Tea isn't only for drinking, which is why TeaHaus has expanded its offerings to tea-infused spices, gelato, cookies, and more.
Sweetwaters Coffee & Tea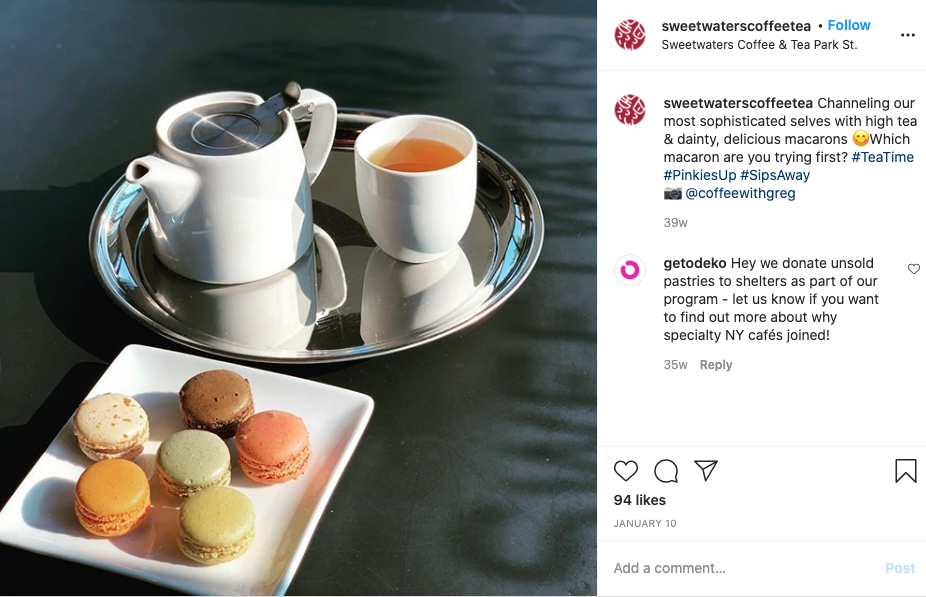 Sweetwaters is a satisfying stop for any tea drinker looking for a warm beverage and a sense of community. Sweetwaters is tea-friendly, with many options spanning from matcha lattes to various hot and iced teas. 
Founded in Downtown Ann Arbor in 1993 by Wei and Lisa Bee, Sweetwaters has expanded to 15 Michigan locations and 12 states, 
The cafe lives up to its name with its sweeter options of chai, Thai, and ginger raspberry teas.
Avalon Cafe and Kitchen
120 E. Liberty St, Ann Arbor, MI 48104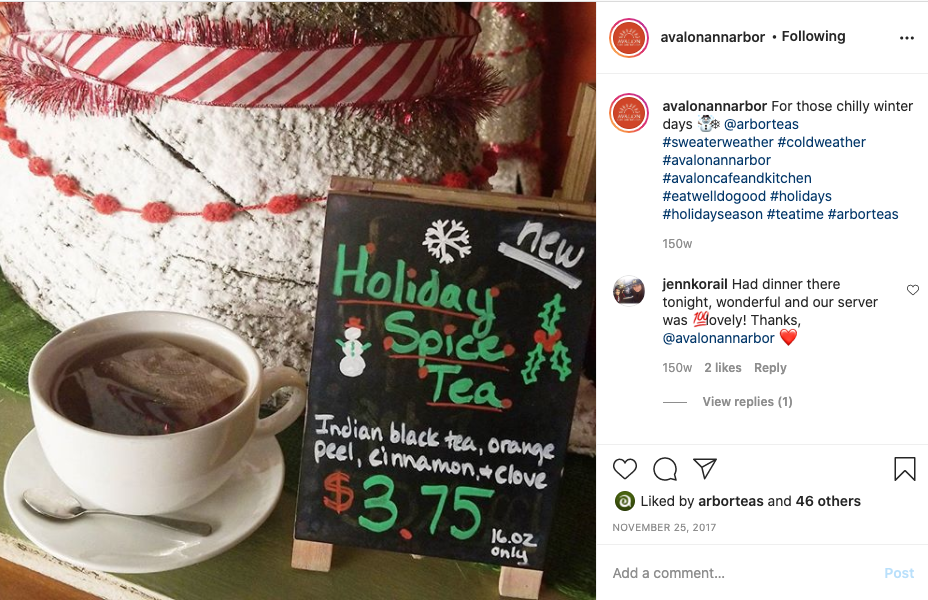 What goes better with a cuppa' tea than a scone, cookie, or other baked good? That's why a bakery is a perfect place to enjoy some tea. At Avalon Cafe, you can appreciate a cup of organic tea as you read, catch up with a friend, or study for your upcoming exam. 
The cafe offers various teas, including a nutty Houjicha green tea and a spicy yet wholesome cinnamon rooibos.  Are you feeling fancy? Try the Foggy Day, a mix of Earl Grey, steamed milk, cinnamon, and honey. Yum!
If you're interested in some food with your tea, Avalon Cafe serves up a delicious breakfast and lunch menu, including vegetarian options.
Chatime Ann Arbor
340 Maynard St, Ann Arbor, MI 48104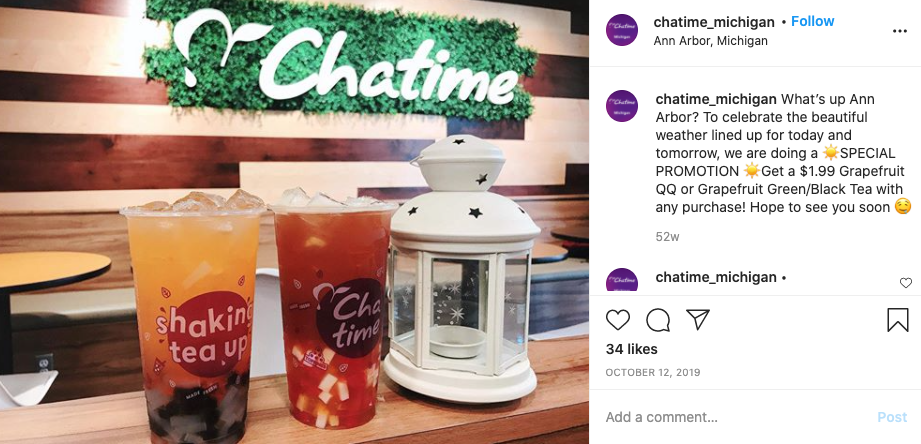 Known as one of the best bubble tea spots in Ann Arbor, Chatime is still a solid spot as any for tea sans bubbles. 
The menu, which includes bubble, milk, and fruit teas, is quite extensive, so we'll focus on the freshly brewed varieties. Green tea lovers will be happy with Chatime's Japanese Sakura sencha and genmaicha (green tea mixed with popped brown rice). For a more hearty beverage, try their various tea lattes, including matcha and Tieguanyin (a Chinese oolong).
Zingerman's Next Door Cafe
418 Detroit St, Ann Arbor, MI 48104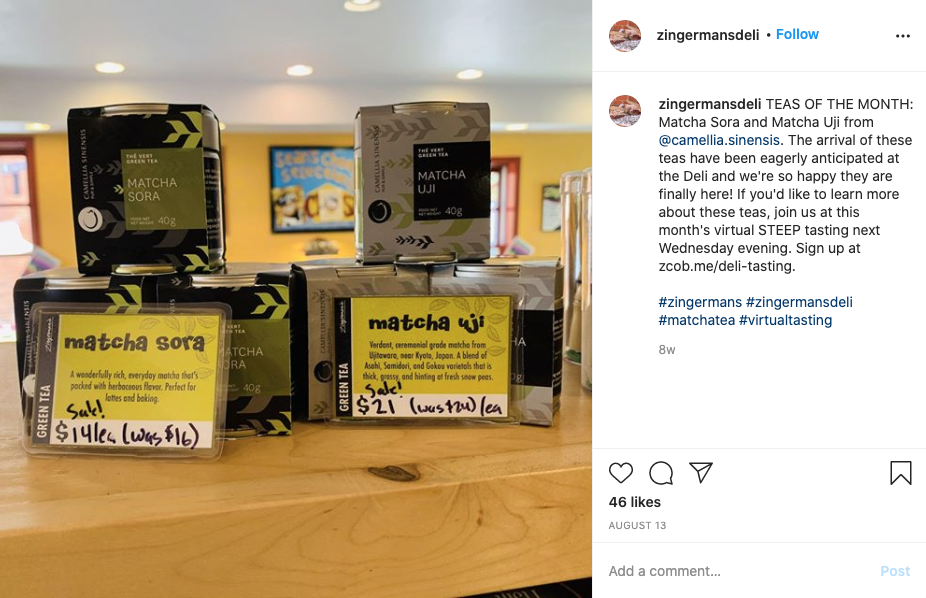 Zingerman's needs no introduction, but don't let their penchant for coffee fool you into thinking the cafe can't satisfy your tea craving. 
The Next Door Cafe offers a variety of hot teas such as Earl Grey and Jasmine Pearl. If you want to put the barista's skills to the test, order a delicious tea latte. Options available include sweet matcha, turmeric ginger chai, or choose any of their hot tea selections. In the fall, we highly recommend their apple cider chai — we can almost smell the cinnamon goodness writing this!
Complement your hot tea with one of Zingerman's tasty toasts. If you're in a savory mood, try the Bulgarian toast, a mix of cream cheese and "Lutenitsa, a traditional Bulgarian spread, made from roasted peppers, eggplant and tomato paste." Feeling sweet? You can't go wrong with the mouthwatering combo of Nutella and banana on the Nutty Monkey toast.
Arbor Teas
1342 N Main St #1, Ann Arbor, MI 48104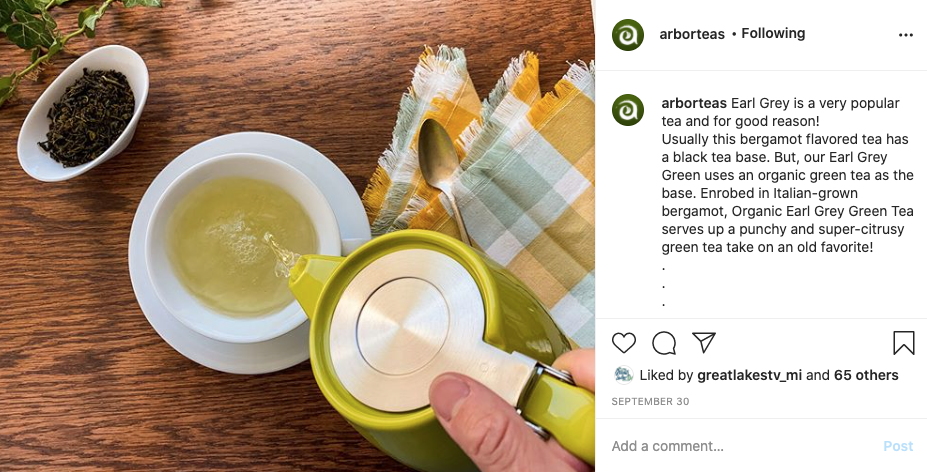 Want to enjoy a nice cup of tea from the comforts of your Ann Arbor McKinley apartment? Arbor Teas has you covered! The local Ann Arbor tea shop sells an impressive array of organic loose leaf teas and high-quality teaware. 
At Arbor Teas, you can try Chinese Pu Erh grown from 1,300-year-old tea trees. Are you looking for a variety? Their tea samplers offer a fun way to explore new flavors. Keep these Arbor Teas sampler packs in mind when you are gift shopping for the holidays. 
Another thing we love about Arbor Teas is the wealth of knowledge they share on their website. Tea can be intimidating, especially if you're a long-time coffee drinker. But the more you learn, the greater your appreciation for tea grows. For example, legend has it that Chinese Emperor Shen Nung discovered tea when a chance gust of wind blew a tea leaf into his boiling water. 
Make sure you compost your used loose leaf tea leaves! 
Plenty of Reasons to Enjoy a Cup of Tea in Ann Arbor 
Even if you're a coffee drinker, there are many reasons to give tea a try. For one, more and more studies are showing the possible health benefits of tea. From heart health to brain health, this brewed beverage is one you can sip without regret. 
Similar to coffee, tea is something you can geek out on and explore. According to the Eden project, there are nearly 3,000 types of tea. You can think of tea like wine, where location and climate play a role in how the beverage will taste. 
Grab your "best-tea," and enjoy a cuppa' at these Ann Arbor tea spots. Let us know where your favorite place is to taste some tea!
Planning on moving to Ann Arbor? Check out our McKinley Ann Arbor apartments!