If you're considering a move to Michigan, you're not alone. Thousands of people discover how much the state has to offer, everywhere from the more rural and suburban areas to the urban centers. At McKinley, we want to do more than provide housing for our residents; we want to make sure they make the most of where they live!
With that in mind, we've created this guide for people considering relocating to Michigan. This guide to moving to Michigan will give you a general overview of what you can expect from the state, as well as reasons why you might want to consider the move. We'll cover:
Michigan Facts
Reasons to Live in Michigan
The Best Places to Live in Michigan
Cost of Living in Michigan
Things to Do in Michigan
…and a Whole Lot More!
So, with that in mind, let's dive into our guide for anyone relocating to Michigan.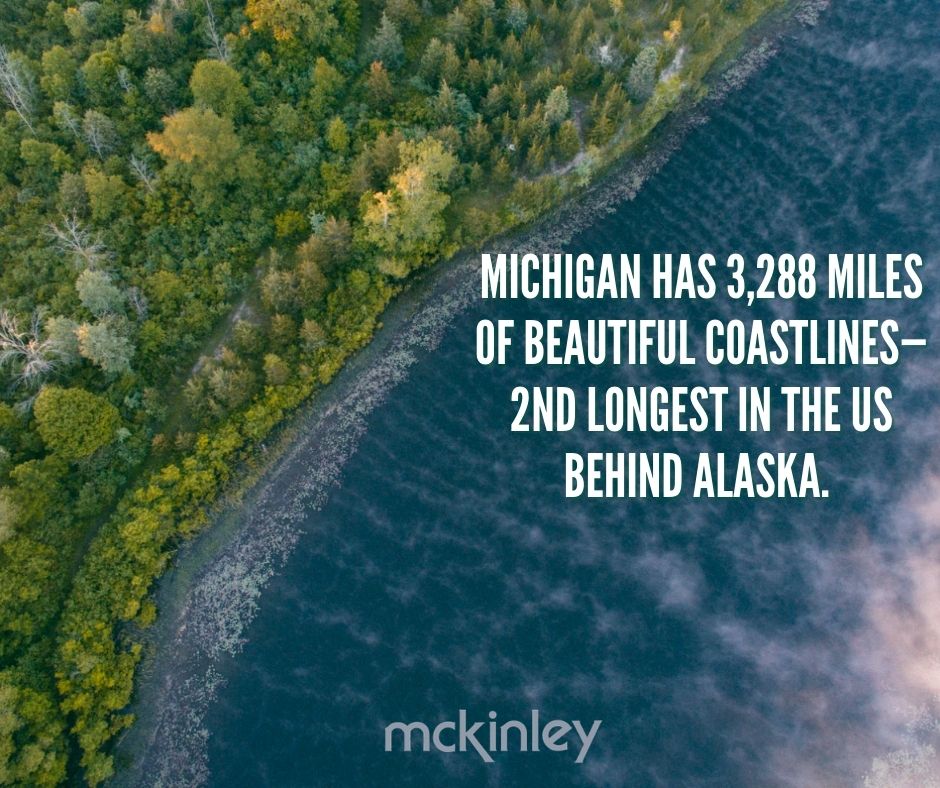 Michigan Facts
Let's start with the basics. Michigan gets its name from the Indian word Michigama, which means large lake. Considering Michigan is home to the Great Lakes, this name should come as no surprise.
Michigan's population is roughly 10 million, making it the 10th most populated state in the U.S. The largest cities are Detroit, Grand Rapids, and Warren. While Southeast Michigan is the most populated, Northern Michigan and the Upper Peninsula are top vacation destinations.
Michigan is also known as the country's automotive capital, and to this day, it plays a large role in the American auto industry. Other significant industries in Michigan include tourism, manufacturing, and agriculture.
Learn more about Michigan's history here!
Reasons to Live in Michigan
If you're considering whether moving to Michigan is right for you, you're probably wondering why other people have decided to live in the state. After all, it's difficult to know whether a place is right for you before you've spent a long time living there. Here are five reasons to move to Michigan.
Stunning Natural Landscape
Simply put, Michigan is gorgeous. From the Great Lakes to its 103 state park and recreation areas, Michigan is an oasis of natural beauty. Further, Michigan contains some of the most stunning natural destinations globally, including the Sleeping Bear Dunes and the Pictured Rocks National Lakeshore in the UP. 
Distinct, Enjoyable Seasons
Speaking of the great outdoors, another thing that many people love about Michigan is its climate. While some people prefer year-round summer and predictable weather, Michigan is beloved by locals for its four distinct seasons.
Michigan is beautiful in any season, from its warm and lush summers to its crisp and colorful falls. Further, each season offers the opportunity for new activities. You can snowshoe in the winter, bike in the spring, kayak in the summer, and apple pick in the fall.
Nation-Leading Universities
Michigan is home to some of the nation's most respected colleges, and it makes for a tremendous collegiate environment, replete with friendly sports rivalries. Both the University of Michigan and Michigan State University call the state home and liberal arts colleges like Hope College and Hillsdale College. In addition to their outstanding educational programs, these schools also boast respected sports teams. Picture yourself taking in the fall weather at a tailgate in Ann Arbor or Lansing.
Active Outdoor Lifestyle
Thanks to its beautiful landscape and climate, Michigan is known for being a paradise for outdoor enthusiasts and sportspeople. Hikers will enjoy 13,000 miles of state-designated trails and pathways.
Additionally, anglers will love the state's countless lakes and streams, bicyclists will enjoy hundreds of miles of bike paths, and beachgoers will love the many miles of public access beaches along the lakes. Whatever your favorite way to enjoy the great outdoors, you'll find it in Michigan.
Lakes, Lakes, Lakes
Michigan is a paradise when it comes to water sports. Ask any Michigan resident, and they'll know somebody with a lake house right on the water. That's the kind of friend you want to have. From swimming and boating to more extreme sports like tubing or riding jet skis, Michigan natives love getting out on the water when the weather is warm.
If the Great Lakes aren't enough for you, enjoy one of the over 11,000 inland lakes in Michigan.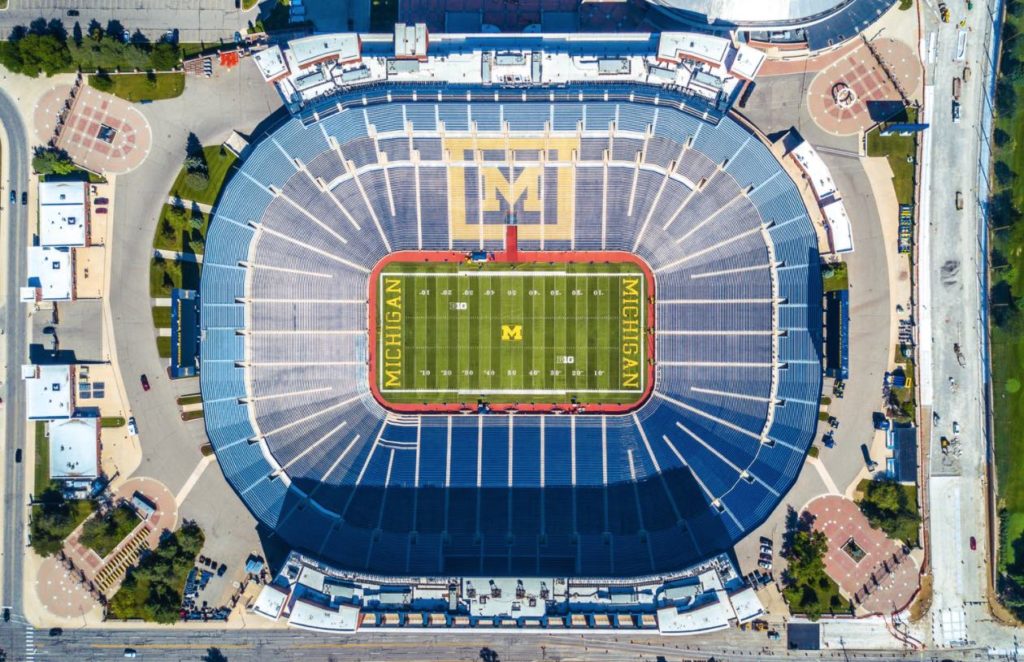 Where to Live in Michigan
Now that you're convinced to move to Michigan, where should you land? Michigan is a large state, and there is something for everyone across its beautiful landscape. There is plenty to find and love outside of the urban centers, from more rural areas to suburban, up-and-coming neighborhoods. That said, we're going to focus on four city suggestions for your move.
Detroit
While Detroit made news in recent years for experiencing some serious financial struggles, its recovery has been nothing short of astonishing. Detroit and its surrounding cities hold a historical and cultural significance in our country. Also, Detroit hosts some of the most magnificent late 19th-century and early 20th-century architecture you'll ever see.
Ann Arbor
We love Ann Arbor! And we're not alone. Many lists place Ann Arbor as the number-one best place to live in Michigan and the entire country. Aside from being home to the respected University of Michigan, Ann Arbor also boasts proximity to the Huron River, top-quality schools, beautiful architecture and neighborhoods, a thriving and historic downtown, and a relatively low living cost. Livability.com ranked Ann Arbor #2 on its list of best places to live. 
McKinley also offers a range of apartments in Ann Arbor, so check out our listings to find the perfect home for you when you decide you're moving to Michigan.
Taylor
Taylor isn't as recognizable as the other cities on this list, but it's a genuinely great place to live. The city features beautiful neighborhoods, gorgeous parks, dependable schools, and a laid-back suburban vibe that many residents love.
Are you looking for apartments in Taylor? McKinley has you covered. Check out our listings for apartments in Taylor when you're planning your big move to Michigan.
Ypsilanti
Despite a hard-to-pronounce name (it's 'ipp-sill-anty'), there's nothing hard about understanding why Ypsilanti is such a beloved place to live. Located near Ann Arbor, Ypsilanti boasts a unique personality that mixes art, culture, diversity, and history with the quaintness of a small town. 
Similar to Ann Arbor, Ypsilanti is close to many parks and recreational areas. Also, it has a charming downtown with small businesses and restaurants.
Check out our McKinley apartments in Ypsilanti 
Cost of Living in Michigan
Michigan has a low cost of living relative to other states in the U.S. The average cost of living rating of the U.S. is 100, Michigan is at 89. That means less money spent on groceries, health, housing, utilities, than the national average. Home costs are particularly affordable, with the median American spending $231,200 on a home while the median Michigan resident spends just $151,000. If you want to live somewhere with lots of appeal but without a lot of spending on essentials, Michigan is the place for you.
Things to Do in Michigan
So, it's decided— you're moving to Michigan. How are you going to spend your time once you get there? We can't cover it all in this blog post, so here are five suggestions.
Explore the Rich History
From the auto industry to Native American history, Michigan is sure to excite your inner historian. There are countless world-class museums throughout the state, as well as historical destinations such as Mackinac Island. An absolute must-visit is the Henry Ford Museum and Greenfield Village in Dearborn.
Try a New Water Activity
Michigan is called the Great Lakes State for a reason. A move to Michigan offers a unique opportunity to expand your list of water-related activities. From ice fishing in the winter to sailing in the summer, make the most of the most extensive freshwater collection in the world.
Out on the Farm
There are over 50,000 farms in Michigan, which is why the state ranks second in agricultural diversity. Most cities host a farmer's market from late spring to early fall. Further, many farms offer seasonal activities such as pumpkin picking in the fall and Christmas tree cutting in the winter.
Get Your Sports Fix
Michigan's collegiate sports teams are famous around the country, both in football and basketball. Meanwhile, the city of Detroit has the Pistons, Lions, Tigers, and Red Wings. While fandom for Detroit teams can be a bit painful these days, Michiganders remain hopeful a championship will grace the city of Detroit soon.
Take in World-Class Art
Did you know that Michigan is home to some of the nation's most respected art museums? Take a visit to the DIA in downtown Detroit and enjoy Diego Rivera's famous mural, as well as works by Fuseli, Kahlo, Thompson, Van Gogh, Warhol, and more. 
Other art museums include the Flint Institue of Arts, Cranbrook Art Museum, and the University of Michigan Museum of Art.
Find Apartments in Michigan
Are you convinced that moving to Michigan is the right move for you? If you are, you're probably wondering about your next step— Where am I going to live? McKinley has you covered there, too. We offer a range of high-quality, affordable properties to help you find apartments for rent in Michigan. 
Learn more about things to do in the Ann Arbor and Ypsilanti area.