Considering moving to Florida? While the idea of moving to a brand-new state may be daunting, our team at McKinley wants you to know that we're not just here to provide housing— we're here to offer knowledge! We want to give you all the information you need to make an informed decision about whether moving to Florida is right for you. Plus, we want you to know how to make the best out of your move once you decide to move to Florida.
From facts about the state to reasons you should live there, from great cities to consider to activities you'll love as a Florida native, we've got all the info you need when moving to Florida. So without further ado, let's dive in!
Florida Facts
Florida has a rich and fascinating history. Further, the state is ecologically diverse and offers some of the country's most beautiful natural settings. 
One of Florida's top industries is tourism, and as a result, the state employs over a million people in the tourism and hospitality industries. Agriculture is also a significant part of Florida (the state produces 70's of the US's oranges) culture thanks to its sunny and warm climate that's perfect for growing oranges, tomatoes, and more. Plus, thanks to its many colleges and universities, Florida also has a bustling collegiate culture many residents love. In other words, Florida has a diverse and robust economy. 
Florida is the only state that borders both the Atlantic Ocean and the Gulf of Mexico. In other words, no matter where you land in Florida, you're never more than 60 miles from a body of saltwater. And if the beach isn't your scene, there are 175 state parks to explore! 
Meanwhile, Floridians hail from a wide range of backgrounds, cultures, ethnicities, and walks of life, making it an incredibly diverse melting pot that many residents and visitors to Florida love. 
Reasons to Live in Florida
Many scenarios draw people to Florida— maybe they just landed a great new job here or are just trying to get a bit closer to the equator and away from those cold Midwestern winters. Whatever the reasoning, moving to Florida has never been a better option. And while everyone is unique, some specific reasons make moving to Florida right now the perfect choice. Here are some of our favorite reasons why you should consider living in Florida, according to the people who actually live here and call its beautiful beaches and landscapes home.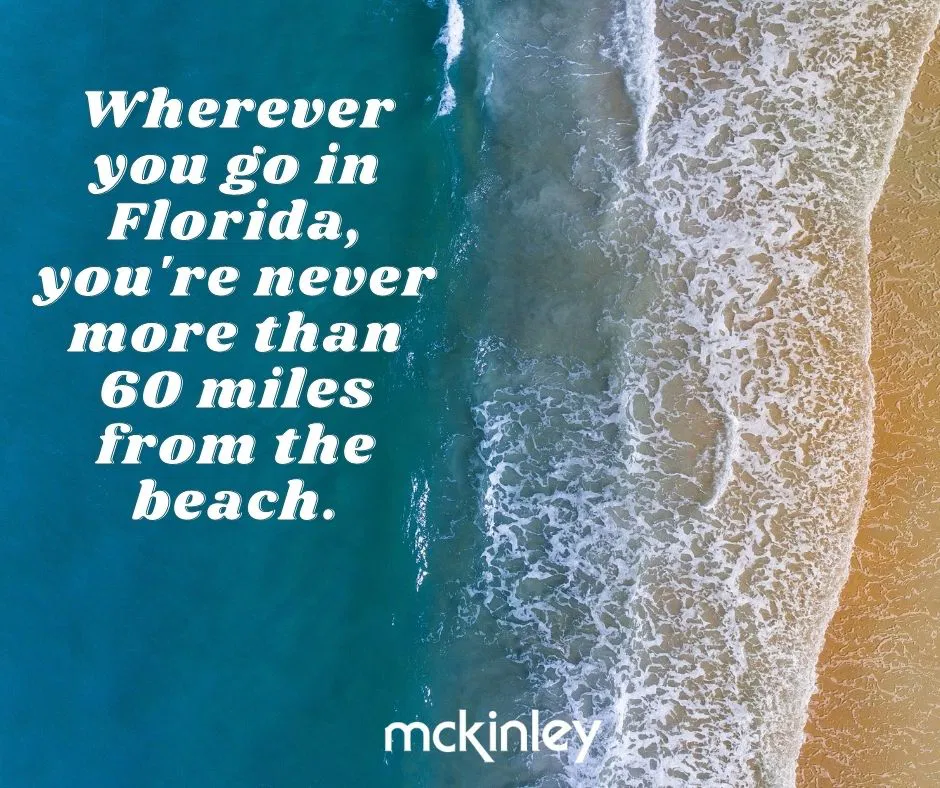 Sunny, Warm Climate
Did you know that out of the 365 days each year, 200 of them are sunny in Florida? The warm and pleasant year-round weather is one of the Sunshine State's biggest draws, and it's not hard to see why. People who live in southern Florida will go the entire year without needing to put on so much as a sweater. And thanks to the warm climate, Florida residents spend more time outside in the sunshine— a proven way to boost mental health and physical health thanks to Vitamin D from the sun. We'll put it this way, moving to the Sunshine State can give your health a lift — make sure you load up on sunscreen!
Diverse Cultural Landscape
When it comes to people from all backgrounds and walks of life, while there are plenty of people who are born and raised in Florida and decide to stay thanks to everything the state has to offer, there are plenty more who come from all around the country and the world to enjoy the state's bounteous beauty.
In addition to other cultures, Florida has one of the largest Latin populations in the country. The diverse Latin community imbues the state with art, culture, food, music, and history.
No State Income Tax
You read that right— Florida is one of the only states in the entire country that does not charge any state income tax. That lack of income tax at the state level is a massive draw for many individuals and businesses in Florida, as it means that your monthly salary goes a lot farther than it might somewhere else in the country. That also helps make up for Florida's slightly higher cost of living than the national average. And no state income tax means more money to spend on all of the adventures Florida has to offer, from beaches to theme parks and city thrills.
Beautiful Beaches
Oh, have you heard about Florida's beaches? Chances are they're one of the things you're most excited about when you consider moving to Florida, and for a good reason. Florida features some of the best and most visually stunning beaches throughout its coastline. Further, specific beaches within the state have even won awards— Sarasota Siesta Public Beach was named the best beach in the entire country recently, according to a survey by TripAdvisor. But it's not the only beachfront spot worth setting up a chair on— other famous beaches in Florida include Clearwater, Delray, Panama City, Miami Beach, and many, many more. If spending time soaking up the sun and enjoying the relaxing sound of the ocean waves is what you're looking for in your day-to-day life, moving to Florida is the right move for you.
Sports Fandoms Galore
Sports fans who move to Florida will certainly have no shortage of teams to root for each season. For instance, Florida has not one, not two, but three NFL teams (Miami Dolphins, Jacksonville Jaguars, Tampa Bay Buccaneers), two NBA teams (Orlando Magic, Miami Heat), two MLB baseball teams (Tampa Bay Rays, Miami Marlins), and two NHL teams (2020 Stanley Cup-champions Tampa Bay Lightning, Florida Panthers). If collegiate sports are more your scene, you can take your pick in the bitter rivalry between the University of Florida and Florida State University athletic squads that battle each year on the field and court. One thing's for sure— moving to Florida will mean you've moved to one of the entire nation's sports capitals.
Best Places to Live in Florida
Now that we've touched on some of the things that make Florida great, let's talk about some of the places that make Florida such a great place to live. But first, a disclaimer— Florida is a large state, and there is something for everyone across its beautiful landscape. From more rural areas to suburban, up-and-coming neighborhoods, there is plenty to find and love outside of the urban centers. That said, we're going to focus on just a few of the most popular spots in the state— the cities that help make Florida such an icon. Here are four of the best cities to live in when it comes to moving to Florida.
Orlando
Orlando offers some of Florida's best, from its surprisingly affordable cost of living to offer many of the state's most beloved attractions. Moreover, many refer to Orlando as the Theme Park Capital of the World. Disney World. SeaWorld. Universal Orlando Resort. The list goes on and on.
The public education system is admirable, and public transportation throughout the city is incredibly accessible. What's the most challenging part of living in Orlando? That will be choosing which of the many local sports teams you'll support.
View our McKinley apartments in Orlando.
Tampa
With over 350,000 residents, Tampa is one of the biggest cities in Florida. But it doesn't always seem that way. Tampa is considered excellent for families and singles alike, thanks to high-performing schools, great healthcare infrastructure, and many major companies setting up shop within the city. Further, Tampa is the leading city for job growth in Florida, while living cost remains low. Plus, you can't beat the views. 
McKinley also offers a range of apartments in Tampa, so check out our listings to find the perfect home for you when you decide you're moving to Florida.
Tallahassee
The state capital of Florida might not get the attention of Miami or Orlando, but it really should. This major college town is home to Florida State University and Florida A&M University, with roughly 190,000 residents enjoying the city's low cost of living and rent prices. Meanwhile, public transportation is a local favorite, and there's lots to do on an average weeknight or weekend— from museums and beautiful local parks to annual festivals, delicious restaurants serving a range of cuisines, and much more. Don't overlook Tallahassee as a potential destination when you're moving to Florida.
Miami
Have you always dreamed of being able to hit up South Beach on any night out you wanted to? That's a large part of the allure of living in Miami, but it's not the only reason to live in this vibrant, thrilling city. Over 430,000 people call the city home, with a total of nearly 3 million when you count the surrounding county. Miami's culture is energetic, colorful, and diverse, bringing together influences from all over the world for an incredible mix of cuisines, entertainment options, and backgrounds that residents and visitors alike seem to love. Miami also brings all of the benefits of much of Florida— beautiful, pristine beaches, warm weather year-round, and more.
Cost of Living in Florida
You might have heard that the cost of living in Florida is higher than the national average, but the truth is that it's only negligibly higher. The average U.S. cost of living is listed as 100. Florida, meanwhile, has a cost of living of 102.8. That's only a 2% increase. While that certainly is worth addressing, it doesn't account for a dramatic difference in real terms. For example, the average median home cost in the U.S. is $231,200, while Florida's median home cost is $237,000.
So, if you're worried about the cost of living in Florida, here's what we have to say— it's worth considering but certainly shouldn't be a dealbreaker when it comes to deciding whether moving to Florida is right for you.
Things to Do in Florida
Wondering how you'll spend time in Florida as a full-time resident? Here are some of the best things to do in Florida.
Hit the Beach
When you move to Florida, you'll have 825 miles of accessible beaches to enjoy. Just think of the picturesque sunsets you'll experience. Also, Florida beaches host a wide range of wildlife. From 80-percent of loggerhead turtles in the United States to dolphins, you'll have plenty to brag about when it comes to wildlife spottings.
Enjoy the Nightlife
Cities like Orlando and Miami have become famous for their nightlife, and as a Florida resident, you can now take part in that excitement. Dozens of clubs, world-class restaurants run by celebrity chefs, and some of the country's best entertainment venues are all open to you once you decide you're moving to Florida. The only question will be, where do you start?
Explore Gorgeous, Unique Landscapes (and Seascapes)
One of our favorite things about Florida is just how many different unique environments you can experience. Consider the Everglades, a unique and vital ecosystem, where you can spot massive alligators from fan boats. Then there are the Florida Keys, a long and otherworldly stretch of islands that extends out into the sea. Lush, green forests to white sand beaches and everything in-between— that's what's waiting for you in Florida.
Enjoy the World's Best Theme Parks
You know their names. Disney World. SeaWorld. Universal Orlando Resort. These theme parks are famous for a reason— they're the best in the world. And when you're moving to Florida, you're relocating to a spot that's in close proximity to all of them. Having that level of fun and entertainment in your own backyard is definitely nothing to sniff at.
Find Apartments to Live in Florida
Are you convinced that moving to Florida is the right move for you? If so, then you're probably wondering about the next step. For example: Where am I going to live? McKinley has you covered there. We offer a range of high-quality, affordable properties to help you find apartments for rent in Florida. 
After all, living the laid-back life of a Florida native shouldn't have to wait until you move here. We want to simplify your experience from the moment you decide that moving to Florida is right for you. Contact our team at McKinley today to learn more about this amazing state and our quality apartments for rent in Florida.