Today is National Cheese Lovers Day, so we figured it was as gouda a time as any to share a list of our favorite spots in Ann Arbor to get cheese. Only a muenster would say no to such a plan. Now, before we provolone you our favorite cheese spots, let's go over the basics. Yes, we know it's cheesy but necessary. 
There are eight categorical varieties of cheese: processed, soft-ripened, soft and fresh, semi-soft, semi-hard, semi-truck (just kidding), hard, pasta filata (sometimes known as stretched-curd), and blue.

The average American consumes about 

40.4 pounds of cheese 

every year. 

Cheesemaking dates back to 5,500 BCE.

Nearly all cheese consists of milk, cultures, and rennet. 

While moderation is necessary, cheese is an excellent source of calcium, protein, fat, vitamins A and B-12. 
How to Sound Like a Cheese Expert
Before you head out the door on a fantastic Fromage voyage, let's get in a connoisseur mood. First impressions are everything. For instance, with the right words, method, and discrimination, you'll turn some heads with your keen appreciation of cheese. Keep in mind that there are over 1,400 types of cheese. Do you need to know them all? Honestly, if you did, that would be impressive, but there are ways of faking it until you're baking it (as in baking Gruyère on top of French onion soup). 
A cheesy scenario: You've promised your friends a cheese board that will be the best they've Chèvre had. After visiting the Ann Arbor destinations on this list, you're confident you've accomplished your goal. A job well done. Not so fast; there's one more task at hand. To explain, a cheese authority always describes the products to their audience. For example, similar to specifying a fine wine, the right adjectives can go a long way. 
Descriptive words for taste: creamy, buttery, delicate, pungent, sharp, bitter, savory, nutty, smoky, complex, rustic, funky. 
Descriptive words for texture: soft, hard, delicate, crumbly, moist, firm, waxy, spreadable, fragile, dense. 
Descriptive words for smell: fresh, earthy, grassy, sour, sweet, milky, acrid, nutty, floral, stong, garlicky, piquant. 
A cheese expert is born. Now you are ready to explore the best places in Ann Arbor to get cheese. 
3723 Plaza Dr #2, Ann Arbor, MI 48108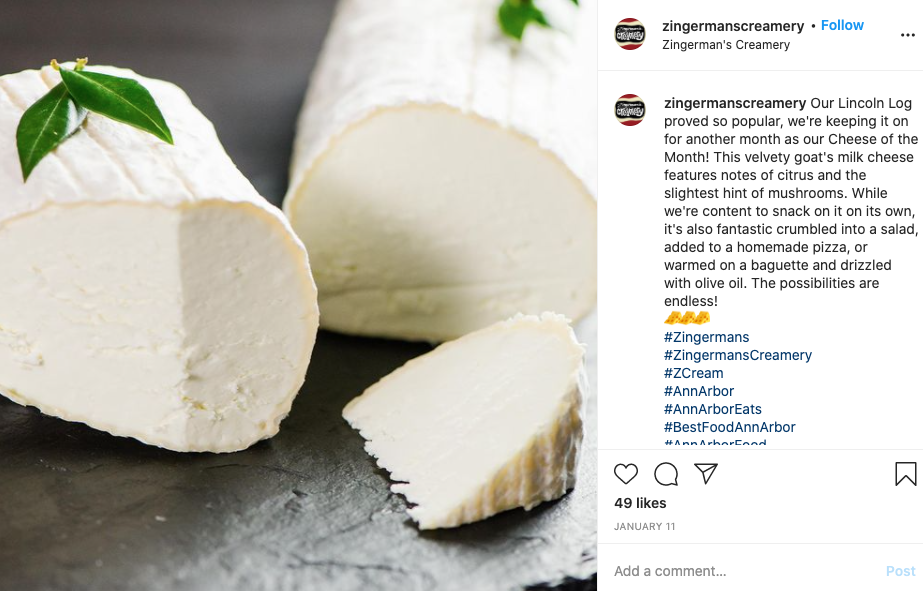 With a rotating selection of exemplary cheeses, Zingerman's Creamery is a must for long-time enthusiasts and those looking to up their cheese game. 
Zingerman's Creamery started back in 2001 with its real Cream Cheese®. The rest is history. And oh, what a delicious history it has been. Small-batch, local, old-world, family farm, hand-ladled; The Creamery is a collection of every word the granola set desires. Moreover, the dedication to detail and quality is apparent in every slice, block, and curd of cheese. 
Cheese highlights: Decadent burrata, pimento cheese (made with award-winning cheddar), Detroit Street Brick Cheese (goat cheese with hand-cracked green peppercorn. 
98 N Ann Arbor St, Saline, MI 48176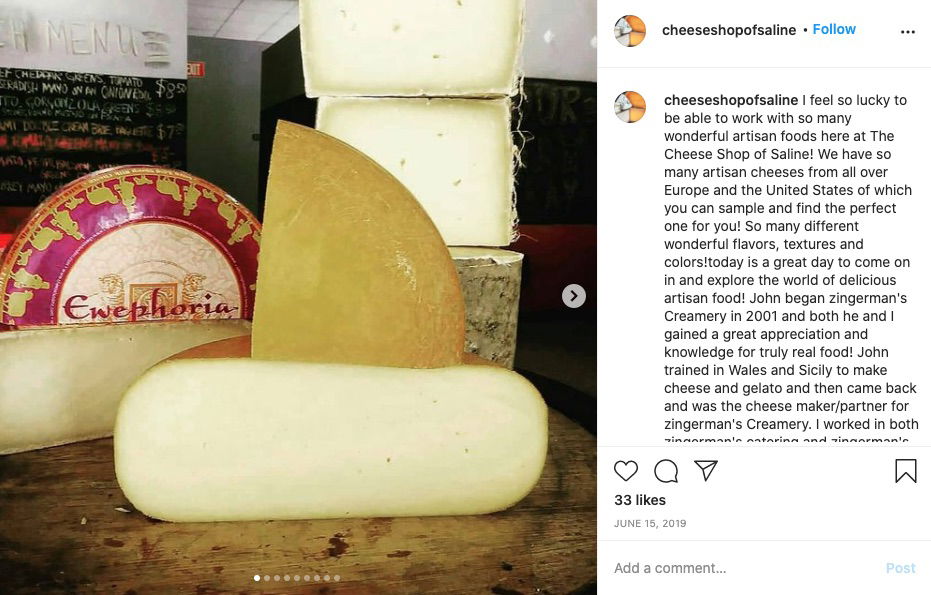 According to Tiffanie on Google Reviews, "The Cheese Shop of Saline is a gem. The food is second to none in quality, value, sophistication, and taste. It is elegant, flavorful, and delicious. The service is wonderful; they are friendly, knowledgeable, and patient." Moreover, most of the reviews mention the Shop's hospitality and friendliness in some capacity. We guess that owners John and Ruth Loomis can't help but be in a good mood when fine cheeses and wines surround them daily. 
The Cheese Shop of Saline offers its delicious selection of provisions in the form of sandwich baskets, platters, tastings, and more. Specifically, the Shop's sandwich offerings are a great way to experience its exceptional cheeses. Please don't be shy to ask John or Ruth for their suggestions. 
Cheese highlights: The Blue Pig Sandwich, prosciutto di parma, gorgonzola, spring greens, fig jam, and stoneground brown mustard on focaccia. Also, you can't go wrong with The Caprese, really fresh mozzarella, tomato, spring greens, pesto, olive oil, and amazing balsamic vinegar on focaccia. Emphasis on the "really fresh" mozzarella. They don't play games. 
1928 Packard St, Ann Arbor, MI 48104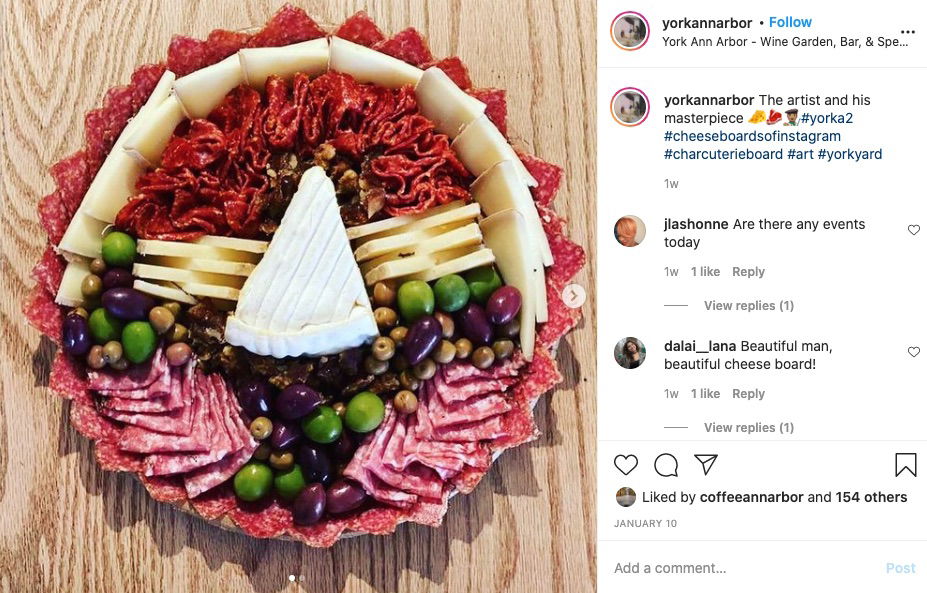 Serving the Ann Arbor area since the '50s, York Food and Drink is now synonymous with quality wines and hand-crafted eats. Like many of the locations on this list, York dedicates its business to supporting local. From its site, "When you choose to spend a dollar at a locally-owned, independent shop, two to three times as much of that dollar is recirculated in the local economy." 
Cheese highlights: You can't go wrong with York's cheese tray and, if you're feeling extra fancy, deluxe cheese tray. The trays feature international cheeses, such as Fromage d'Affinois (French double-cream soft cheese made from cow's milk) and Ossau Iraty (Occitan-Basque cheese made from sheep milk). Moreover, Marcona almonds, olives, and date & walnut cake complement the trays' cheese offerings. 
325 W Liberty St, Ann Arbor, MI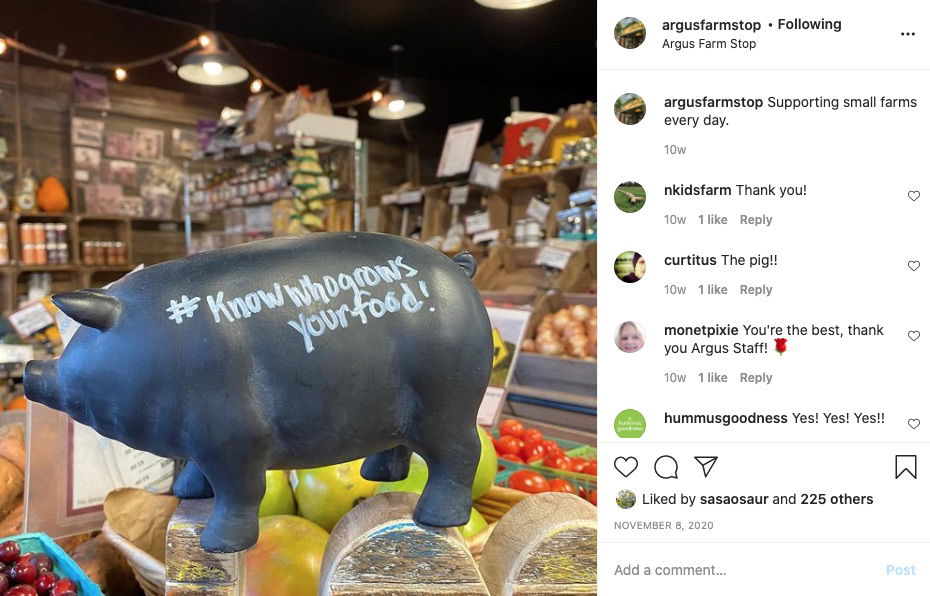 Argus Farm Stop has an admirable mission: Help small, local farms succeed by offering a location where they can sell locally-grown produce and other goods conveniently to consumers, year-round! If you didn't pick up on this yet, Washtenaw County is home to many small farms. Further, you can't understate the importance of a year-round venue for these farms to make money. So good on Argus for what they do. 
Okay, back to the cheese. Both of Argus Farm Stops' locations are modest in size but substantial in quality. You'll find cheeses from local brands such as Zingerman's, White Lotus Farms, Hiday, and Fluffy Bottom Farms. While it's always a pleasant time visiting their quaint locations, you can still order your groceries online for pickup. 
Cheese highlights: Smoked ranch seasoned cheese curds (how Midwestern is that?); Chevre, Provincial Herb (made from goat's milk); Fluffy Bottom's Manchego ("aged four months, sharp, almost citrusy, unique and rare").
Honorable mentions: Pizza House Ann Arbor, because they're known to pile the cheese on their pies. The Ann Arbor Farmer's Market. The Ypsilanti Farmer's Market. 
"Life is great. Cheese makes it better." – Avery Aames 

After such a savory list, try something sweet with our list of the best places in Ann Arbor to get cookies. 
Are you looking for a new apartment in Ann Arbor? View our McKinley properties and find your next home!