The savory smell of hickory smoke carries through a warm Gulf breeze. Paper napkins sponged brick red from greasy sauce-covered hands litter the table. You loosen your belt to make room for a hefty side of mac and cheese. That's right; it's an old-fashioned barbecue meal in Tampa. BBQ is an American tradition built on history, rivalry, and many calories (so worth it). And while Lockhart, Texas; Lexington, North Carolina; and Memphis, Tennessee fight over the distinction of America's BBQ capitol, Tampa Bay has quietly amassed some delectable restaurants brandished in smoke and sauce. Where to start? Here are four must-try BBQ joints in Tampa Bay. All of them are worth a sauce stain on your favorite T-shirt. 
Barbecue in Florida
While it's up for debate, many experts believe the word "barbecue" may have come from the phrase barabicu used by the Timucua people of southern Florida. See, Florida has some crispy pork skin in the game when it comes to BBQ's storied past. Spanish conquistadors first witnessed cooking methods now standard in BBQ in indigenous cultures. Further, according to the Orlando Sentinel, "In the Caribbean, Spanish conquistadors found island natives smoking meat on lattices set over slow-burning fires, according to several food historians."
And while it's not the first state to come to mind when discussing barbecue, Florida is home to many incredible BBQ eateries. Floridians have myriad options for brisket, pulled pork, and ribs, from old staples to emerging franchises. 
Before we get to our list, here are five red hot BBQ records: 
The largest grilling lesson: 336 participants. 

Longest barbecue: 20,246 feet (8,000 grills). 

Dustin Scott completed 44 push-ups in 30-seconds. He dipped his face in a container of BBQ sauce with each push-up. Why? No one knows. 

Joey Chestnut holds the record for BBQ rib consumption, scarfing down 9.6 pounds in 12 minutes. That's about the same weight as a small microwave. 

According to 

The Daily Meal

, Mad Dog 357 No. 9 Plutonium is the world's hottest BBQ sauce, measuring in at 9 million Scoville units. For perspective: Jalapeño peppers measure 2,500–8,000 Scoville units. 
We aren't just blowing smoke when we say Tampa has some delicious barbecue. Here are four BBQ restaurants in Tampa Bay to try in 2021 and beyond.
AL'S FINGER LICKING GOOD BAR-B-QUE 
1609 Angel Oliva Sr St, Tampa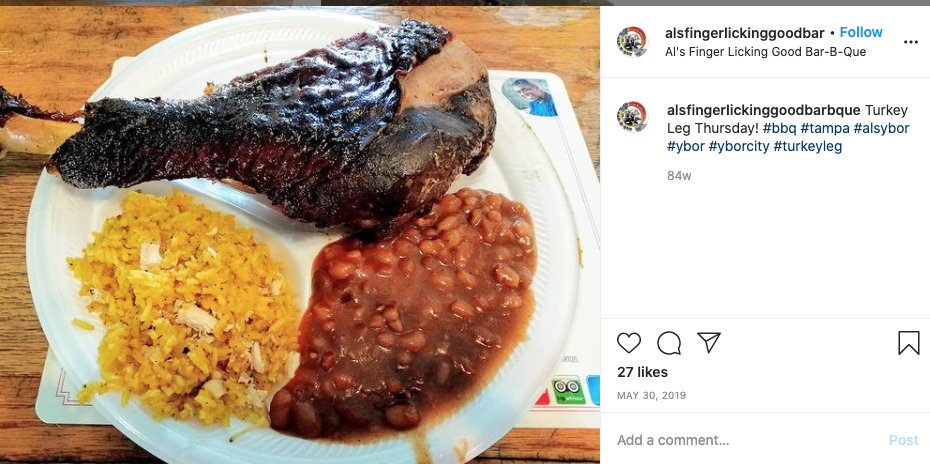 Pitmaster Al brings Tennessee-style BBQ to Tampa. Al's tried and tested recipes are both delicious and classic; from dry-rubbed meats to their tomato-based sauces, you'll taste the tradition. Further, with over ten sides to choose from, you'll have plenty of options. You better try each at least twice to be sure. 
Meal suggestion: Dale's Special, a succulent blend of pulled pork & smoked sausage. Pair the meal with Joanna's Rise and Shine Cornbread and Aunt Lea's Okra & Tomatoes. If you have room, and you'll want to have room for this, finish your feast with a luscious cup of homemade banana pudding. 
DR. BBQ 
1101 1st Ave S, St. Petersburg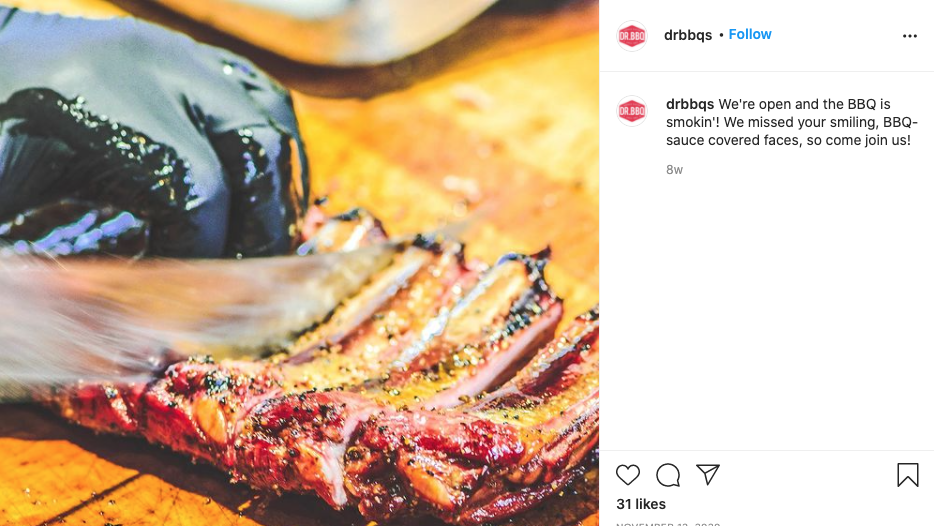 "Smokin' butts since 1982," reads the emblem of Dr. BBQ's logo. And while its location is St. Petersburg, any Tampa resident will find a trip to this eatery well worth it. With a mission to bring people together over food, the Dr. makes it a priority that the food tastes good, dang good. 
Meal suggestion: The Jasper, Chopped Certified Angus Beef® brisket and rattlesnake queso. The restaurant serves this messy (in a good way) sandwich on an artisan challah bun. For a sweet treat, order the Brazilian pineapple, a half-pineapple roasted with a brown sugar cinnamon rum glaze. 
DEVILED PIG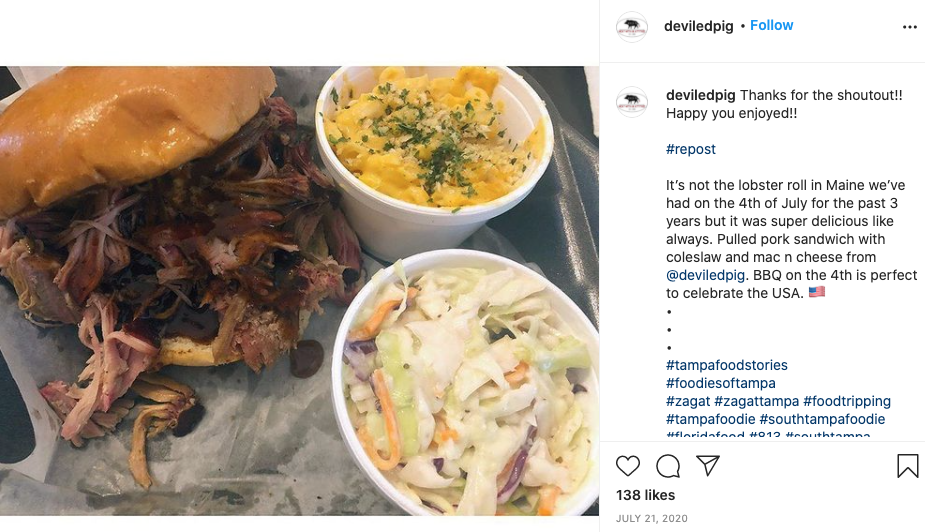 Deviled Pig in Tampa is the brainchild of pitmasters Lee Ann Whippen and Jennifer Daskevich. Serving up BBQ so good you'll want to get on the table and do a dance (please don't, though). There's nothing pretentious about Deviled Pig. You come hungry, leave full, satisfied, and possibly ready for a victory nap. Oh, and the housemade sauces alone are worth the trip—you'll end up eating it by the spoonful. 
Meal suggestion: You can't go wrong with "The Deviled Pig," A Combination of smoked pulled pork, onions, peppers, Tampa original spices, panko-crusted, deep-fried & dusted with Pig Powder. Pair it with the decadent jalapeno mac and cheese. So good. 
MISSION BBQ
13612 Bruce B Downs Blvd, Tampa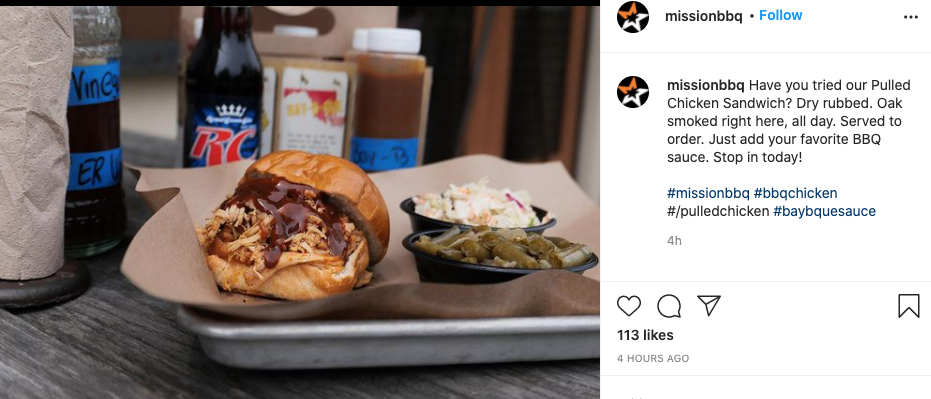 BBQ heads across the nation enjoy Mission BBQ. With locations in numerous states, including 17 locations in Florida alone, Mission BBQ has made a name for itself with quality food and a commitment to giving back. What's better than BBQ with a purpose? 
According to its website: "Through the generous support of our loyal customers and communities we serve, more than 10 million dollars and counting has been donated for national and local charitable organizations."
Meal suggestion: BAY-b-Back Ribs. We are talking fall-off-the-bone tender. Pair it with cheesy baked potatoes and green beans & bacon because, you know, health. If you purchase Mission's "The American Heroes Cup," $2 will go towards helping out a local charity. 
Other BBQ restaurants in Tampa to try:
Bruh mans BBQ
Kojak's House of Ribs 
4 Rivers Smokehouse
"Barbecue may not be the road to world peace, but it's a start" – Anthony Bourdain 
Whether it brings world peace or just a happy belly, having BBQ for dinner is a proud American tradition. We'd ask for feedback on our list of the best BBQ in Tampa, but we wouldn't want you to get barbecue sauce on your phone. Happy eating! 
After all that BBQ, you'll probably need a walk. Check out our list of the best hikes near Hyde Park (Tampa). 
Are you looking for a new apartment in Tampa, Florida? View our McKinley apartments.