According to the Guinness Book of World Records, the longest marathon reading aloud session was 113 hours and 15 minutes. The result? Over 17 books read in one sitting. Now that you're aware of the record don't try and beat it. Instead, we suggest you increase your reading gradually over the year. To do so, here are five ways to read more in 2021. 
"Many people, myself among them, feel better at the mere sight of a book." – Jane Smiley 
Give up the "Best Novels of All Time" lists 
"Best of" lists have existed before the internet but have increased out of control ever since. Further, many of these lists contain the same novels in various order. Art is subjective, so it's impossible to say such a list is correct for you. Why put the pressure on yourself that there exists 100 books "everyone" must-read in a lifetime? Yes, there are incredible novels on such listicles, but it doesn't mean you're not well-read if you don't want to tackle the 1.5 million words of Proust's "Remembrance of Things Past". 
Don't get us wrong; lists can be a valuable resource to find satisfying books. But we encourage readers to explore other types of lists outside of the "Must Read Before You Die" realm. For example, if you have a favorite author, try searching for a list of books that inspired them to write. Or, find a list of similar books to a novel you enjoyed.
Start a virtual book club 
In 1926, Harry Scherman launched the "book of the month club." Not long after that, millions of Americans read, discussed, and looked forward to their next club book. Keep the tradition alive by launching a book club with your friends! In other words, if you're trying to read more, why go it alone? 
Utilizing a book club can serve many purposes. For example, having a diverse group of members suggest books will broaden your reading horizons. On the other hand, creating a more niche club will give you different perspectives on the type of reading material you relish. 
Stop reading if you don't like the book 
If you don't like what you're reading, then why keep reading it? There are more books out there than you could consume in a lifetime, so why spend valuable moments trudging through a text you dislike? Now, we aren't saying give up on a book after a couple of pages. For instance, many works take some time to get going or might seem convoluted and confusing at first. Instead, we are saying that if you're far enough into a novel to know you dislike it, put it down and move on. 
Forcing books on yourself can impede how much you read. What should be a time you look forward to now becomes a chore. Remember, you're trying to read more because you enjoy it, not because it's a contest to show you're well-read. 
Hopefully, you've all found a book, at some point or other, that was so good you couldn't put it down. Moreover, many readers have feelings of sentimentality and sadness when a good book comes to an end. That's the magic of reading. If you've never had such an experience, then it's all the more reason to keep searching for the right piece of work. Trust us; you'll know when you've found one.
Keep Track of What You Read 
Finishing a book is an accomplishment. We all live busy lives with many digital distractions, so you should feel good about reading. We recommend taking a moment to reflect on what you've read before moving on to the next book. Utilize sites such as GoodReads or LibraryThing to document what you've read and to leave a short review. Your comments don't need to be public; you can use this as more of a journal to keep track of your journey as a reader. Moreover, it's rewarding to review all you've read at the end of the year and use it to guide future reading. 
Try reading at a different time of the day 
We'd like to guess that you do most of your reading at night before bed. Many people do. Not only does it help some fall to sleep, but with a busy workday, it's merely the only time to do so. If reading in bed is working for you, then keep at it. But odds are since you're reading this list, it's not resulting in much reading. Further, you might fall asleep after only a couple of paragraphs. 
If this is the case, then try reading in the morning or during your lunch break. Instead of watching TV or reading emails, spend time in the morning during breakfast and coffee reading. Doing so will stimulate your brain, give you new perspectives for the day, and make the early hours more enjoyable. Read our list of five ways to start your day.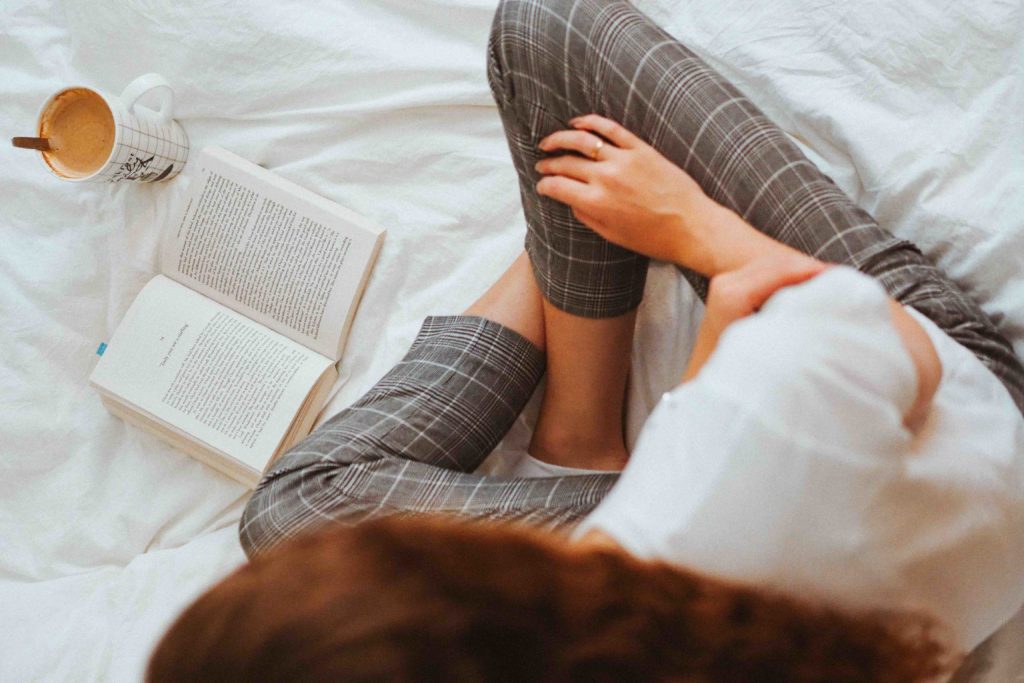 Reading can strengthen your brain, expand your vocabulary, and even reduce stress. But don't take it from us, take it from George R.R. Martin:
"A reader lives a thousand lives before he dies . . . The man who never reads lives only one." – George R.R. Martin
Visit our McKinley living page for more tips and suggestions.