Breaking news: You don't have to be vegan to enjoy a vegan meal. Nowadays, delicious vegan meals are so ubiquitous and accessible that going meatless at least once a week is the new normal for many folks. To help you on your plant-based culinary journey, we've put together a list of the best vegan meals in Tampa Bay. 
There are many reasons to go vegan while dining out in Tampa. On top of the nutrients and fiber, eating a vegan meal at least once a week could prevent heart disease.
Further, you'll be doing the planet a solid since meat-based meals tend to use more water and emit more carbon than plant-based. According to Oxford University, if you were to cut meat and dairy from your diet, you could potentially reduce your carbon footprint by over 70%. 
When it comes to the best vegan meals in Tampa, the bottom line is taste. If the food is delicious, then who cares if it has meat or not. 
Let's get to our list of the best vegan meals in Tampa Bay! 
"Truffle Shuffle"
The Cider Press Cafe
601 Central Ave, St. Petersburg, FL 33701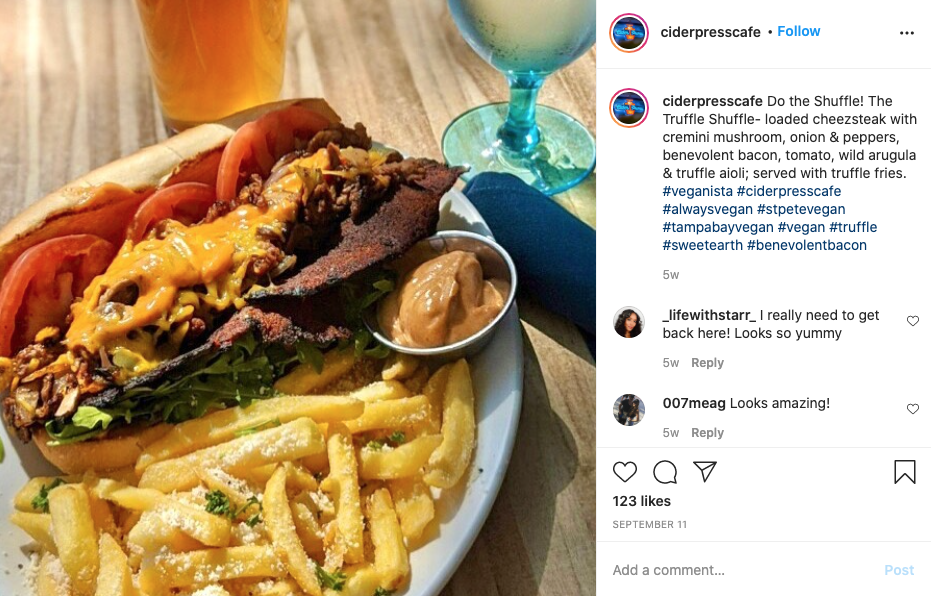 We hope you are hungry because we are starting this list with a "cheezsteak." No, that's not a typo. The "z" is there to remind you that what you are blissfully devouring is neither cheese nor steak. The sandwich even comes with seitan bacn (also not a typo). 
What turns this comfort food into a classy meal is the addition of truffle aioli on the bun. The truffle train doesn't stop there. Your meal comes with delicious truffle fries. We assume the "truffle shuffle" is what you'll be doing all the way home after you finish. 
Ricotta Square Pie 
Ground Foods Cafe
6428 N Florida Ave, Tampa, FL 33604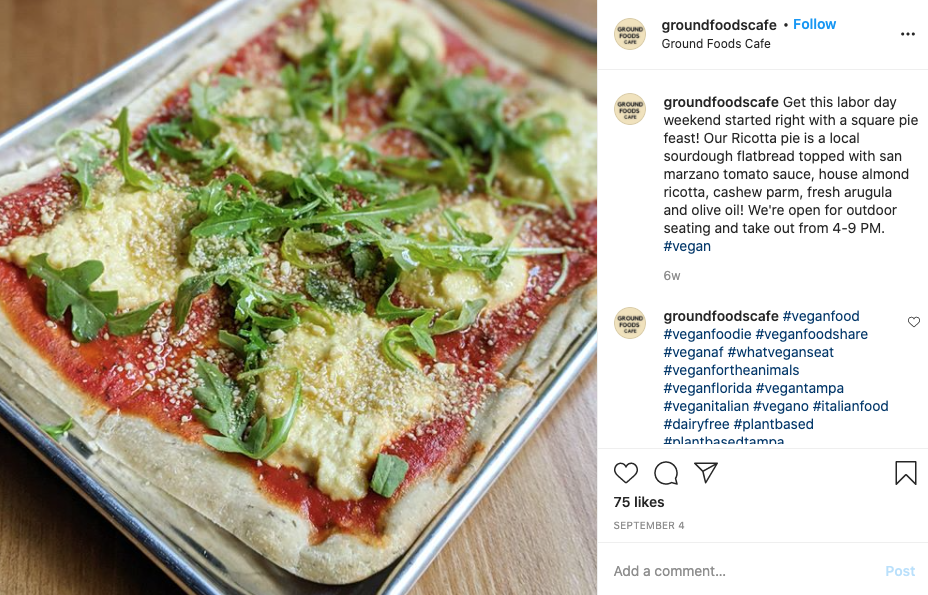 Next, we indulge in Italian food at the Ground Foods Cafe. The Cafe's "goal is to create satisfying entrees that are hearty and nutritious without lacking in flavor." Suono delizioso! 
For some, it might be hard to imagine pizza as a vegan meal, but one dinner at Ground Foods will have you thinking otherwise. The chef bakes all of their square pies on locally sourced sourdough flatbread. For an extra cost, you can add mushrooms or seitan to any pie. We suggest the ricotta square pie: almond "ricotta," San Marzano sauce, fresh arugula, olive oil, cashew parm. 
If you have room left, try the chocolate olive oil cake for dessert—a decadent and delicious treat. 
Vegan Pumpkin Chili Over Rice With Cornbread 
Ray's Vegan Soul
554 1st Ave N, St. Petersburg, FL 33701
You'll have no choice but to crave this next meal all week as Ray's Vegan Soul is only open for takeout on Sundays. Ray's Vegan Soul serves up food "made with organic love." Well, we have nothing but organic love for Ray's delicious and comforting vegan pumpkin chili. 
The Orange Bird
Dixie Dharma
1910 N Ola Ave Suite 113, Tampa, FL 33602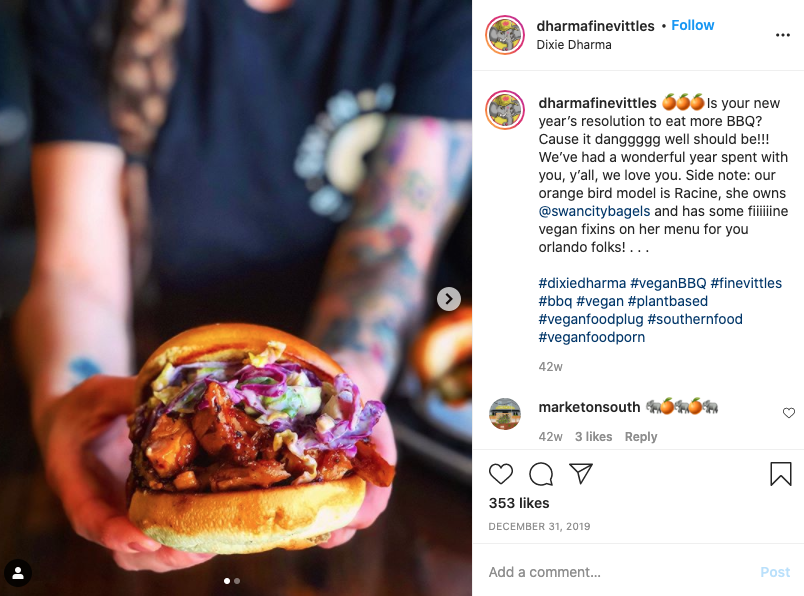 There may not be actual bird in this vegan spin on a sloppy Joe, but you'll take flight after the first bite. The sandwich contains Florida orange BBQ (shredded chick'n) topped with creamy house slaw, served open-faced on a toasted potato bun spread with slow-roasted garlic sauce. 
You mine as well pig-out (or should we say pigz-out, you know, to keep it vegan) and order the mac 'n cheese flight. Flavors include traditional, roasted garlic and buffalo. 
Vegan Banh Xeo
Bamboozle Cafe
516 N Tampa St, Tampa, FL 33602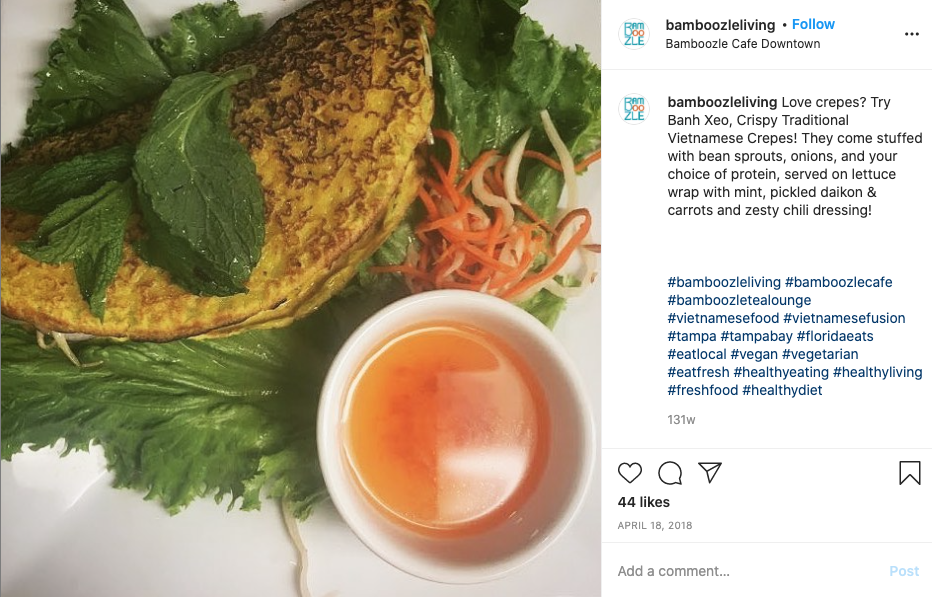 Owner Lynn Pham doesn't compromise flavor over health, nor does she compromise health over flavor. That's apparent in her delicious and nutritious vegan meals. 
The vegan Banh Xeo contains traditional crispy crepes with tofu filled with bean sprouts and onions. The Cafe serves the meal on a lettuce wrap with mint, pickled daikon & carrots, and shallot vinaigrette. A refreshing and healthy snack. 
Don't worry; we aren't trying to bamboozle you. The vegan Banh Xeo is fantastic. 
Drumstick Plate
Vegan International Co.
13751 N Nebraska Ave, Tampa, FL 33613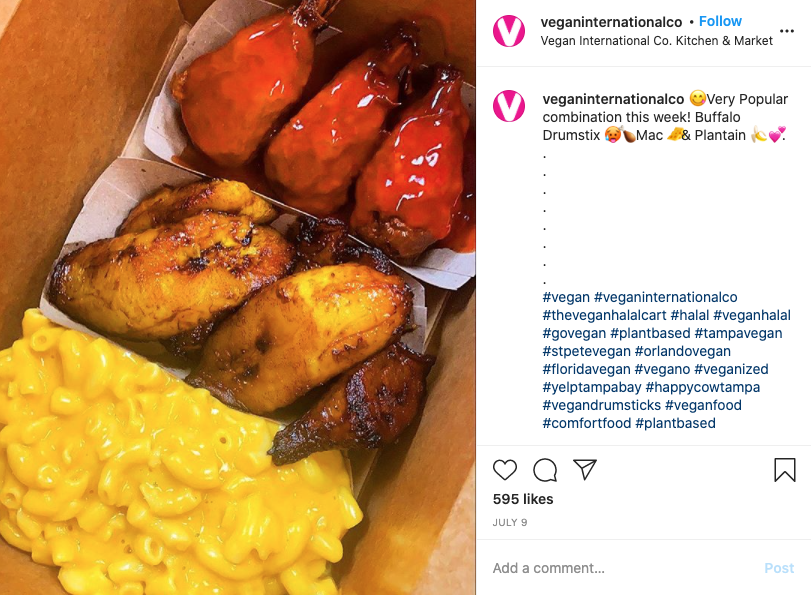 Time to get those hands messy. When you order the drumstick plate from Vegan International Co., you'll enjoy three vegan Drumsticks with your choice of sauce and two sides. Drumstick sauces include Buffalo, BBQ, Sweet N' Spicy, and jerk BBQ. We suggest the sweet plantains and saffron rice as sides. 
Bri the Vegan, on Happy Cow, claims these are the "best vegan hot drumsticks anywhere!" Take Bri's word for it and try out this gratifying meal. 
At Vegan International Co., it's not fast food; it's fresh food served fast. 
Veggie Empanada 
The Stone Soup Company
1919 E 7th Ave, Tampa, FL 33605
Named after the classic children's story, The Stone Soup Company is much more than a soup and sandwich shop. Unlike the other restaurants on this list, The Stone Soup Company isn't entirely vegan. But it shouldn't stop you from trying their delicious plant-based options. 
We suggest the veggie empanadas. Enjoy four crispy empanadas containing bella mushrooms, spinach, potatoes, rice, onion, tofu, vegan cheese, and a side of hot sauce—much yummier than a bowl of stone soup. 
Ice Cream Cookie Sandwich
Love Food Central
2057 Central Ave, St. Petersburg, FL 33713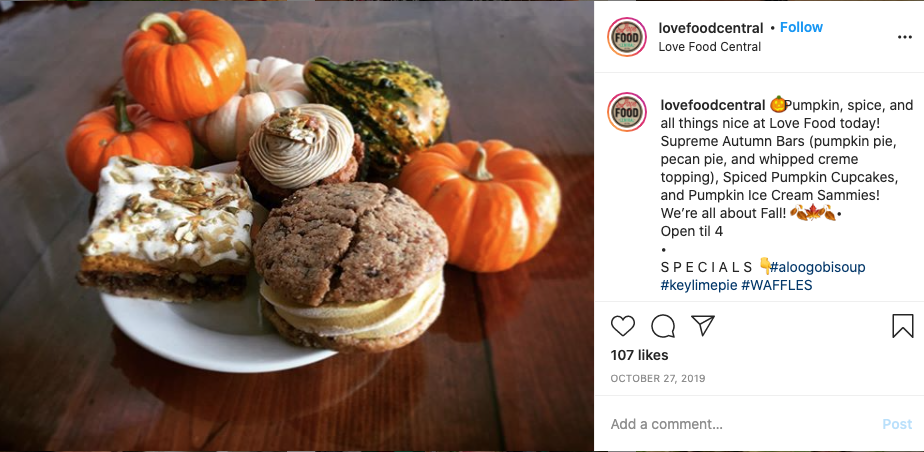 We'll conclude this list in the only way possible; with dessert! Love Food Central serves various delicious vegan desserts, but we suggest the ice cream cookie sandwich. Why? Because you get to eat both ice cream and a cookie and consider it one dessert. 
Between two delicious cookies, you'll enjoy vegan ice cream made from coconut and cashew. Wash it down with some coffee or hot tea.
Happy Eating! 
We hope these ten tasty vegan meals in Tampa encourage you to make the most of the meatless delights the city offers. We won't judge you if you try them all, like, this weekend. Happy eating! 
Are you looking for an apartment in Tampa Bay? Apply online for a McKinley apartment today!