Life is what you bake of it, so make sure it's filled with delicious cookies! Today is National Cookie Day, so grab a glass of milk and get ready to celebrate. Come on, who doesn't like an excuse to eat cookies? To help you on your way, we've put together a list of where to get the best cookies in Ann Arbor and Ypsilanti. 
While 54% of Americans prefer homemade cookies, it's important to help support local businesses. 
Americans LOVE cookies
Just how popular are cookies in the USA? Well, we consume over two billion cookies a year. That's an average of 300 cookies per American. Moreover, that's nearly 35,000 cookies in a lifetime. Where do we get the nerve judging the Cookie Monster when we put up numbers that big? The good news is that cookies make us feel good, illicit fond memories, and are easy to share. In other words, who cares if we eat billions of cookies a year? Worth it! 
What are the most popular cookies in America? According to 
Mobile Cuisine
, the top five cookie brands are: 
Nabisco Oreo

Nabisco Chips Ahoy

Nabisco Oreo Double Stuff

Pepperidge Farm Milano

Private Label Chocolate Chip
Nabisco is coming in hot! It shouldn't be a surprise that Oreos lead the pack. Also, who doesn't remember dipping one too many Oreos into a cold glass of milk as a kid? Dunking Oreos is so commonplace that different schools of thought exist regarding how to dip the delicious cookie. After a basketball, it's probably the most fun thing to dunk. 
While we all have favorite brand name cookies, this list is all about supporting local businesses. Enjoy these five places to get cookies in the Ann Arbor and Ypsilanti areas.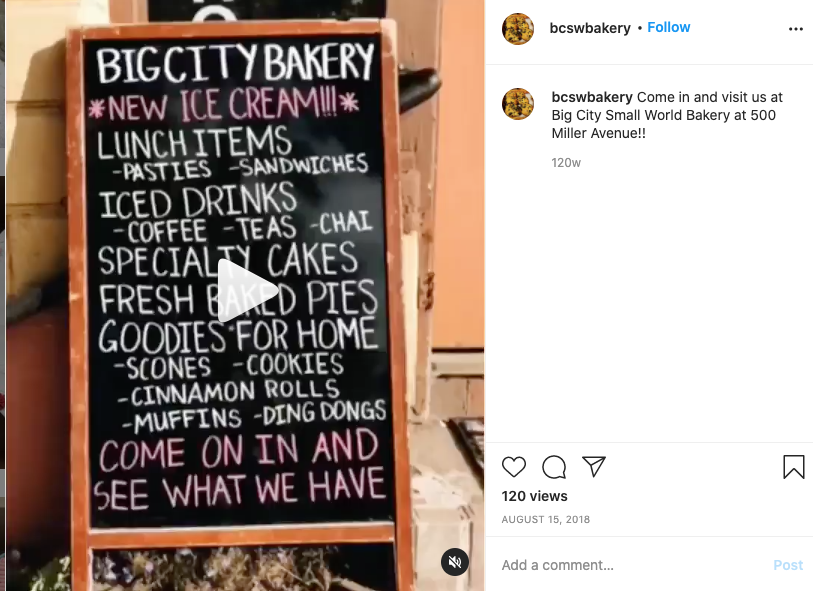 500 Miller Ave #1, Ann Arbor, MI 48103
From its charming "is this a bakery or someone's house?" vibe to the various animals made of recycled metal wire, Big City Small World Bakery is about as Ann Arbor as you can get. We mean that as a compliment. The bakery serves up delicious cookies, pies, cakes, and ice cream made from locally-sourced ingredients. Further, Big City uses organic flour in all of their sweets. 
Hefty is the word Big City uses to describe their third-of-pound cookies. In other words, their cookies are perfect for sharing or saving some for later. 
Cookie suggestion: You can't go wrong with either the peanut butter or chocolate chip oat.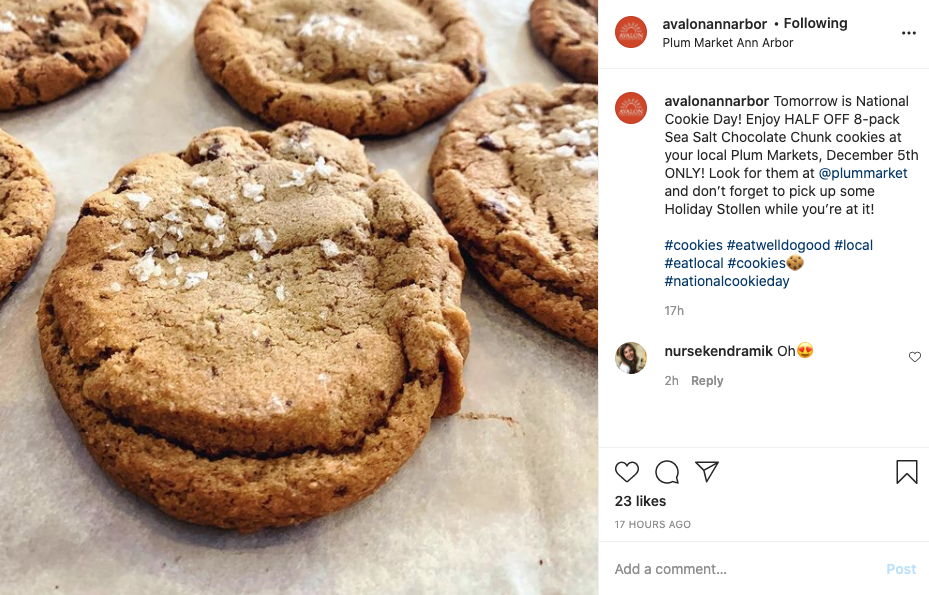 Pretzel Bell Building, 120, E Liberty St, Ann Arbor, MI 48104
Avalon Cafe made it on our list of the best places in Ann Arbor for tea, which is the perfect beverage to complement a cookie! And what a cookie. Similar to other establishments on this list, Avalon sources many of its ingredients locally. Further, if you're the kind of person who likes to have their sweets after a meal, stop by Avalon for lunch. 
Need more convincing? Yelpers voted Avalon Cafe the best cookie in Ann Arbor. 
Cookie suggestion: Sea Salt Chocolate Chunk cookies. 
Dom Bakeries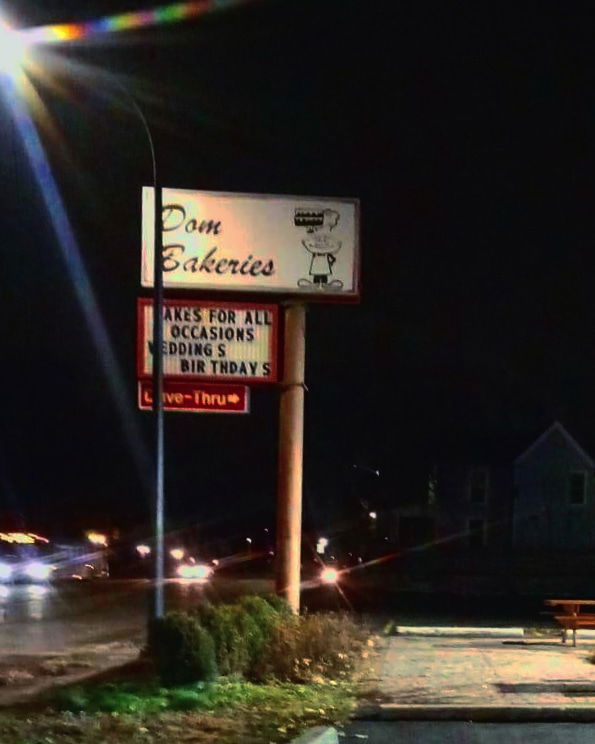 1305 Washtenaw Rd, Ypsilanti, MI 48197
Dom Bakeries is a no-frills, old-fashioned drive-thru bakery in Ypsilanti. And a darn good one at that. While Dom Bakeries is known for their donuts, don't sell their cookies short. And since you never know when a cookie craving will sneak up on you, Dom's is open 24/7. 
Cookie suggestion: Frosted cookie.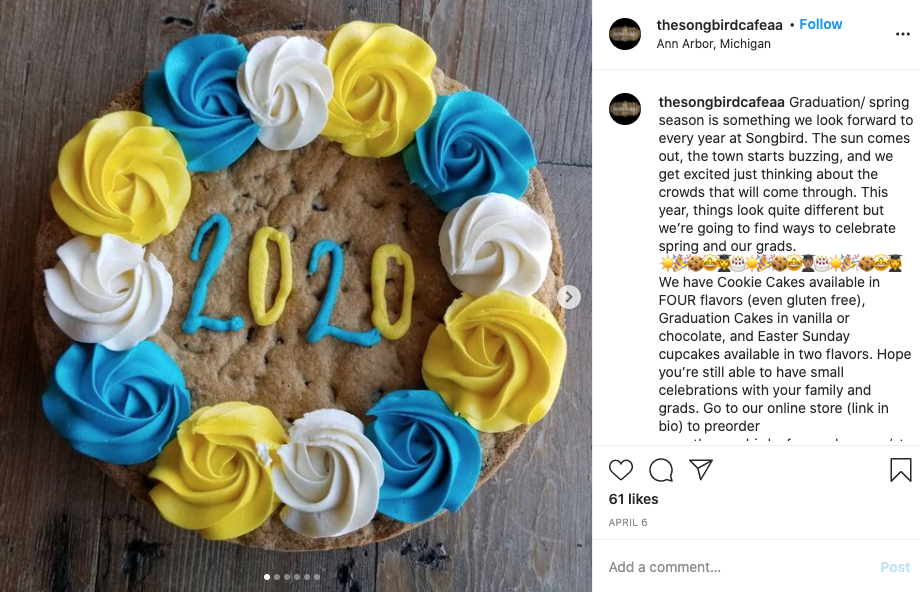 2707 Plymouth Rd, Ann Arbor, MI 48105
In Ann Arbor, the Songbird Cafe has garnered a reputation for being a cozy place for food and coffee. Yes, a bulgogi parmesan omelet sounds delightful right now, but this list is about cookies. Also, for those marking a special occasion, The Songbird Cafe has you covered. Order a custom cookie cake for any celebration. Hey, why not order one for National Cookie Day? 
Cookie suggestion: Keep calm cookies—chocolate chip cookies with all-natural, herbal valerian root (we could all use one this year).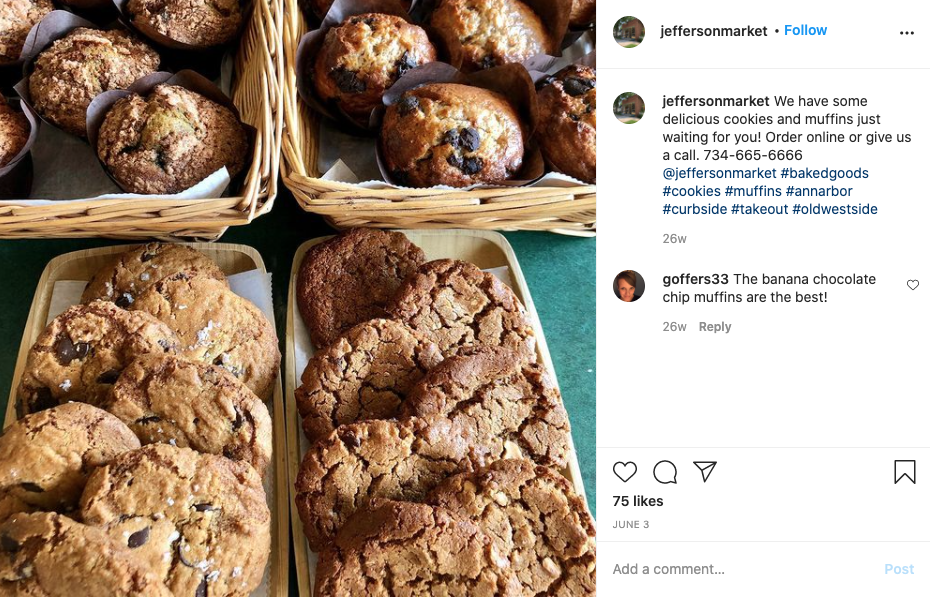 609 W Jefferson St, Ann Arbor, MI 48103
The cool kids know it as "The Jeff," but you can call it whatever you like as long as you try their delicious cookies. Housed in a historic building that was once a grocer back in the early '20s, Jefferson Market is a prime spot for breakfast, lunch, and takeout dinners. 
Cookie suggestion: Honey peanut butter cookie (G.F.). 
"Me Love to Eat Cookies. Sometimes eat whole, sometimes me chew it." – The Cookie Monster 
We suggest you chew and savor the best cookies in the Ann Arbor area! 
Do you want more suggestions of places to visit and things to eat in the Ann Arbor and Ypsilanti area? Visit our McKinley Living page. Are you looking to move to Ann Arbor? View our apartments.