There's something sentimental about taking a trip to the local apple orchard/cider mill in the fall. Maybe it's because most Michiganders have so many fond memories of sipping warm cider, picking the perfect apple, or covering their hands, face, and pants in discarded sugar from freshly made donuts. 
A visit to a Michigan cider mill is an essential note in the fall's rhythm, a must-do before the snow starts to drop. Luckily, we have some of the state's best cider mills in Washtenaw County, which means you won't have to venture far from your McKinley Ann Arbor/Ypsilanti apartment for autumn spoils. 
Donuts & Cider: A Match Made in Foodie Heaven 
Some would argue that cider & donuts are a culinary pair on the level with milk & cookies. Why exactly are donuts the snack to compliment a cup of cider? Other than that a fried piece of dough washes down exceptionally with the cider's tartness, travel played its part as well. 
According to NPR, the invention of affordable automobiles made it much easier for city dwellers to take a drive out to rural areas. On these trips, families would grow hungry, so many orchards added donuts to attract travelers to taste their cider. 
Further, automation and new technologies made it easier for mills to feed and quench the masses' thirst. 
Now that you have a bite of history, let's wash it down with some of our favorite cider mills in Washtenaw County. 
Dexter Cider Mill
Address: 3685 Central St, Dexter, MI 48130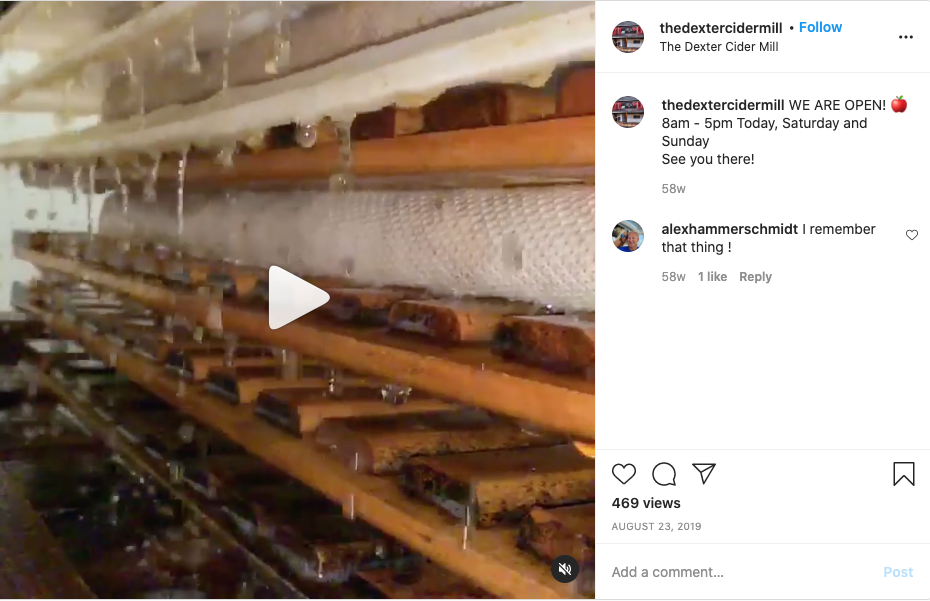 Dexter is a charming town to visit in the fall. After a pleasant stroll along the Huron River, treat yourself to donuts and cider at the historic Dexter Cider Mill. 
Started in 1886, this family-owned and operated mill utilizes an authentic oak press to create delicious cider from Michigan grown apples. 
Try to get out to this historic cider mill on the weekend to enjoy a slice of their homemade pies. 
Alber Orchard & Cider Mill
Address: 13011 Bethel Church Rd, Manchester, MI 48158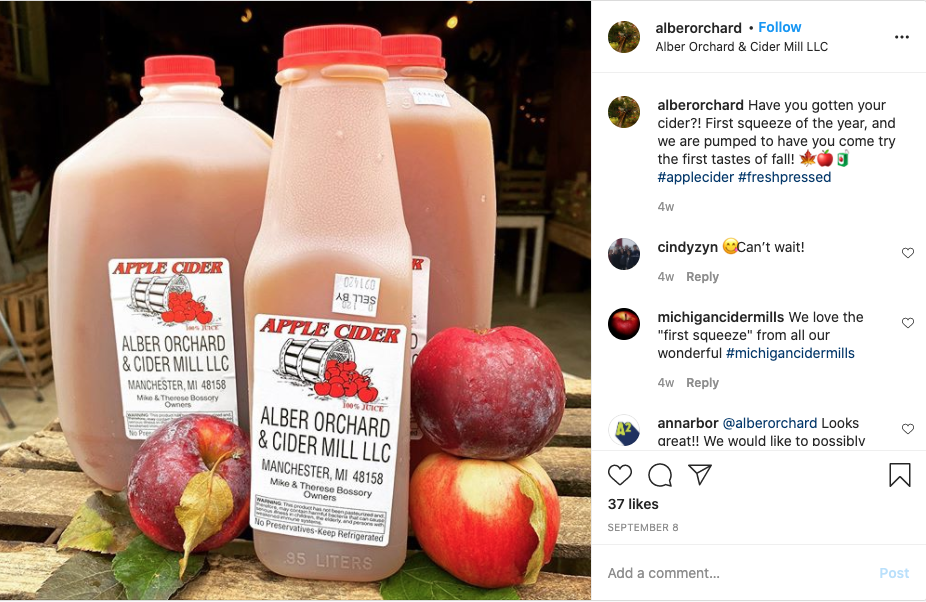 Located in charming Manchester, MI, Alber Orchard & Cider Mill is well worth the 30-minute drive from Ann Arbor. The orchard features over 100 apple varieties, including heirloom apples. Further, some of the trees in the orchard have been there for hundreds of years!  
Did we mention that the cider at Alber Orchard is award-winning? 
Wasem Fruit Farm
Address: 6580 Judd Rd, Milan, MI 48160
Claiming to have "some of the best cider you will ever taste," Wasem Fruit Farm in Milan, MI, is a must-visit come fall. The farm offers their sweet fried treat in pumpkin, blueberry, and apple batter for adventurous donut eaters. 
There's nothing better than an apple right off the tree. Wasem has over 12 varieties of apples for U-Pick.  
Wiard's Orchards
Address: 5565 Merritt Rd, Ypsilanti, MI 48197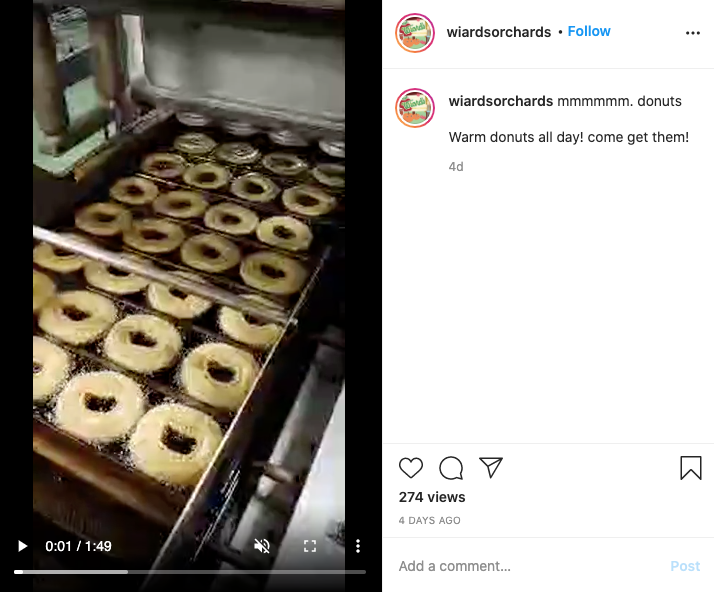 When a community loves your cider for over 183 years, you know you're doing something right. Wiard's Orchards has been making apple cider the old-fashioned way since 1837. 
In addition to delicious cider, Wiard's offers plenty of family-fun with its corn maze, U-Pick apples, and a country fair. They even have a Karaoke Kabin. 
Enjoy Washtenaw County's Cider Mills 
When you visit a local Michigan cider mill, you're supporting a historic part of the state's agriculture industry. To put it in perspective, Michigan is the third-largest apple producer in the country, resulting from more than 14.9 million apple trees. 
It's a good thing that Michigan grows so many apples since makers press nearly 20 pounds of the fruit for one gallon of cider. 
Alright, if you're like us, then you probably have cider and donuts on your mind right now, so get out of your McKinley apartment and visit these iconic apple orchards in Washtenaw County. Happy snacking! 
Can't get enough of those fall vibes? Read our list of the best places in Ann Arbor to view fall foliage.