Michigan breweries make more than 899,792 gallons of beer per year. In other words, beer is "lager" than life in Michigan, which is why it's no surprise that Ann Arbor is home to many breweries and pubs. Moreover, with the weather starting to warm, we all have outdoor activities on our minds. And while we all must continue to follow COVID-protocols, many Ann Arbor breweries have outdoor seating and beer-to-go. Here are five beers to try in Ann Arbor this spring to help you on your fermented adventure (21+ only). 
Be hoppy! Here are some must-try beers in Ann Arbor. 
2321 Jackson Ave, Ann Arbor, MI 48103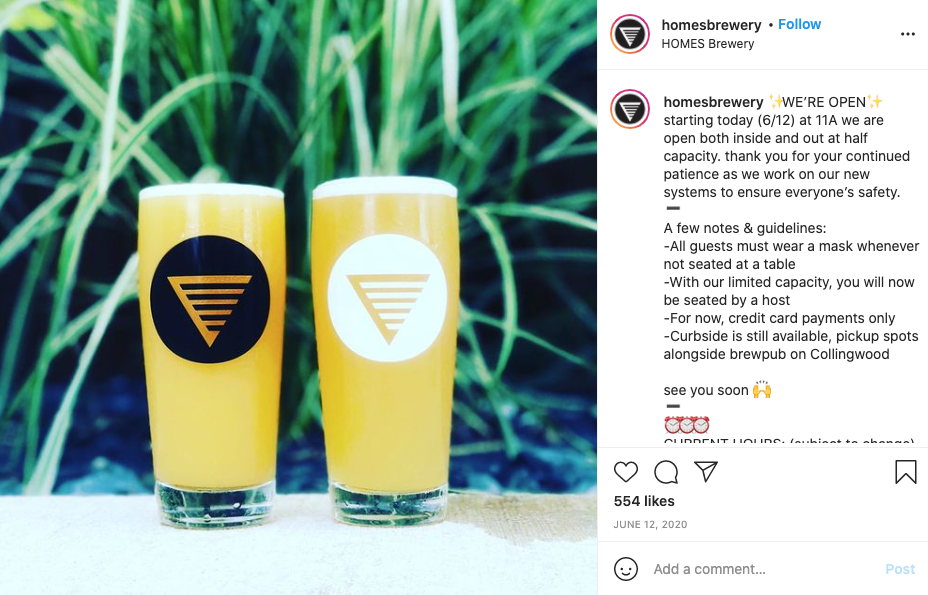 If you relish sitting fireside, spotting adorable pups, and munching on Japanese seven-spice fries with your beer, then HOMES is the place for you. Also, who doesn't like those things? What makes HOMES a popular Ann Arbor destination is its open-space layout (even many of the "indoor" seats feel outdoorsy) and its innovative, fruit-forward (without being too sweet) beers. 
Beer advocates drive from far and wide to secure one of the HOMES' limited releases, such as its Tangerine Barrel-Aged Sour. Yes, things get sour in an excellent way at HOMES. To explain, the brewery is the destination for sour beers, from golden sours aged with fruit to sour IPAs brewed with milk sugar. 
So, if you enjoy sours, try them all at HOMES, but if not, we suggest the King Cold Brew Imperial Cream Ale. Sounding like a bad guy from Super Mario 64, King Cold Brew is a rich and flavorful beer with notes of milk chocolate, rose hips, and strawberry — a fitting drink for a town that loves its coffee. 
311 S Main St, Ann Arbor, MI 48104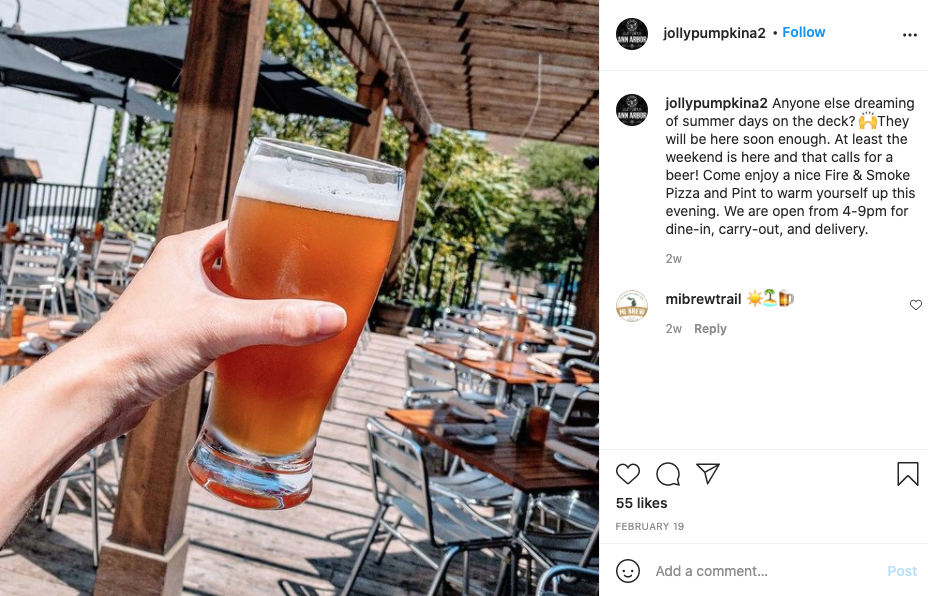 Jolly Pumpkin is well-known for its delicious beers and pizza, as well as its excellent location on Main Street. Further, the brewers at Jolly Pumpkin create rustic country beers, which is one of the many reasons its playful name makes sense. And for this writer, Halloween is one of the best holidays, so why not keep pumpkins relevant year-round? 
Enough about Halloween. Now, since spring is in the air, it's hard to beat a hoppy citrus-forward beer to pair with the warmer weather and sun. Picture this: yourself sitting outside on Main Street, room temperature weather interspersed with a cool breeze, the smiling face of a friend sitting across from you, a cold, tart pale ale in your hand. What's better than that? Oh, and there are hints of peach in the beer.  
Finally, you'll find the single-hop Citra pairs very well with the jalapenos and pineapple found on the South Pacific pizza. And, yes, pineapples do belong on pizza.
2019 W Stadium Blvd, Ann Arbor, MI 48103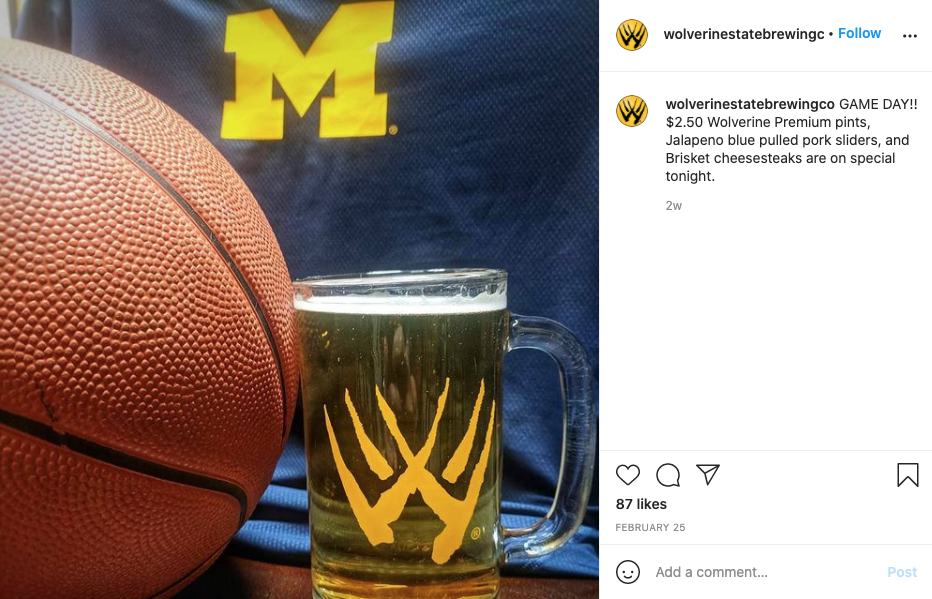 Wolverine State Brewery is Michigan's first and only all-lager microbrewery. That's even more impressive when considering lagers are challenging to make, and mistakes are, well, easy to taste. Moreover, lagers are ubiquitous among big beer brands, which is why it's always refreshing to try a craft alternative. Refreshing is a good word in the context since lagers are known for being crisp with a clean finish, which is why they taste so darn good in the spring and summer. And with upwards of 65 different lager recipes in the Wolverine State cookbook, you won't have to worry about a lack of options. 
We suggest the District 16 amber lager, which has a copper-hue to it; not uncommon for Vienna style lagers. Further, the brewery crafts its District 16 using three European malts and three European hops. Take a whiff of that gorgeous, slightly sweet, malt aroma. 
Since we know you'll love it here, consider joining the mug club. Members slurp down luscious lagers from 16oz mugs at 12oz prices. Also, mug members enjoy exclusive happy hours, discounts on merch, and more. 
719 W Ellsworth Rd #2, Ann Arbor, MI 48108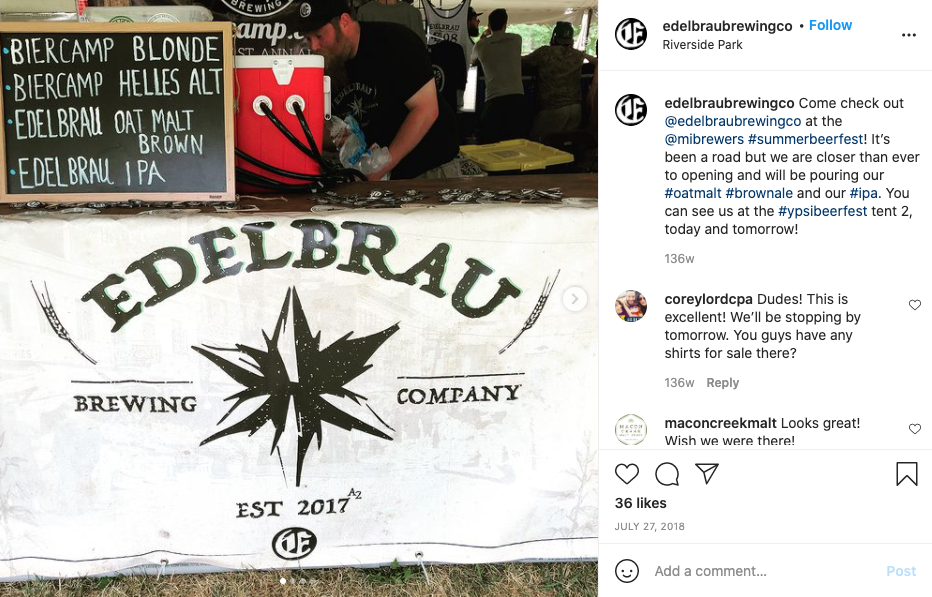 Since it's March, we should acknowledge St. Patrick's Day. As far as dry stouts go, most beer-drinkers have tried one without even realizing it. You guessed it, the official beer of St. Patrick's Day, Guinness, is a dry stout. And while we fully support the responsible consumption of Guinness pints on March 17th, we encourage you to try a local alternative. Thankfully, the people at Edelbrau Brewing Company make an impressive dry stout. 
Dry stouts are dark in color and have a distinct dry-roasted flavor derived from the roasted barley used to make them. Edelbrau's dry stout sticks to this format resulting in a delicate blend of sweet and bitter tastes combined in a smooth and creamy body. Also, the brewers at Edelbrau don't take shortcuts that sacrifice experience or traditions, which is why this beer holds up as an excellent and locally-made alternative to Guinness. Cheers! 
2350 W Liberty St, Ann Arbor, MI 48103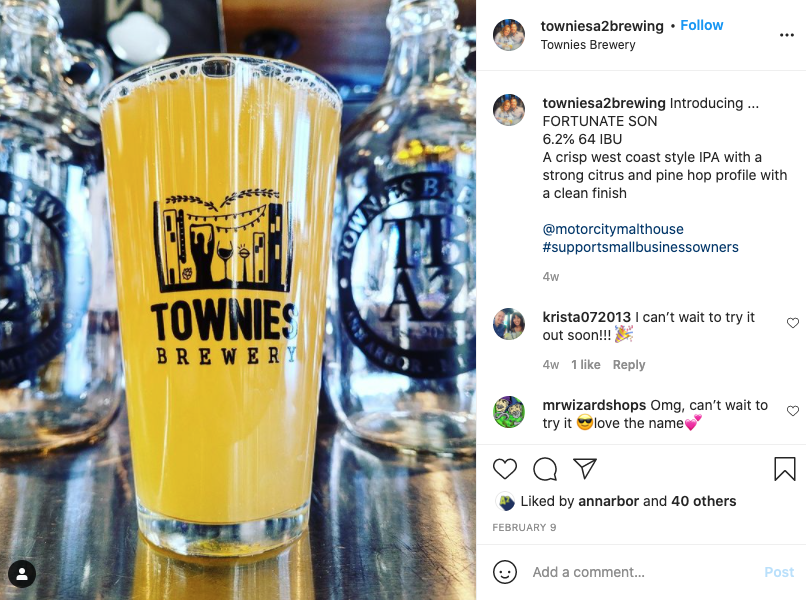 Would you look at that? We nearly made it to the end of an Ann Arbor beer list without suggesting an IPA. What the ale were we thinking? Thankfully, Townies Brewery serves up some delicious ones, including the citrusy Fortunate Son IPA. Drinkers will enjoy this crisp West Coast style IPA for its pine hop profile and clean finish. 
Similar to HOMES brewery, Townies is a prime location for dog-watching. For instance, Townies mentions it's a dog-friendly brewery on its website, so you're more than likely to spot a cute pup while you sip your IPA. 
There "brew" have it, folks! Keep in mind there are many more fun microbreweries to try in Ann Arbor, so get out there and responsibly support local businesses. And for our friends who don't drink, check out our list of the best places for tea in Ann Arbor. 
Are you looking to move to Ann Arbor? Please view our McKinley apartments.