4,500. That's the average amount of calories consumed on Thanksgiving. The number seems modest, considering most meals end with a whole table full of desserts. And with everything going on this year, the need for a plenteous plate of comfort food has never been higher. To help every one of those 4,500 calories be worth it, we've put together a list of the best Thanksgiving to-go meals near Ann Arbor. 
Keep in mind these Thanksgiving meals near Ann Arbor and Ypsilanti need to be pre-ordered, so plan accordingly. Missing out on the most anticipated dinner of the year would be, well, it would be a pie to the face. 
Reasons to order out Thanksgiving dinner:
Support Local Businesses 

Save time in the kitchen 

Try something new 

Save money with package deals 

Fewer trips to the grocery store 

Avoid the dreaded day-of kitchen mishap 

Easier cleanup 
Safety first, friends! While we all know that seeing family and friends is the best part of Thanksgiving, you might have to visit virtually this year. Thankfully, the Michigan Department of Health and Human Services has a comprehensive guide to celebrating the holidays during COVID-19. 
So whether you stick with your pod or quarantine for two weeks before seeing extended family, no one can stop you from eating delicious food. Speaking of being thankful, we couldn't be more grateful to live in an area with such quality restaurants. Here are some great options for the best Thanksgiving to-go meals near Ann Arbor.
300 Detroit St, Ann Arbor, MI 48104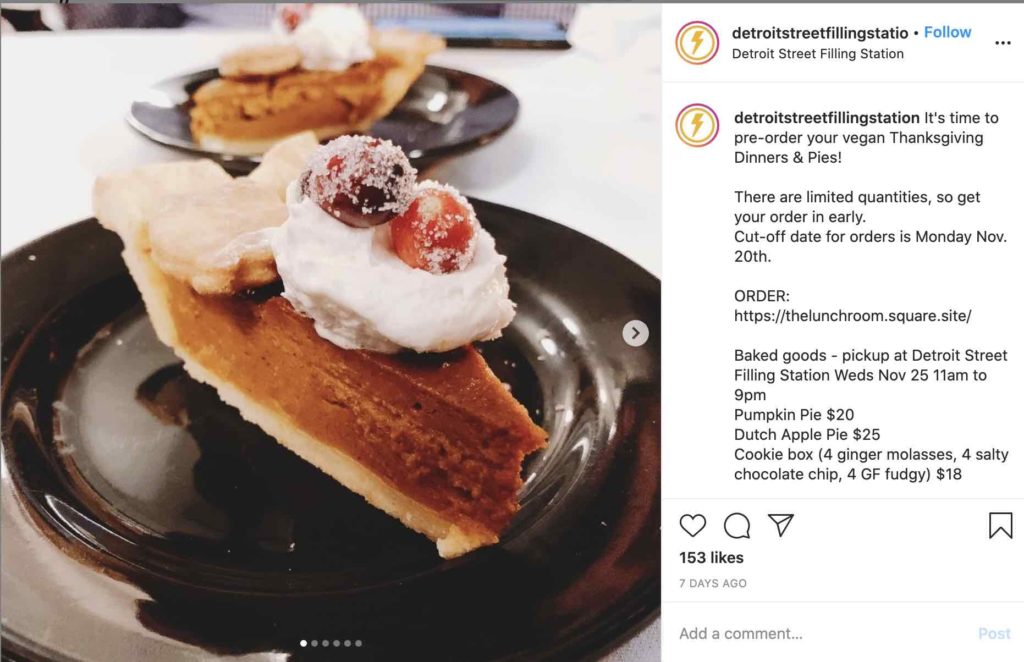 Nowadays, it's not uncommon for a family to make vegan dishes for Turkey Day. That's why Detroit Street Filling Station, a local vegan port, is a great option. 
Try the full Thanksgiving Feast, which includes Seitan roast and stuffing, mashed potatoes with rosemary gravy, mini whoopie pumpkin pie, and more! If you're only looking for yummy vegan desserts, they have you covered! Try the delicious dutch apple pie, or go for an assortment with the cookie box featuring ginger molasses, salty chocolate chip, and fudgy. 
Also, shout out to Detroit Street Filling Station for partnering with TeaHaus to fight hunger in Washtenaw County. 
 2501 Jackson Ave, Ann Arbor, MI 48103
Order by Sunday the 22nd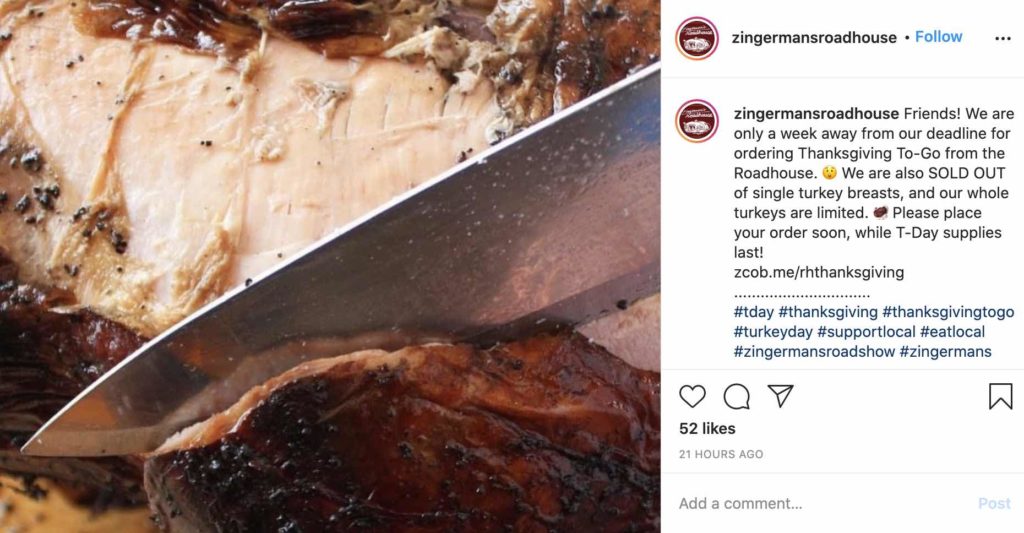 How fitting to get Thanksgiving-to-go from a roadhouse. Order online, pick up on your designated day, and hit the road! 
Many yummy options are available, from a full family feast to sides and desserts to go. The family meal comes with a whole turkey! Try it traditional or the coffee-spiced smoked rendition. And yes, there will be side dishes. Enjoy mashed potatoes, gravy, cranberry relish, savory cornbread stuffing, and roasted locally-grown veggies. Finish it all off with a freshly baked loaf of bread and a Bakehouse pumpkin pie. The meal serves 8-10. 
Not a fan of pumpkin pie? First off, you're missing out, and second off, you can order one of their other delicious baked goods, including chocolate chess pie and cran-walnut pie. 
But don't only take it from us! From the Roadhouse website: "Our Thanksgiving meals feature Coffee Spiced Smoked Turkeys, named 'the greatest turkey recipe in the history of Thanksgiving' by Esquire."
600 E Liberty St, Ann Arbor, MI 48104
Sold out for 2020 (don't forget to order early in 2021)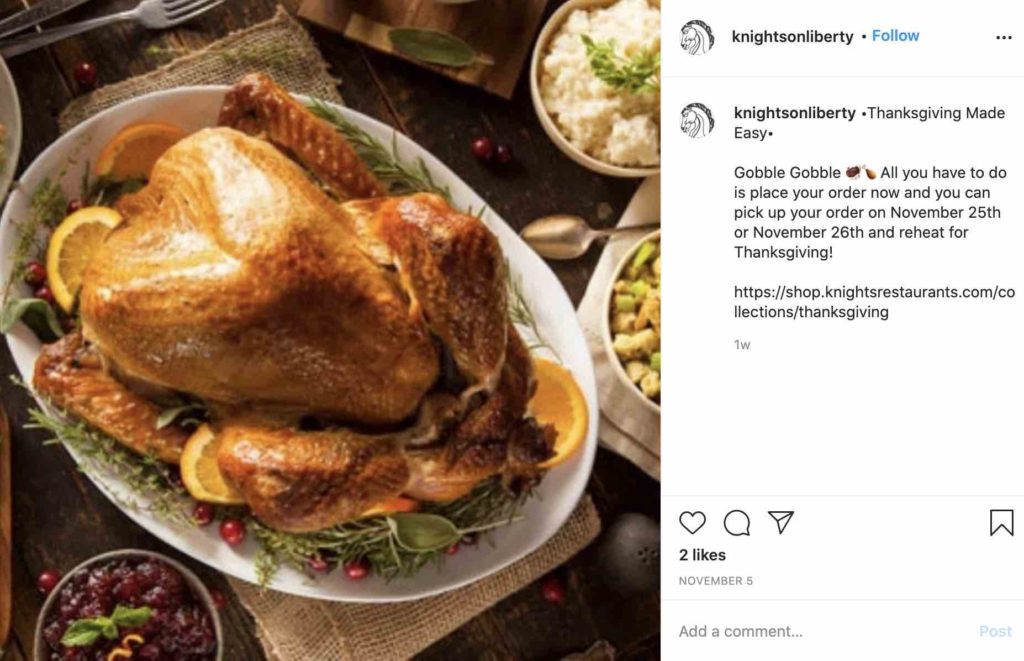 For a traditional and delicious Thanksgiving meal, consider local-staple Knights Steakhouse. Sizing options include family of 10-12, family of four, or family of two. Further, you can order turkey or ham by the pound as well as stand-alone side dishes. 
The meals include roasted Amish turkey — we are talking carved white and dark meat that's ready to eat! Thanksgiving meals from Knights also includes homemade turkey gravy, mashed potatoes, traditional stuffing, green bean casserole, cranberry sauce, and a whole pumpkin pie! 
Satisfy your sweet tooth with a variety of Kim's pies, including dutch apple, Kentucky bourbon pecan, and key lime. Key lime pie for Thanksgiving? Jimmy Buffett would approve. 
207 W Michigan Ave, Ypsilanti, MI 48197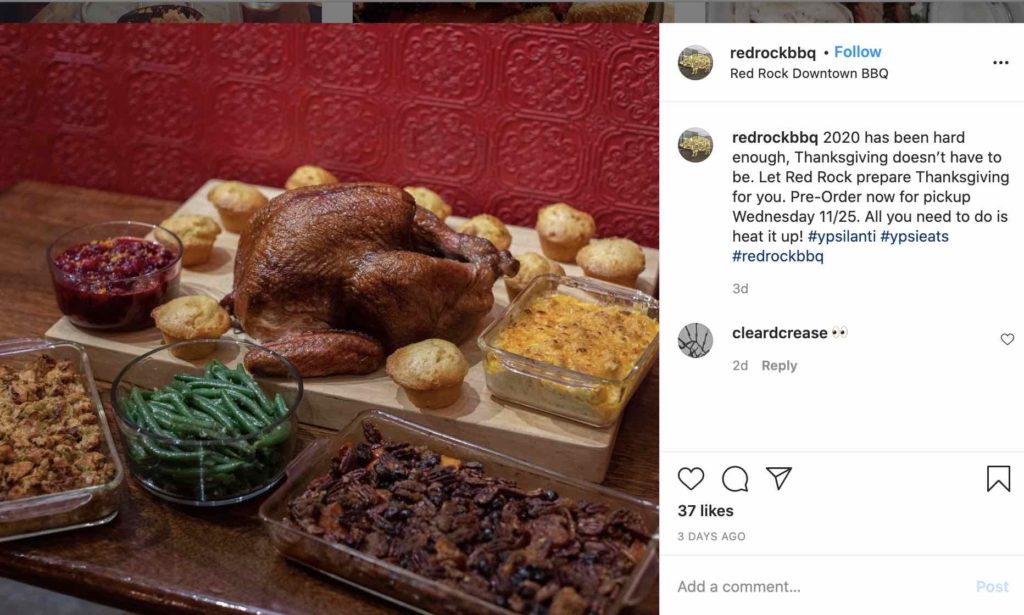 Known for their house-smoked barbecue, large craft beer selection, and friendly and inviting atmosphere, Red Rock Barbecue is an Ypsilanti staple. While you can't go wrong with Red Rock's delicious Angus beef brisket and Duroc St. Louis spare ribs, you won't be disappointed by their Thanksgiving fair. 
Chow down with over 20 lbs. of food when you order Red Rock's Thanksgiving dinner, a feast for 8-10 people. The meal includes smoked turkey, mac & cheese, green beans, rosemary & sage stuffing, cranberry sauce, sweet potato casserole, and cornbread muffins. We won't judge you if you put a little BBQ sauce on any of those items.
117 S Ann Arbor St, Saline, MI 48176
Sunday 11/22/2020 @ 5:00pm
For a handcrafted and locally-sourced Thanksgiving meal, look no further than Salt Springs Brewery in Saline. 
Their family to-go meal offers three main dish options: smoked turkey (dry bbq rub & natural jus), smoked beef brisket, and butternut squash ravioli. Whichever delicious option you choose comes with jalapeno cheddar cornbread stuffing, roasted sweet potatoes, green beans with oven-dried tomatoes & goat cheese, homemade cranberry apple sauce, and pumpkin bread pudding. 
Seriously, how amazing does that cornbread stuffing sound?
401 Depot St, Ann Arbor, MI 48104
Order by November 22
The elegant and historic Gandy Dancer serves up a delicious Thanksgiving meal to-go. The feast can feed 10-12 people and includes a 20 Lb. Roasted turkey, cornbread stuffing, whipped potatoes, candied sweet potatoes, marinated vegetable salad, roasted acorn squash, housemade bread, two pumpkin pies, and one pecan pie. You read that correctly, TWO pumpkin pies. Yum. 
As you get ready to "gobble 'til you wobble" this year, take a moment to be grateful. It's been a challenging year, and though we can't celebrate in large groups, we can still say thanks for what we do have. 
Happy Thanksgiving, friends! We are grateful to all of our residents. 
Stay tuned to our McKinley Living blog for tips, DIY, and giveaways this holiday season.