Every fourth Thursday in November, nearly 96% of Americans gather to feast on turkey legs and buttered mashed potatoes. It's safe to say Thanksgiving is a popular holiday — many would rank it their favorite.  And while we love to gather in groups to laugh, eat, and cheer on our football team, this year will be more intimate. With the CDC recommending limited holiday gatherings with extra precautions, there's a chance many of you will celebrate in a different setting this time around. Moreover, you might be cooking a Thanksgiving meal for the first time. For that reason, we've put together a guide to hosting Thanksgiving in an apartment. 
While there's no doubt the meal is the main attraction, don't underestimate the build-up and post-food conversations. According to Nationwide, the average time spent eating on Thanksgiving is only 16 minutes. That's not a lot of time considering people spend most of the day cooking. Since this year will be different, focus on the interactions you can have. Even if it's just you and a roommate, remember to have fun, laugh, and eat an extra slice of pie (you deserve it). 
Let's be grateful 
Look, we are right there with you in wishing for a typical Thanksgiving. But this year doesn't have to be a bummer. Let's think of it as an extra reminder of all of the things for which to be grateful. To name a few:
Technology, for allowing you to stay connected with work, friends, and family

Frontline workers 

Your health 

Farmers for providing the meal on your table 

Holiday decorations (don't be afraid to go all out this year)

Friendly neighbors who offer a smile and a wave from a safe distance

Your pet(s)

A new start in 2021 
And, on a personal note, McKinley is grateful for our incredible residents. 
Sorry, we are getting a bit sentimental over here. Back to the plan! Here is our guide for hosting Thanksgiving in an apartment. 
Save time with a Thanksgiving meal to-go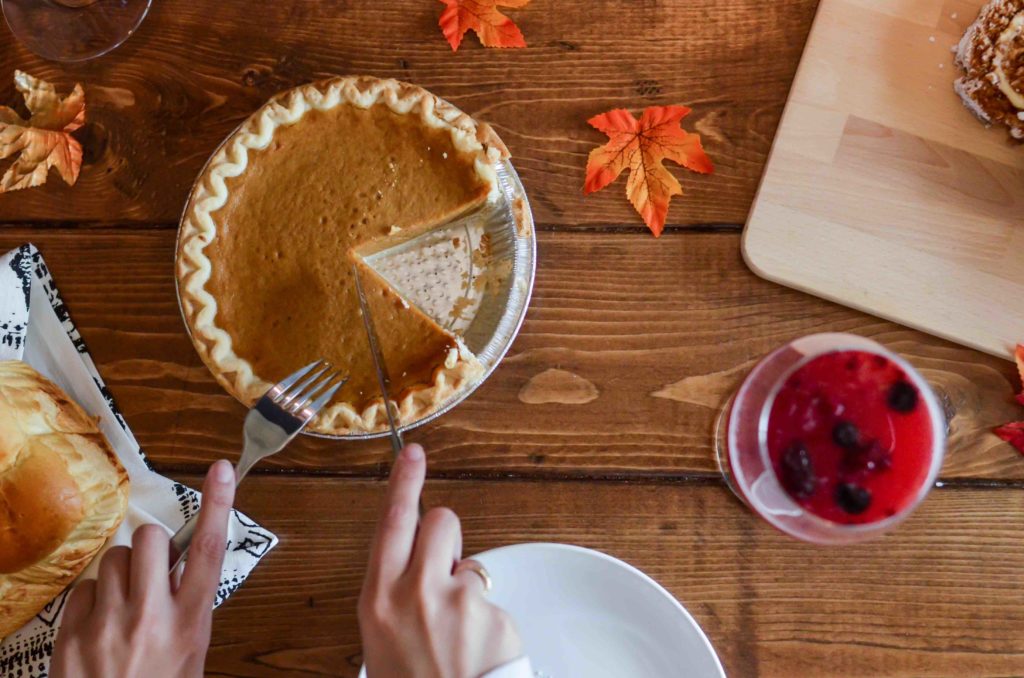 Restaurants have had a rough go this year. While outdoor seating has been a saving grace for many, cold weather will soon put a hold on that too. So, do your part to help by ordering a Thanksgiving meal to-go. Many restaurants offer full-meals in various sizes. For example, a whole turkey, sides, and pie are enough for 8-10 people, but ordering half sizes or even by the pound is a better option for groups of two to five. Keep in mind that many popular restaurants sell-out of their meals-to-go, so order early. Just think of how happy you'll be when you only have some dirty dishes to clean instead of an entire kitchen messy from food prep. 
For our residents:
Thanksgiving to-go near Ann Arbor
Thanksgiving to-go near Orlando
Thanksgiving to-go near Tampa Bay 
Rearrange for comfort 
While most of our McKinley apartments are spacious and have dining areas, you might want to try a special arrangement for Thanksgiving. Even if you're only having two or three people over, you'll still benefit from a less crowded atmosphere by rearranging your furniture. 
Consider the flow of the evening. For instance, many dishes of food will come and go from the kitchen to the dining table, and perhaps you'll want a separate area for drinks. Arrange your furniture so it's easy for everyone to move from room to room without traffic jams. 
Prep, prep, prep
Ah, the chaos of a kitchen on Thanksgiving morning. Steaming pots of veggies, beeping timers, heat emanating from the oven, and the clanging of utensils have it feeling more like the industrial revolution than a day of cooking. Save yourself the stress of doing it all on game day with lots and lots of prep. Apartment kitchens can get crowded, so the more you can do early, the more space and organization you'll have for the day-of necessities. 
You can cook various casseroles, buns, desserts, gravies, and other side dishes the day before. Some foods, such as soups, taste even better after settling for a night. Further, utilize your freezer for a stress-free Thanksgiving. 
Here's a great guide from the folks at Food Network: the ultimate make-ahead Thanksgiving. 
Host a virtual Thanksgiving game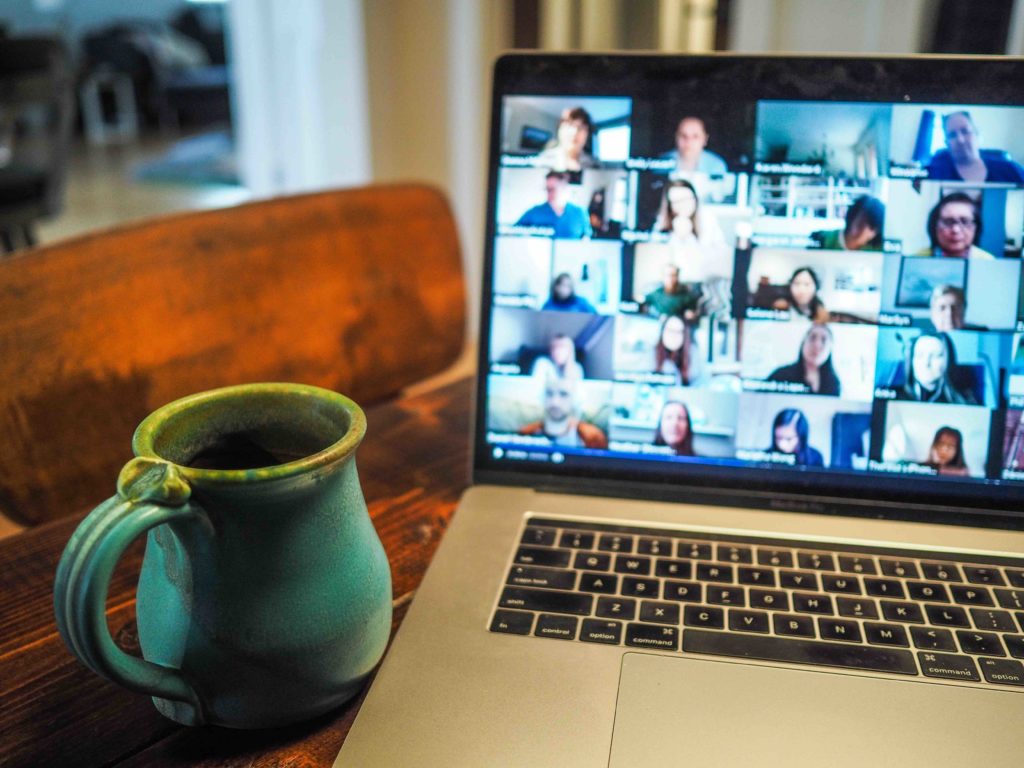 As mentioned, many of us will have to see family and friends via a computer screen. Try and make the video chats memorable with a fun game! For example, play Thanksgiving-themed bingo. Have your family print these creative Thanksgiving bingo cards from Happiness is Homemade, then call the numbers. You can either play for bragging rights or mail/email the winner a prize — a gift card or IOU for when it's safe to get together again. 
Another fun Zoom game to play with the fam is virtual trivia. Put together a list of Thanksgiving-themed questions as well as a format for points, rounds, etc. Utilize Zoom's chat function so each team can discreetly send their answers. As for questions, think beyond only historical facts. For example, ask them to estimate how many turkeys Americans consume on Thanksgiving. The closest answer gets the most points. If you need to know, the answer is 46 million turkeys—gobble gobble. 
In honor of the spirit of Thanksgiving, try the A-Z gratitude game. Establish an order of who speaks after whom on your Zoom, then begin with A. For example, aunt Aubrie is grateful for artichokes. Okay, weird, aunt Aubrie, but you do you. Next, brother Bill is thankful for basketball. You get the idea. 
DIY Thanksgiving decorations 
Situated between Halloween and Christmas means people overlook Thanksgiving decorations. They aren't up for very long, and iconography isn't as vast as other holidays. Further, a dedicated group of people starts decking the halls as soon as Nov. 1st. That all makes sense, but hear us out; DIY decorations are about the experience as much as the eye candy. Also, since storage space is limited in apartments, DIY projects are smarter than purchasing large reusable decorations. 
Since you can't enjoy a large group, spend extra time bonding with your pod with one of these fun DIY projects. Here are some great sites to get you started: 
Have a Turkey Day movie marathon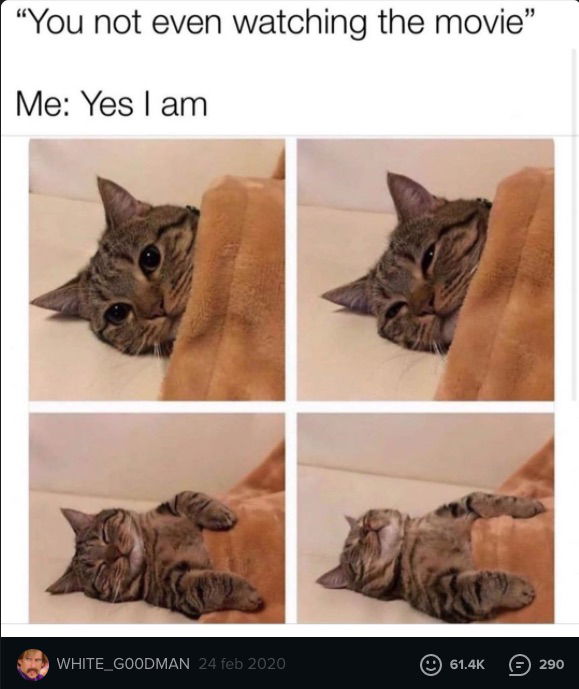 The tryptophan is kicking in, and the last thing you want to do is start washing dishes. Gather the pod for a Thanksgiving movie fest after dinner. There aren't many Thanksgiving movies to choose from, but that's okay since you'll only need two or three. Here are some suggestions:
Planes, Trains and Automobiles 
If you've had your fill of Thanksgiving (pun intended), then kick off the next season with your favorite holiday movies. 
Movies are a great escape, which is why they're the perfect fit for such a tumultuous year. Also, no shame if you fall into a post-meal slumber as soon as the opening credits start to roll. 
Have a Wonderful Thanksgiving
Thanks for feasting your eyes on our guide to hosting Thanksgiving in your apartment. We wish you all a happy, safe, and delicious Thanksgiving! 
Click here if you're interested in living in a McKinley apartment.