In the words of the famed Cookie Monster, "Me love poetry… and cookies!" Leave it to a puppet to succinctly sum up the human experience. No matter your background, hobbies, or age, there comes a time when we all need comfort food. What you consider comfort food is a personal choice, but its desire is universal. But let's be real, who doesn't like french fries? Okay, no time to debate. We all deserve a pass to stuff ourselves with salty, sweet, and cheesy delights with things the way they are. That's why we assembled this list of five comfort foods to try in Winter Park, Orlando. 
The term "comfort food" didn't find its way into Webster's dictionary until 1977, but that's not to say indulgent treats haven't been around for a very long time. For instance, cookies date back to 7th century AD Persia, and mac & cheese finds its roots in Italian recipe books from the 14th century. Why can't all of history be this delicious? Here are some comfort food facts to get you in the mood. We hope you find them…comforting.  
Comfort Food Trivia:
7 percent of the potatoes grown in the U.S. become McDonald's french fries.

Each second, Americans eat 350 slices of pizza.

America's first ice cream parlor opened in New York in 1776.

World record-setting grilled cheese consumption: 47 sandwiches in 10 minutes.

Okay, another 

grilled cheese fact

 because this is too good to miss. Between the 1920s and the 1970s, people referred to grilled cheese as a "cheese dream."

777 pounds. That's the size of the largest cheeseburger ever made. Yikes. 
Enough about record-breaking burgers, let's get to our list of seven comfort foods to try in Winter Park, Orlando.  
3201 Corrine Dr. Unit 105, Orlando, FL 32803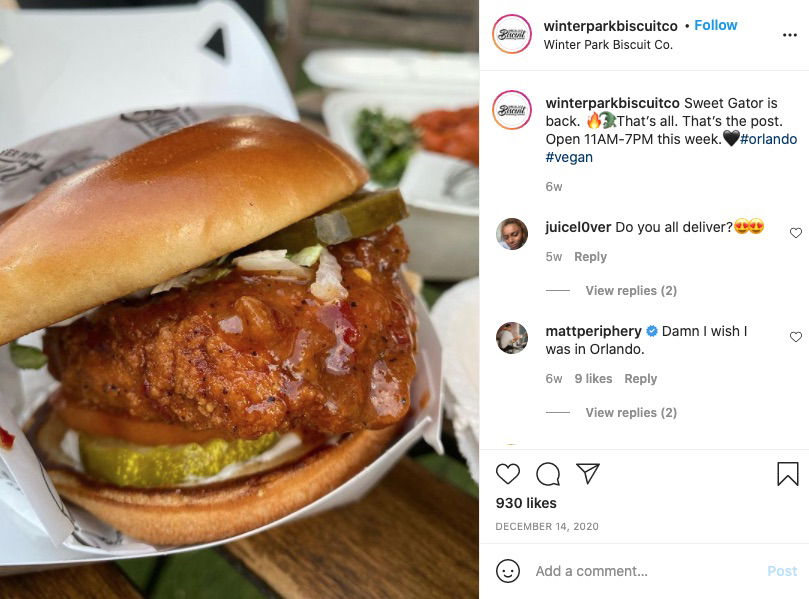 While Winter Park Biscuit Co. might be the new kids on the block, its creative and delicious take on vegan comfort food is likely to become a new favorite for locals. Also, any restaurant with "LINE STARTS UNDER THE 'HOT BISCUITS' SIGN OUTSIDE" on its website should do just fine. 
The sandwich includes a crispy chik cutlet with lettuce, tomato, pickles & mayo. While it's your sauce choice, we highly recommend the sweet gator sauce—spice things up with pickled jalapenos. 
216 N Park Ave # H, Winter Park, FL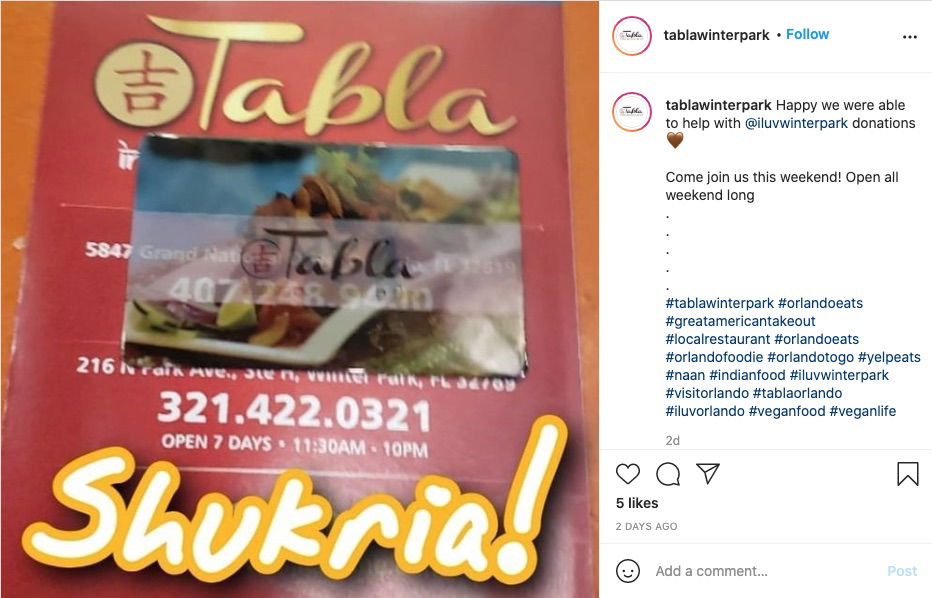 Voted one of "Orlando's Top Hidden-Gems Restaurants" by Visit Orlando, Tabla Winter Park is a must-try. From its site, "Tabla's Cuisine offers a symphony of Indian, Indo-Chinese, vegetarian, vegan, and Thai flavors and spices that is to excite both the neophyte and the connoisseur alike."  
With the Palak Ghosht, you'll enjoy boneless Lamb or Bone-in Goat cooked in Braised Spinach, Garlic, Tomato-Onion Masala. Tabla serves this Indian curry dish with rice. 
360 W Fairbanks Ave, Winter Park, FL 32789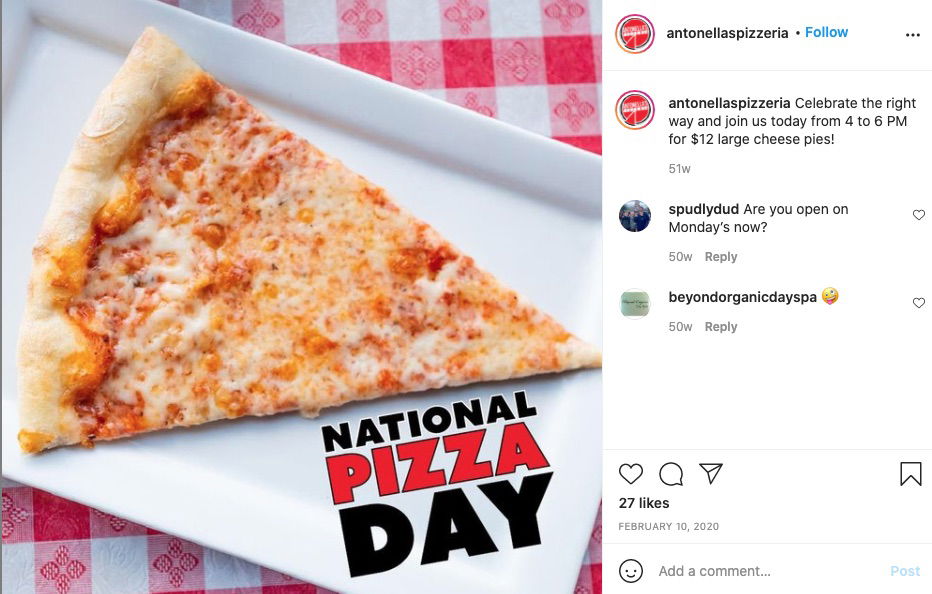 Antonella's was voted the number one pizza in the area. You can't argue with the best, can you? Stop by this family-owned pizzeria for heroes, pizza, salads, calzones, and more! According to its site, "ordering from Antonella's will result in a slice day." Keeps the doctor away, right? 
Its signature pizza features pepperoni, sausage, mushrooms, onions, red peppers, mozzarella, and tomato sauce. Sometimes the classics are the most comforting. 
Southern Smash Burger from 
Swine & Sons 
669 N Orange Ave, Winter Park, FL 32789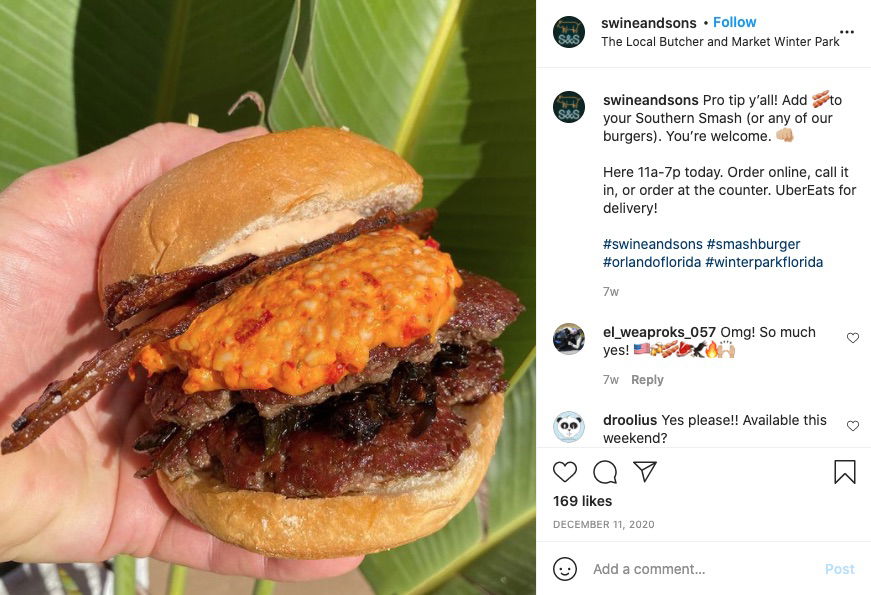 Swine and Sons, the brainchild of wife and husband team Rhys and Alexia, started as a provisions market and craft butcher. Since 2015, they have developed Swine & Sons into a bustling sandwich shop and full-service catering company specializing in food-focused events for groups of up to 300. 
The Southern Smash Burger features two Florida grass-fed beef patties ground daily from The Local Butcher & Market, candied collards, pimento cheese, secret sauce, side of fries. Pimento cheese? Yes, please! 
223 W Fairbanks Ave, Winter Park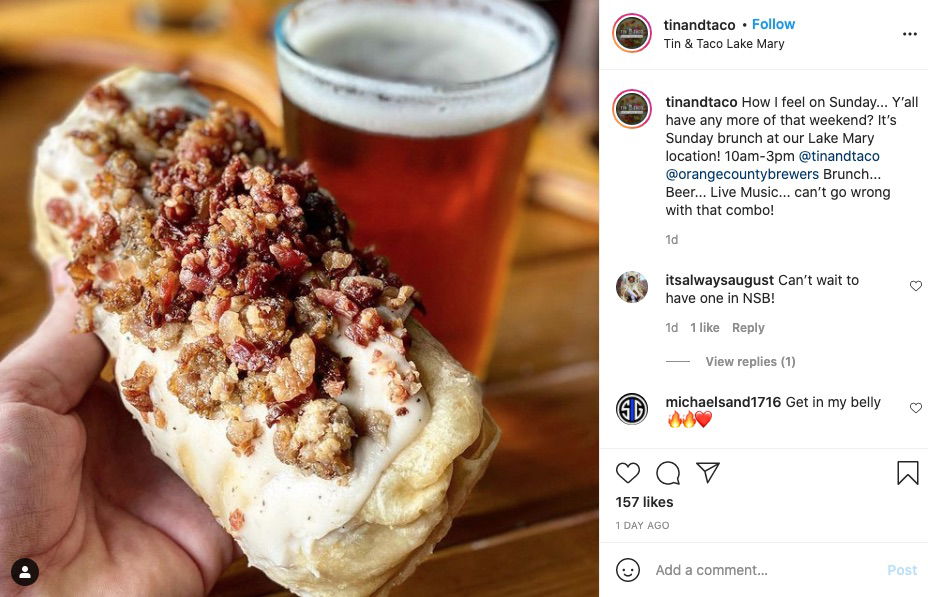 Tin & Taco's mission is to serve the best food and positively impact the community. How cool is that? Oh, and the food is delicious. Tin & Taco's team has comfort food in the bag, from tacos to burritos. No, seriously, they actually have it in the bag; try the "in-the-bag" option that features any of their specialties served over a bag of Doritos. 
The Pig Daddy features locally-sourced chorizo; applewood smoked bacon, fried jalapenos, moonshine BBQ sauce, fresh cilantro, and creamy cotija cheese. Tin & Taco wraps this spicy goodness with yellow rice in a flour tortilla shell and grilled.  
Bonus suggestion for a comfort dessert in Winter Park: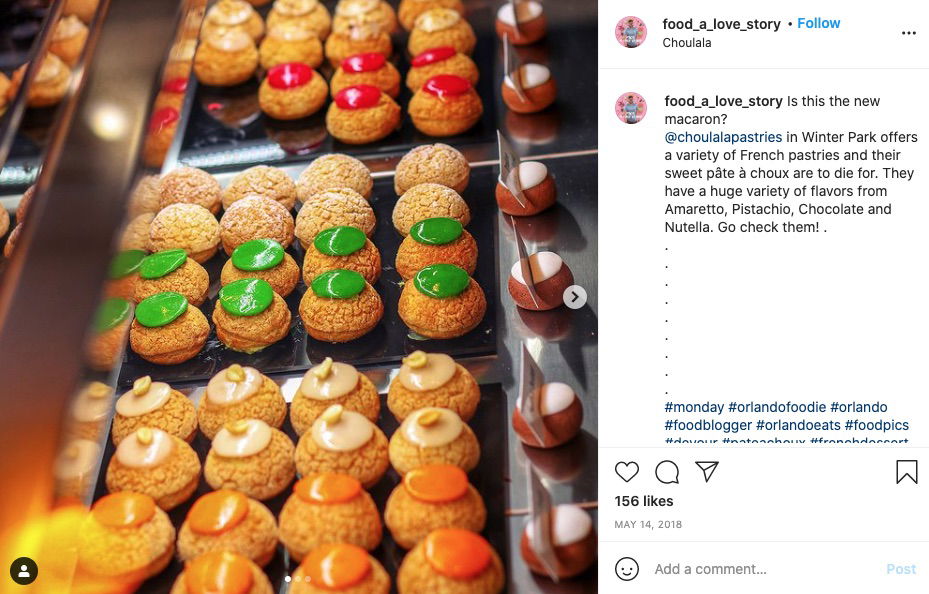 Under a crunchy coat of crackers, enjoy delicious confectioner's custard delicately perfumed to entice. Choulala serves up its signature pastry in over 20 flavors if you're into a variety. From passionfruit to Tiramisu, there's something for everyone. Wash your sweet choux down with a hot cuppa joe (check out our list of the best coffee spots in Winter Park).  Do you have a sweet tooth? Check out these candy stores in Orlando.  
"You don't need a silver fork to eat good food." – Paul Prudhomme
Visit our McKinley Living blog for more tips and suggestions in the Orlando area. 
Are you looking for an apartment in Winter Park? View our available McKinely properties.