Ann Arbor, Michigan is the "City of Trees," and within the forest is a culinary town, which means it must have good coffee…and it does, lots of it! Luckily, there are plenty of great non-chain spots for the best coffee in Ann Arbor to keep workers and students on the move. Moreover, there's no shame in drinking a lot of coffee, which is why 2.25 billion cups of coffee are consumed per day worldwide. So don't feel bad leaving your McKinley Ann Arbor apartment to try each of the ten cafes listed here. 
Supporting local businesses in the Ann Arbor area is more critical than ever before! Also, remember to tip well.  
We know you can't fully espresso your excitement, so it's time to engage in caffeinated fun. To make sure our list contains the perfect blend, we enlisted local expert Aaron Cruz of Coffee Ann Arbor (@coffeeannarbor) to suggest ten local favorites. Brew-tastic! 
Note: With the current state of affairs, many of these shops offer features like ordering ahead, curbside pickup, and even home delivery if in Ann Arbor. See each Ann Arbor coffee shop's website for ordering options.
2263 W Liberty St, Ann Arbor, MI 48103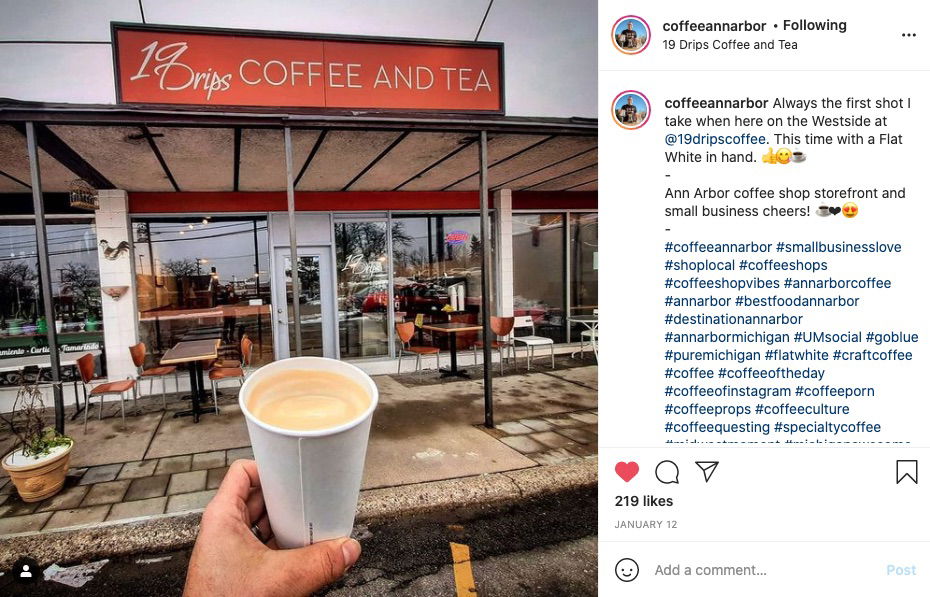 19 Drips Coffee and Tea is where you want to go if you are on the Westside and in need of some brew. This shop is "Your local specialty coffeehouse with a twist of Yemeni to the third wave scene." The main twist is in the form of cardamom. Try this intense, slightly sweet spice as an add-on to a pour-over coffee or for tea lovers in their signature 19's Tea. You will definitely get an extra pep in your step. It gives the coffee drinker a fun new experience!
19 Drips is a family-owned shop, where you will probably engage in some wonderful conversation as they make your drink. In the summer months, the quarantine sensation Dalgona Coffee is highlighted on the menu, which I recommend, as is the Flat White for espresso drink lovers.
1335 S University Ave, Ann Arbor, MI 48104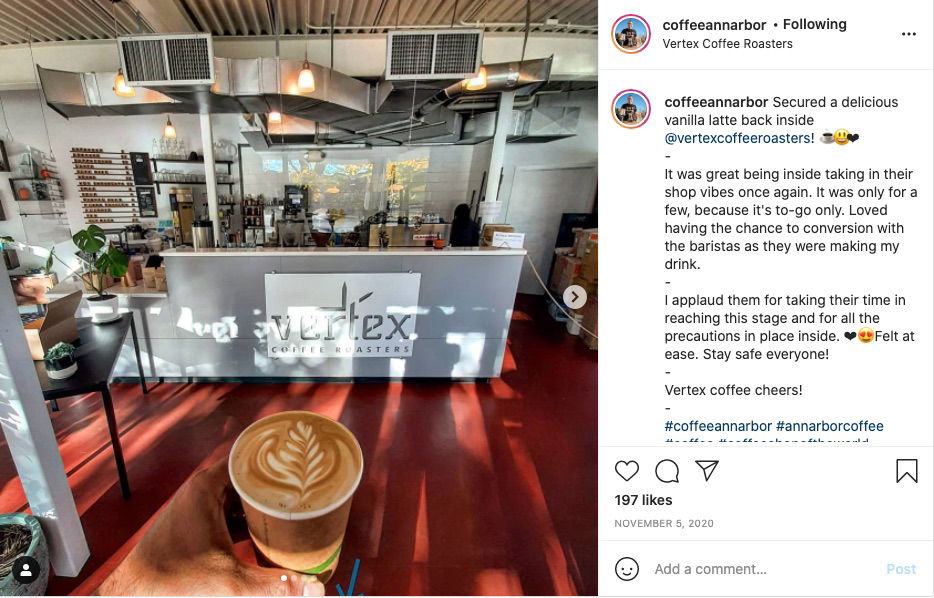 Head to Vertex Coffee Roasters and select their unmatched Café Miel. Enjoy outside at one of the picnic tables that sit "at the vertex of Washtenaw and S. University." This is the point where the campus and general Ann Arbor community comes together. Also, grab a bag of their freshly roasted beans and chat with the friendly baristas while you wait for your coffee or tea drink. 
By just chatting with them, you will see they offer a truly warm and inclusive environment. Vertex's passion for zero waste will immediately be apparent as well (read McKinley Living's eco-friendly apartment guide). When it is safe to do so, you will find a wide variety of public events hosted by Vertex—a true community space right alongside campus. 
1336 S Main St, Ann Arbor, MI 48104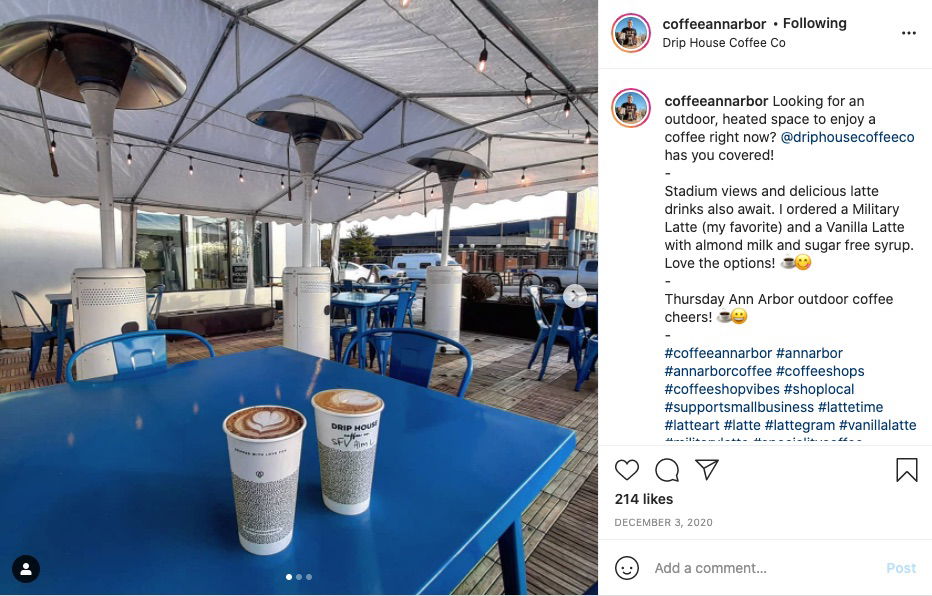 Opening just last year, Drip House Coffee Co. is another Ann Arbor coffee shop that has that location thing down! It's right across the street from The Big House, Michigan Stadium.
Order amongst the black-and-white minimalistic décor. Head outside onto the patio, which is heated in the colder months. Larger than life pastries, sandwich and toast options and a full coffee menu offering await. The Military Latte will get the taste buds going! Matcha green tea, espresso, vanilla syrup, cocoa powder and milk, there is a little something for everyone in there.
Don't feel like sitting? Take your drink and go for a walk around that stadium! Now that is a true Ann Arbor experience.
1928 Packard St, Ann Arbor, MI 48104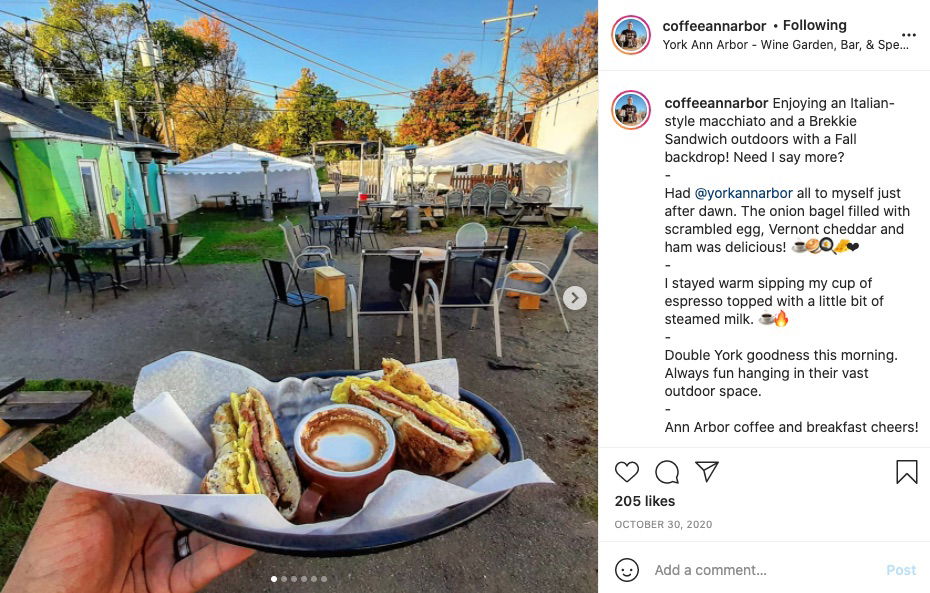 Are you looking for that off the beaten path spot, at least in terms of coffee? York in the Lower Burns Park neighborhood off Packard may be your answer.
The long-standing York is known for its specialty wine, but a whole culinary and coffee experience awaits once you enter. Grab a coffee from their full espresso drink menu, or if it's summer, the NOLA Cold Brew is a must. Tip: Ask them to add some chocolate milk to it, you won't be sorry. Next, grab a Brekkie breakfast sandwich from their sandwich, soup, cheese board, and deli menu and enjoy everything within their vast outdoor patio space. Then, grab that bottle of wine to go, or a cocktail if there later in the day. Wait, that's not all. You will also find Ricewood a barbecue joint inside, and the Bao Boys food truck outside for more foodie goodness.
3723 Plaza Dr #5, Ann Arbor, MI 48108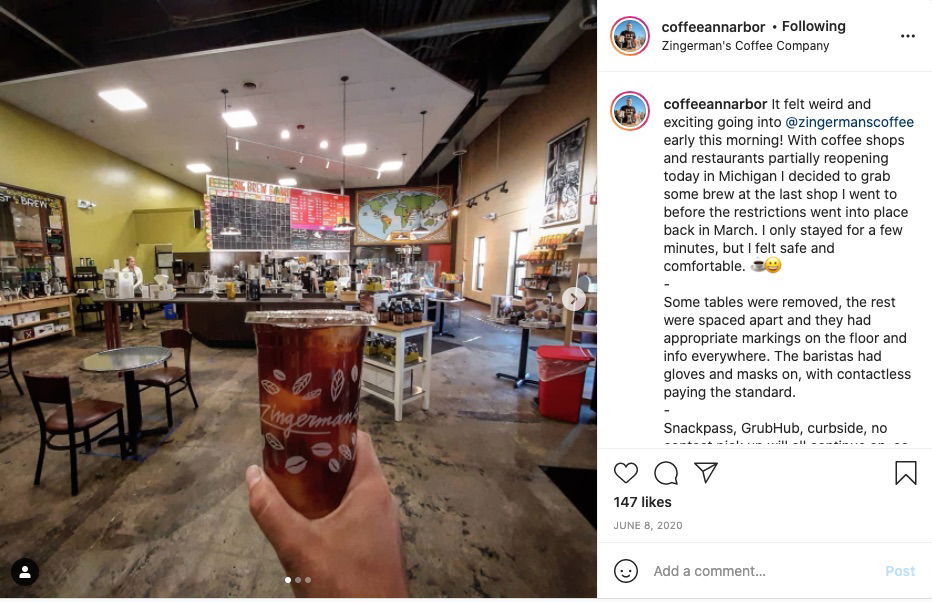 Zingerman's! It's one of those names that is just synonymous with Ann Arbor. Their Deli is world-famous, but on the south end of town, you will see they know their coffee just as well. The Zingerman's Coffee Company contains a full-scale commercial coffee roasting facility with a coffee shop attached. 
Countless coffee bean options await, which vary depending on the season. Grab a cup of coffee by pretty much any craft method you desire. Pour over, V60, French Press, Chemex; the true craft coffee lover options are limitless. Let the "Big Brew Board" in front guide your way.
The Chemex hot or iced is a great way to roll no matter the bean. You will find espresso and tea drink options aplenty as well. Also, enjoy a pastry made from their neighboring Bakehouse.  
117 E Liberty St, Ann Arbor, MI 48104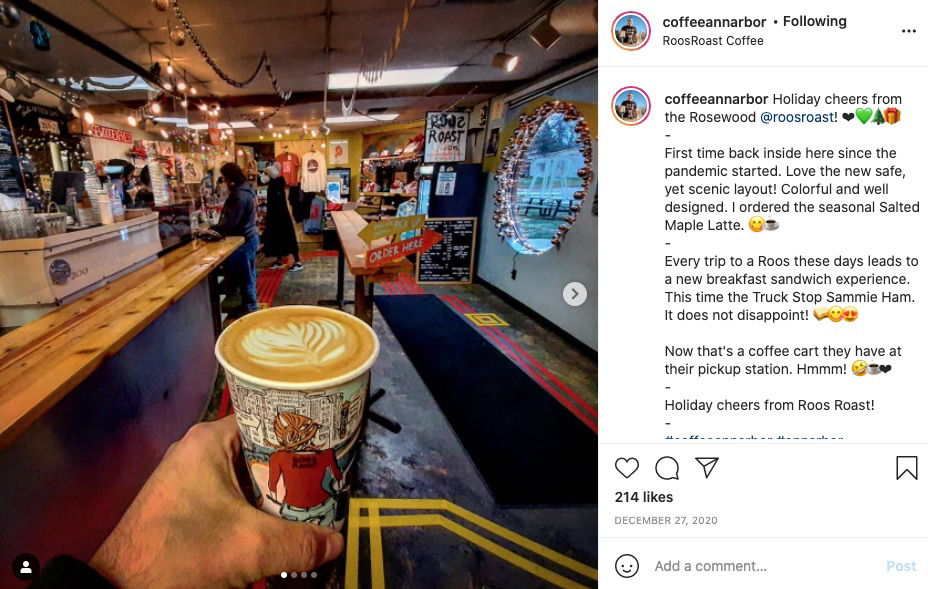 Quick! Name a coffee bean in town? The first thing that will come to mind for many is the Lobster Butter Love! RoosRoast Coffee is so creative in how they name their beans, design their shops, and overall coffee and customer service experience. It's so laid back and refreshing. A-A Cowboy or Mother Pheasant Plucker beans, anyone?
Head to their location Downtown or the original "Rosewood" off Industrial. The Long Pull with those Lobster Butter Love beans is a good way to roll. Further, have a Roos Cheesy Potato (fully stuffed!) Burrito alongside for the ride.
Speaking of rides in the warmer months at Rosewood, grab a photo outside alongside their custom painted, vintage metro van. Dreams of riding down the West Coast from beach-to-beach in it with brew in-and-hand will take over. Feeling adventurous? Ask for a Garlic Cortado.
1423 E Stadium Blvd, Ann Arbor, MI 48108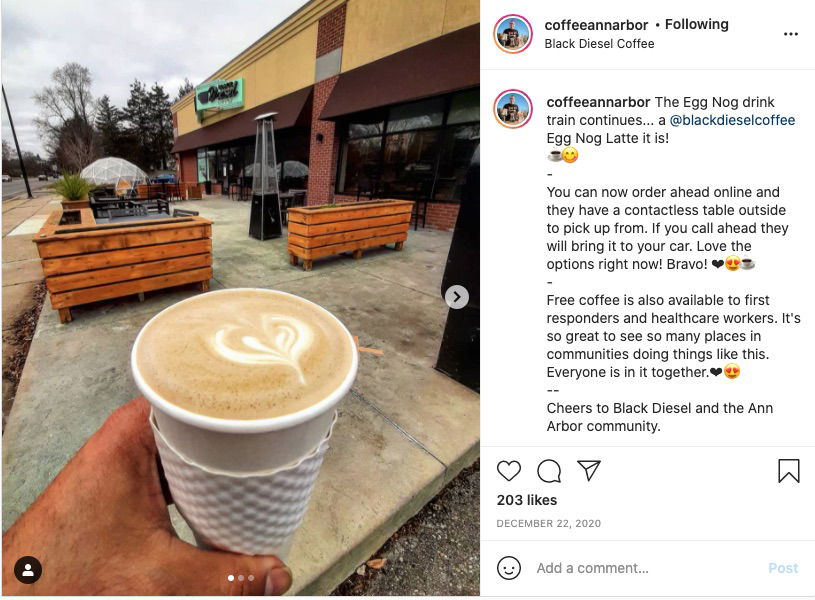 No one has a broader spectrum in the coffee game in town than Black Diesel Coffee. They have a standalone shop at Packard and Stadium. Their full-scale roasting operation takes place on the far west side, where they also have the "BD Barista School." Whether you want to become a credited barista and up your game, or just looking to take a couple of classes to take your home brewing to another level, there is coffee knowledge here for everyone to experience.
Back at the shop, some of the things that will stand out to you are the largo patio, the gelato bar, and seasonal latte drinks. For example, Egg nog, pumpkin spice, Hershey's kiss, who knows what kind of latte offerings will be available when you stop in! Pour overs, teas and more also await. 
Are you looking for a unique coffee experience? Grab and watch them make a Turkish coffee right in front of you.
505 E Liberty St # 300, Ann Arbor, MI 48104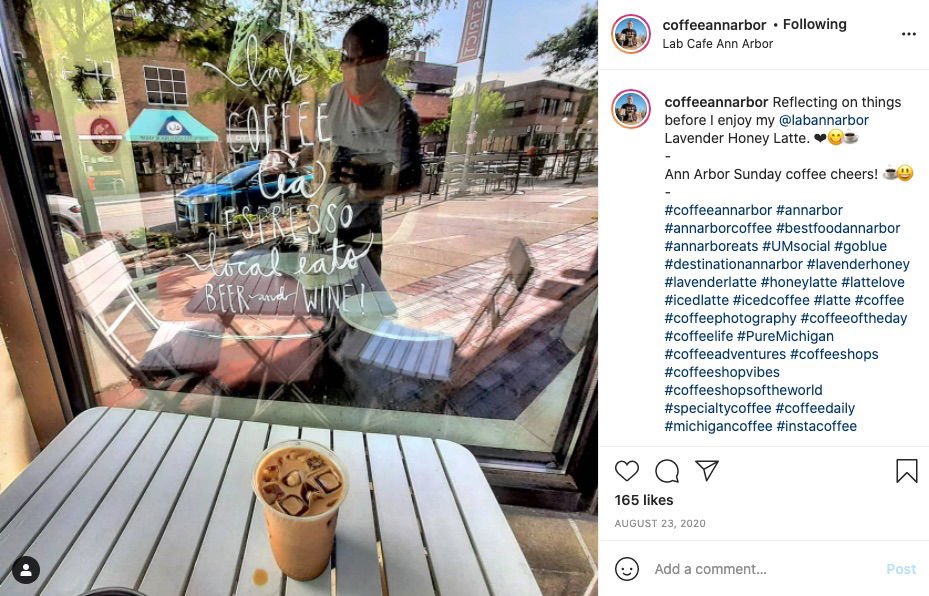 Near campus alongside Liberty, as you enter Lab Café, you'll get a hipster yet fancy vibe that is very pleasing to the eyes. It's hard to explain really. Within, you will find a unique offering of coffee concoctions. It's the place to get a specialty latte, many of which are not coffee-based. 
The Butterfly Pea Flower Latte, an herbal tea one, is the recommended way to go. It's so pretty looking, just like their shop! 
In the summer months, the New Orleans Cold Brew is a must. Chicory root brewed in alongside the grounds, thrown in some simple syrup and milk, it will leave you wanting another and another! Moreover, the Lavender Honey Latte is delicious if you think of a traditional espresso-based latte.
16 Nickels Arcade, Ann Arbor, MI 48104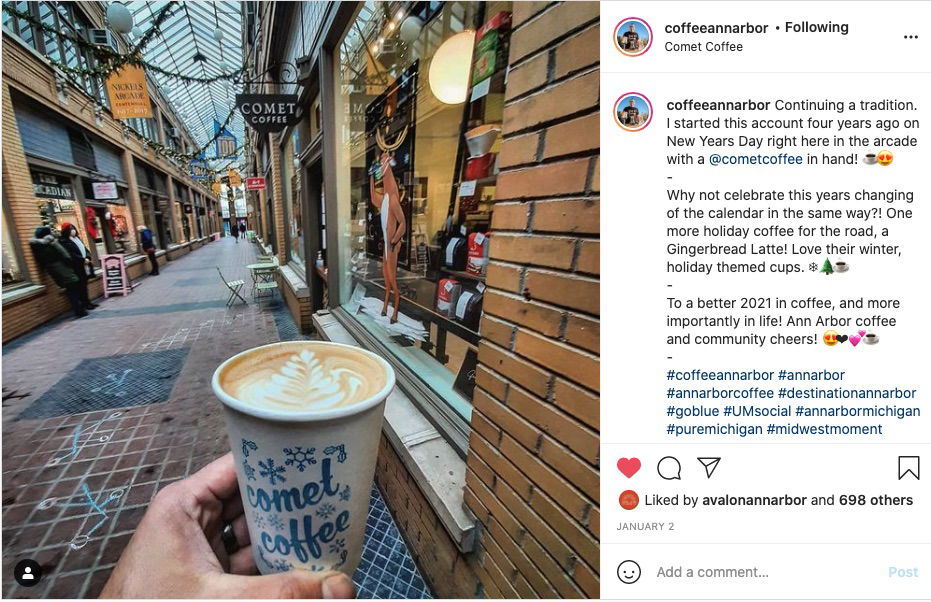 Location, location, location. Comet Coffee is where you want to go for a conversation with a friend or take in the views.
This intimate small shop with mint painted walls sits within the famous Nickels Arcade. You might feel like you are somewhere in Europe versus Ann Arbor as you order a coffee inside this architectural marvel. 
Grab a pour-over from the rotating roaster and bean lineup. Comet makes each coffee to order, handcrafted with great care. When ordering a latte, you can tell that just from the latte art up-top of your finished drink. Or, enjoy a vegan chocolate chip cookie or other locally made pastry alongside.
If it's warm out, grab one of their signature Iced Japanese Style pour-overs to walk through the Arcade and campus.
206 E Huron St Suite 2, Ann Arbor, MI 48104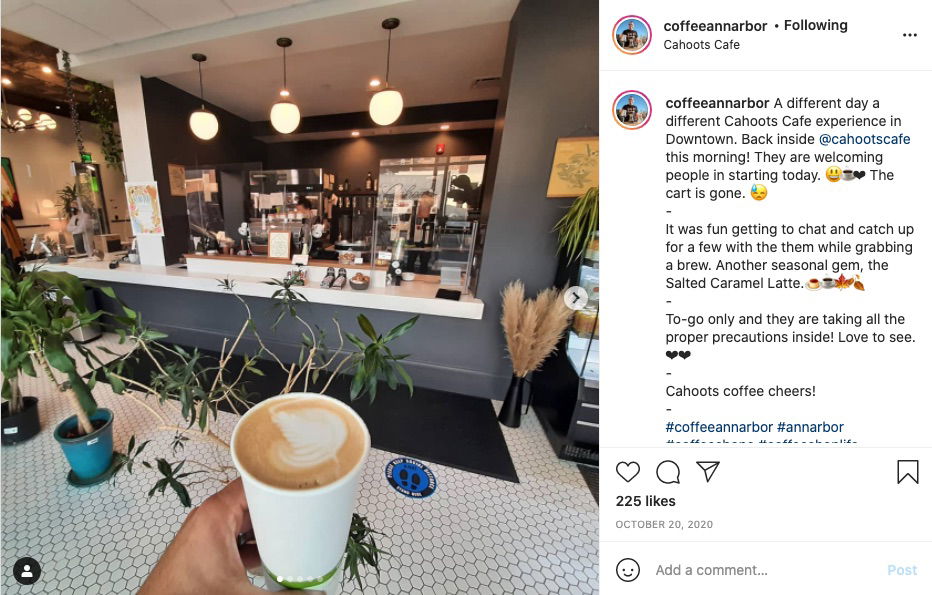 A newer kid on the block, you will find Cahoots Café right in the heart of Downtown. This small shop sits as part of the Cahoots co-working and event space. Boy, do they know how to make their coffee smooth with latte art to admire. Ask for a Cortado, taking in all the greenery, modern vibes, and the black-and-white hexagon tiled floor as you wait.
All of their espresso drinks feature local RoosRoast coffee beans. Local is a theme here, along with freshness. They often walk right down the street to the Ann Arbor Farmer's Market to grab fresh product. 
Are you looking for a quick coffee on the go? You will experience another local roaster, Mutiny Coffee Roasters as it is the current choice for drip coffee. 
You will find a full tea menu with a rotating assortment of pastries from local baker Milk + Honey.
We hope you enjoy this selection of Ann Arbor coffee shops. This college town has a thriving and fun coffee scene! Please let us know your favorite spots for a cup coffee (or tea) near your McKinley Ann Arbor apartment.
About the Author: Aaron Cruz
Aaron Cruz is a long time Ann Arbor area based coffee lover. He loves exploring independent coffee shops and making craft brew and coffee-based cocktails at home. He is the founder of Coffee Ann Arbor, with the goal of helping to show off the college town areas thriving coffee scene.
Instagram, Facebook, Twitter. 
Are you thinking about making Ann Arbor your next home? View our McKinley apartments.