Why You Should Live in Orlando
Over the last decade, the best Orlando areas to live in have quickly become some of the trendiest and hottest places in the United States. With a booming nightlife and enough natural beauty to inspire even the most devoted nature-lover, more and more people are discovering the best areas to live in Orlando for the thrilling and convenient lifestyle they provide. 
Like any major city, Orlando splits into hundreds of neighborhoods. So, how do you know which areas are worth exploring and which ones you should pass up? To help answer this question, we've put together this helpful guide to help you determine which Orlando neighborhoods offer the hottest nightlife, best restaurants, and most inspiring and convenient locations to suit your lifestyle.
We recognize that no two people are alike, and what people look for in a neighborhood might differ widely. Therefore, we've put together a list of Orlando's best places with many communities in different areas to consider. There's a bit of something for everyone in Orlando; it's all about finding the right location for you. 
But before we dive in, let's take a look at some of the best ways to choose the right neighborhood and apartments in Orlando, FL, for you.
Choosing the Right Place in Orlando for You
When it comes to choosing the right Orlando community and neighborhood for you, there are several factors you want to take into account. First, you want to make sure it's safe for you to live. One of the biggest questions people ask: "is Orlando a safe place to live?" Don't worry—we've only picked neighborhoods and areas known for having reliable safety and crime rates.
Second, you want to make sure that the personality of the neighborhood matches yours. You want to feel at home there, with plenty of things to see and do that match your tastes. If you're into nightlife, you want to make sure you live in an area where options are accessible to you. If you love great food and various cuisines, you'll want to find an area with tons of restaurants and a diverse population.
Finally, you'll also want to consider your commute and the areas where you're likely to spend time. If your office is on Orlando's far west side, you may not want to rent an Orlando apartment out on the east side. These are all factors to consider when it comes time to choosing your new home.

Best Places to Live in Orlando, Florida
So without further ado, here's a look at some of the best neighborhoods in Orlando and what they have to offer.
Azalea Park
Are you a nature lover? Then Azalea Park might be one of the best areas in Orlando for you. It features tons of parklands, trails, and natural beauty. The neighborhood is even home to fantastic opportunities for birdwatching. Further, residents love Azalea Park for its somewhat cozy and neighborhood-ish vibe, without giving up everything great about living in a city. Check out our list of five ways to get exercise in Orlando. 
If we've made Azalea Park sound too sleepy, don't worry—it still has plenty to offer by way of nightlife, great restaurants, and attractions for you to enjoy on weekends. It's also a close commute to other great areas of the city, including downtown Orlando.
Do you love living in a diverse, pleasant area with ample entertainment opportunities, great restaurants, and excellent coffee shops (read our list of the best coffee spots in Winter Park, Orlando)? Then give Azalea Park a try. It might just be one of the best Orlando areas to live for your tastes.
Lake Frederica
Suppose you're interested in a wide range of activities and wondering where to live in Orlando. In that case, Lake Frederica brings a natural splendor to otherwise urban space and has a personality and character all its own. Its proximity to downtown and the airport makes it incredibly convenient.
Meanwhile, Lake Frederica also boasts plenty of delicious restaurants, plus nearby lakes and transportation hub access to all of Orlando. If nightlife is your style, Lake Frederica may not be the hottest spot in town—but it does have its appeal if you're willing to take the time to find the right spots.
Overall, Lake Frederica brings its unique vibe and a style unlike anywhere else.
Conway
Conway offers an incredibly diverse selection of shopping and dining opportunities, located in a central hub of highways that can quickly provide you access to all of Orlando and beyond. Besides that, it's relatively near Orlando International Airport. The location makes it one of the best places to live near Orlando.
You'll also enjoy a combination of small local eateries, popular chains, and upscale options when you want to enjoy some fine dining. There are plenty of new apartment complexes bringing in young residents, and diversity is on the rise in the area as well.
With plenty of nearby lakes, trails, and water recreation activities, you'll be able to forget you're in the city without ever being too far from it.
Kirkman South
Do you like your neighborhood to have maximum walkability? Then Kirkman South is the place for you. Find the right spot, and a whole world of activities and opportunities will be within walking distance from your door. We're talking shopping, groceries, nightlife, delicious restaurants—you name it. It's also close enough to downtown to be convenient but far that there's plenty of parking and no crazy, nonstop vibe that can be exhausting.
There are also tons of activities available in Kirkman South, from local museums and attractions to cafes, libraries, and outdoor adventures. If you want to take advantage of Orlando's activities, Kirkman South is a great place to call home.
Windhover
Windhover is one of the most metropolitan areas on our list; Windhover will have you feeling like you live in Orlando. And that's for the best. You'll enjoy some of the best bars, clubs, and nightlife that Orlando has to offer. The highly diverse area is also massively appealing. Windhover hosts people from all backgrounds enjoying everything the city has to offer.
With walkable restaurants and attractions all around, plus easy transportation to downtown, Windhover is as convenient as it is fun. Don't sleep on Windhover, as it might just be the best place for you to call home in all of Orlando if it fits your unique personality.
Portofino Apartments & Town Houses
Williamsburg
No, we're not talking about the ultra-hipster enclave of Brooklyn in New York City. Orlando's Williamsburg is a lot less pretentious and a lot warmer. From delicious restaurants and tons of attractions to ample housing opportunities and a trendy, up-and-coming vibe, you'll love the unique feel of Williamsburg from the moment you set foot here.
The best part? You're still near enough to downtown to be a short drive or train ride away. And you get to enjoy a bustling nightlife with plenty of bars open late and new restaurants opening every week.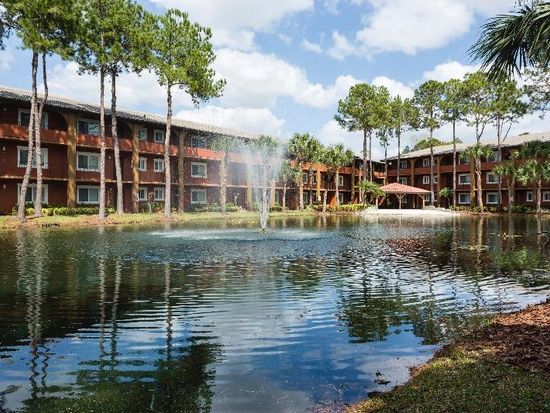 Conclusion – Is Orlando a Good Place to Live?
Overall, we think Orlando is a wonderful place to live jampacked with an appeal for every resident. From the best areas in Orlando to the best places to live near Orlando, you'll find plenty of options for what you're looking to get out of your lifestyle.
Visit McKinley Living's Orlando page for more information on this incredible city.