Every day is a new opportunity to be grateful for everything this country has to offer. Whether that's your dream job, better education, or simply just freedom, America has opened many doors for people like me. I moved to Orlando from Venezuela when I was 9 years old, and every so often I find myself looking for places that make me feel a little closer to home, especially during Hispanic Heritage Month.
When I find myself feeling a little homesick, missing my family, or simply just needing a little reminder of my roots, I go on a hunt to find the best restaurants in Orlando that will spark my taste buds and bring me back to my childhood. While yes, I am from Venezuela, so many Hispanic countries share similarities in cultures, cooking styles, beliefs, and passion for their own people. 
Hispanic Heritage Month starts September 15th and goes through October 15th.
During this period, which spans through two separate months, we recognize both the independence anniversaries of several Latin American countries, as well as key celebrations in Hispanic communities.
In addition to observing major holidays and historic milestones, this month offers a great opportunity for all of us to honor the histories, cultures and contributions of Hispanic people.
If you are like me, there is no better way to celebrate Hispanic Heritage Month and learn more about the different hispanic cultures than FOOD. I got the opportunity to visit Pio Pio Latin Cuisine (PEE-oh PEE-oh) in Orlando where I was able to try different foods from different countries. Their extended menu includes food from Colombia, Peru, Puerto Rico and the Dominican Republic. Every item on their menu is carefully crafted so that families can enjoy time together and celebrate with their loved ones. 
"Pio Pio is rooted in passion, determination, and teamwork. It is a place that embraces the best part of Colombian and Peruvian cuisine and then fuses them together. We never forget how important family time and celebrating all life blessings together is. This is why we create fun experiences around delicious food – to bring people together and deliver the authenticity that our family expects and deserves." – Pio Pio Latin cuisine
Pio Pio's Menu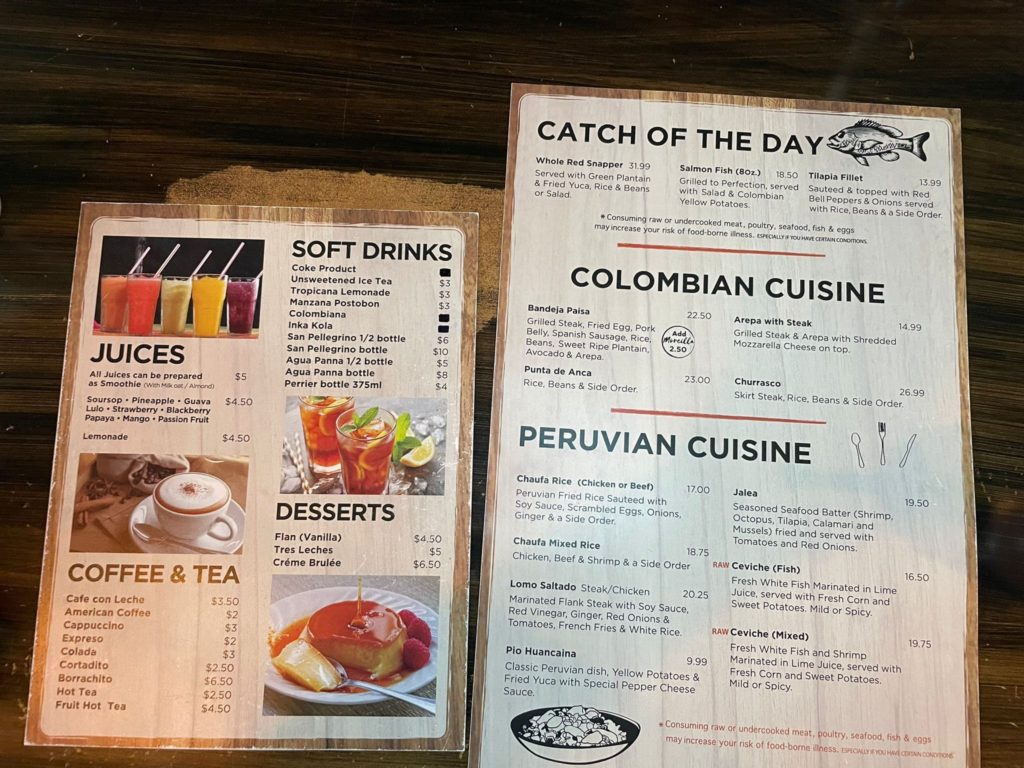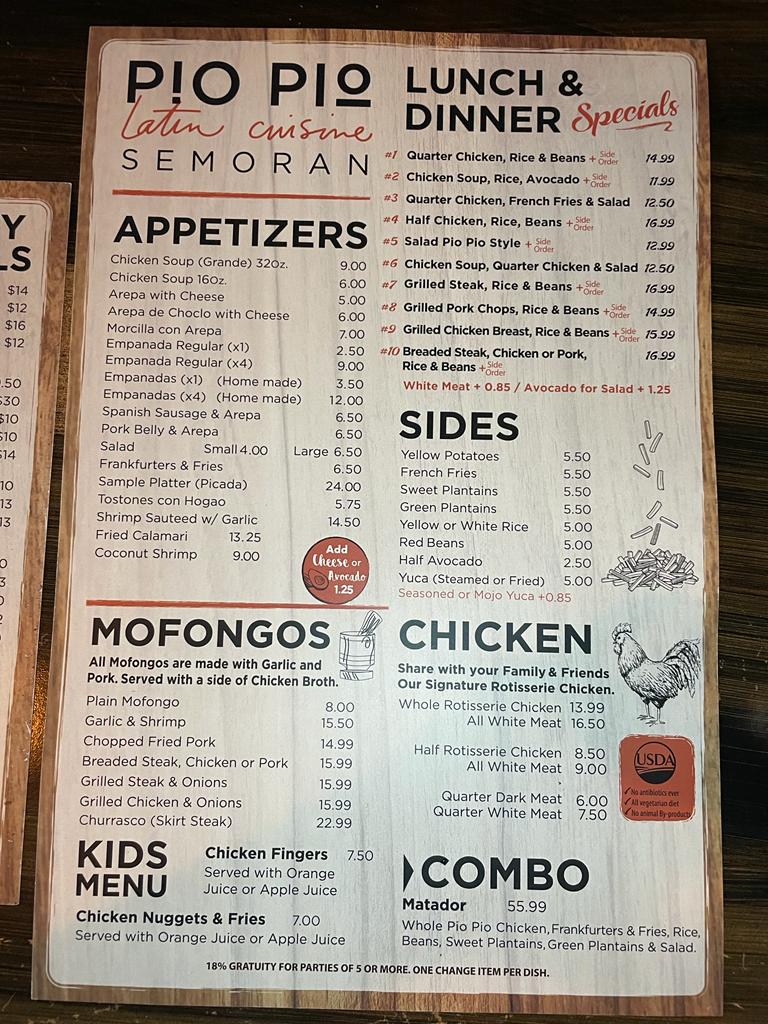 Pio Pio's menu has extensive options where it guarantees to satisfy all of your food cravings no matter what mood you are in. They offer lunch and dinner specials where you can find an entree for as low as $11.99. If you are in the mood for some seafood, they have a "Catch of the Day" menu where they guarantee to bring the freshest and most delicious Spanish-seasoned catch.
I could not leave without trying some food myself, so I decided to try 2 very typical dishes. Bandeja Paisa from Colombia and Arroz Chaufa from Peru. Both plates seasoned differently yet, both very delicious in their own way. To start I ordered 2 Beef Empanadas and an Arepa de Choclo (Corn arepa) with guava juice to drink.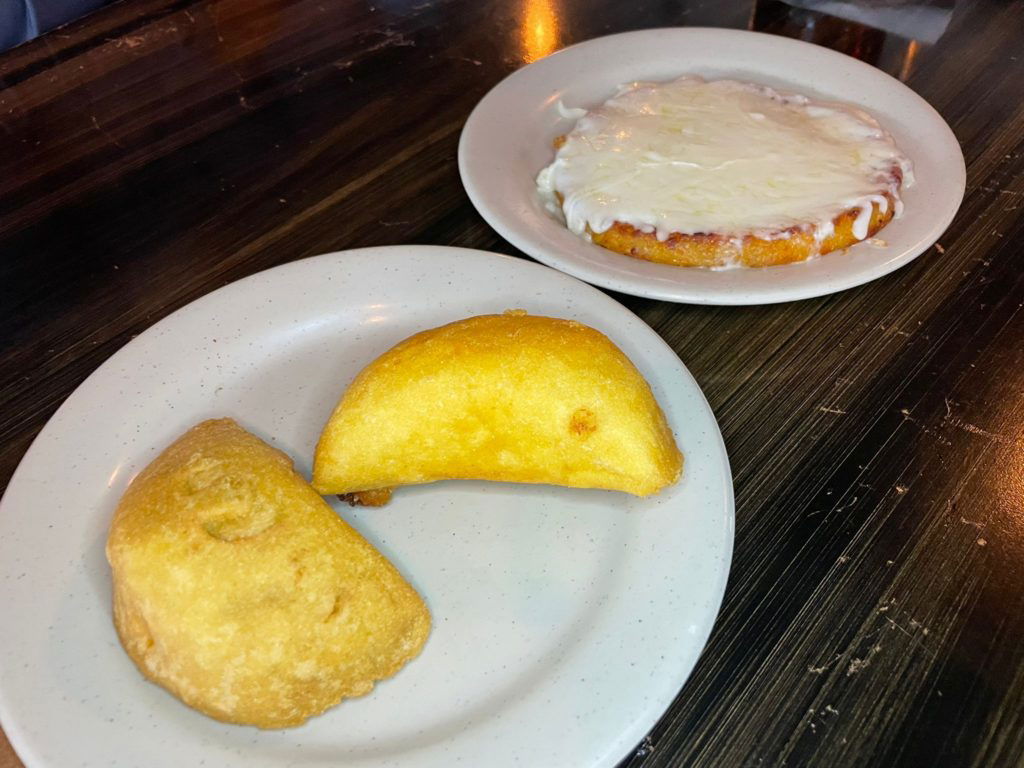 Arepa de Choclo
Arepa de Choclo are delicious corn cakes that are cooked on a griddle and very popular in
Colombia. Arepas are prepared with a special pre-cooked corn flour called Harina Pan and fresh corn, which gives them a sweeter flavor. Once the arepa is cooked, queso fresco is added on top.
Bandeja Paisa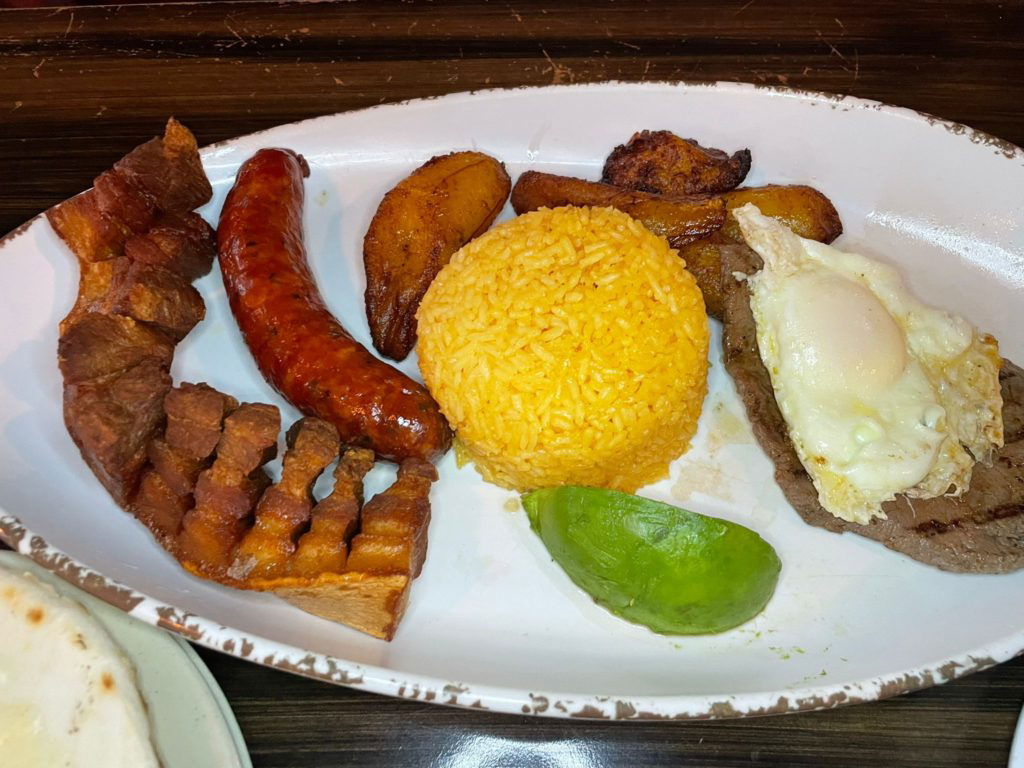 A Bandeja Paisa is one of the most traditional Colombian dishes. It can be found throughout many parts of Colombia but it is originally from the Antioquia region which encompases Medellin, Guatape, Rionegro and more. People from these areas are called Paisas, hence the name "Bandeja Paisa" which means Paisa platter.
The Bandeja Paisa traditionally includes two types of Colombian sausage, ground beef, rice, red beans, fried pork rind called chicharrón, an arepa, fried plantain, a slice of avocado (you know, to be healthy), and a fried egg to top it all off. The plate is very diverse and can easily be for 2 people.
Chaufa Rice
Chaufa Rice is a mix of Chinese fried rice and vegetables accompanied by fried plantains and your choice of protein. This plate can also be shared between 2 people and also paired with a cheesy Arepa.
Special Sauce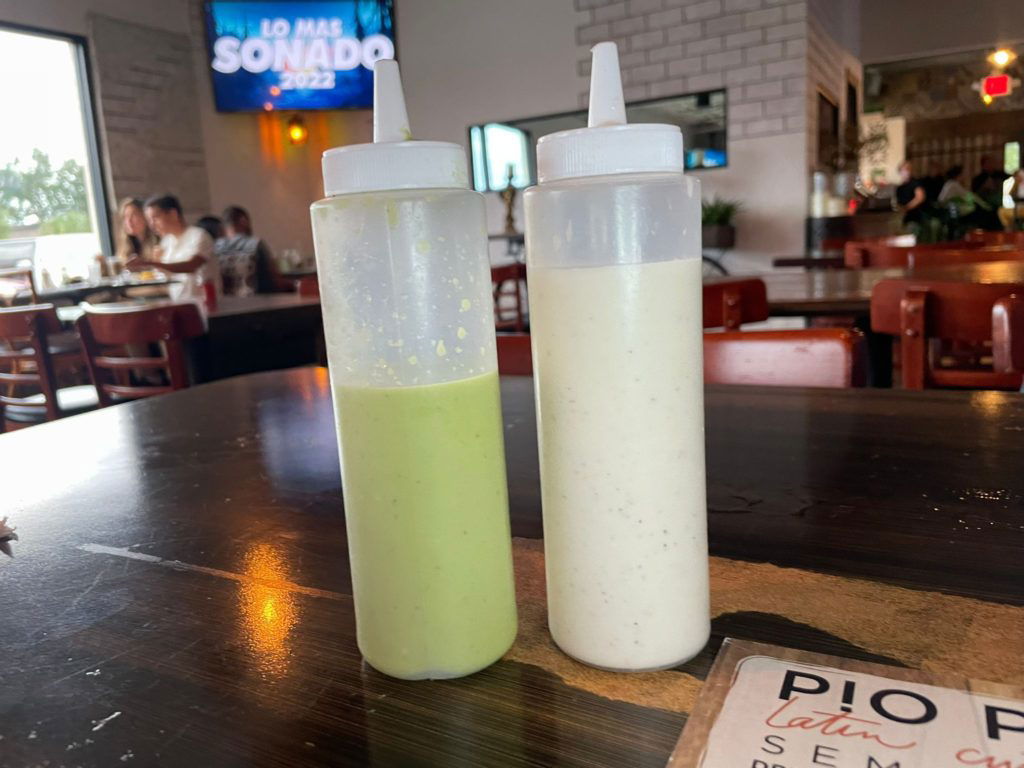 The 2 most requested sauces at Pio Pio, creamy garlic sauce and cilantro sauce! Both of them have a unique and mild spice to them creating the perfect combination with your food.
Both sauces can be used for arepas, empanadas, rice, or if you are like me, you can add it to everything!
With the wide variety of menu options I know where I'll be spending most of my time this Hispanic Heritage Month. The best part about it is that Pio Pio Latin Cuisine is centrally located in Orlando, Florida with easy access for everyone. Celebrating hispanic culture, its meaning and history is so important because it represents the community that we currently live in. The most important thing to take into account is that, no matter what culture, heritage or race we are ONE community.