Can you guess who the first person to use the word "holly" in writing was? Here's a hint: He wrote Hamlet. That's right, Shakespeare wrote "holly" way back in the 16th century. It wasn't long after that wreathes made of evergreen and holly were a standard part of the holidays. Well, here we are in 2020, and we could all use some cheer. That's why we put together a guide of DIY wreath ideas for your apartment. 
So why are wreathes traditionally made from evergreens (pine, holly, spruce)? Well, for one, they smell and look nice. Who doesn't love a whiff of holiday cheer when they enter the door? Secondly, evergreens are a symbol of strength. Think about it; evergreens stay green and structured even through the harshest of winters. We could all look to such a tree for motivation this year. Moreover, while you'll find most wreaths made of evergreens, different cultures use objects such as foods and symbolic items.
While wreaths are traditionally associated with Christmas, we are approaching them as general holiday decorations for this article. So no matter what you celebrate, your wreath can reflect it. For instance, people used to mark the pagan holidays around the winter solstice with wreaths. And in ancient Rome, leaders awarded athletes and poets with laurel wreaths made of olive leaves. Learn more about the history of holiday wreaths here. 
Since many McKinley apartment doors are entirely enclosed and not subject to the elements, residents can get extra creative with materials. As long as it's a circle you can hang on your door, then people will get the idea. 
What do you call a wreath made of $100 bills?

Aretha Franklins! 
Too good not to share that joke. Alright, let's get to our list of holiday wreath ideas for your apartment. 
A Ring of Memories 
Since most of us won't be seeing our friends and families in person this year, celebrate the people, pets, and places that mean the most to you with a photo wreath! It's as simple as it sounds. Choose an assortment of your favorite photos and make copies. To be clear, once the images are part of the wreath, they might not come apart too well, so don't use originals. Start with a circular structure. For example, cut one out of cardboard. Arrange your photos on the circle, so you get it right before gluing them. Trust us; this will make things much more manageable. Once you arrange and glue on your photos, finish it with a bow (optional). Remember, they don't have to be holiday photos; you can even use ones from a trip you loved. 
Give Your Wreath a Hand 
Here's an idea that's a blast for the whole family! Do you remember when you would outline your hand on a piece of colorful paper and then cut it out in elementary school? Well, it's as simple as that. Have each family member draw outlines of their hands and cut out enough to fill a wreath. For a traditional look, use different shades of green construction paper. Make it a family wreath with the parents' paper hands as the first layer, and the smaller kids cutouts filling the middle of the circle. Just think of the memories. 
Snowflakes That Won't Melt 
Let's keep our "activities we did in school" theme going and try another fun papercraft. With a couple of folds and some creative scissor work, you're able to design stunning snowflakes out of paper. Follow these eight simple steps for a dazzling snowflake creation. The best part: you only need paper and scissors to make the six-point snowflakes. Glue your designs together in a circle and hang on your door. Just remember to recycle any unused or cut paper. 
Literary Wreath 
Here's one for our bookish friends! Purchase used and affordable copies of your most beloved books. Next, clip out strips of your favorite sentences, paragraphs, etc., and arrange them around a circular cardboard cutout. Make sure you fill it enough, so all of the cardboard is covered. The off-white of used books will give the book wreath an antique vibe. Don't be surprised when you see a neighbor or two stopping by to read your wreath! 
Make a Wreath Your Own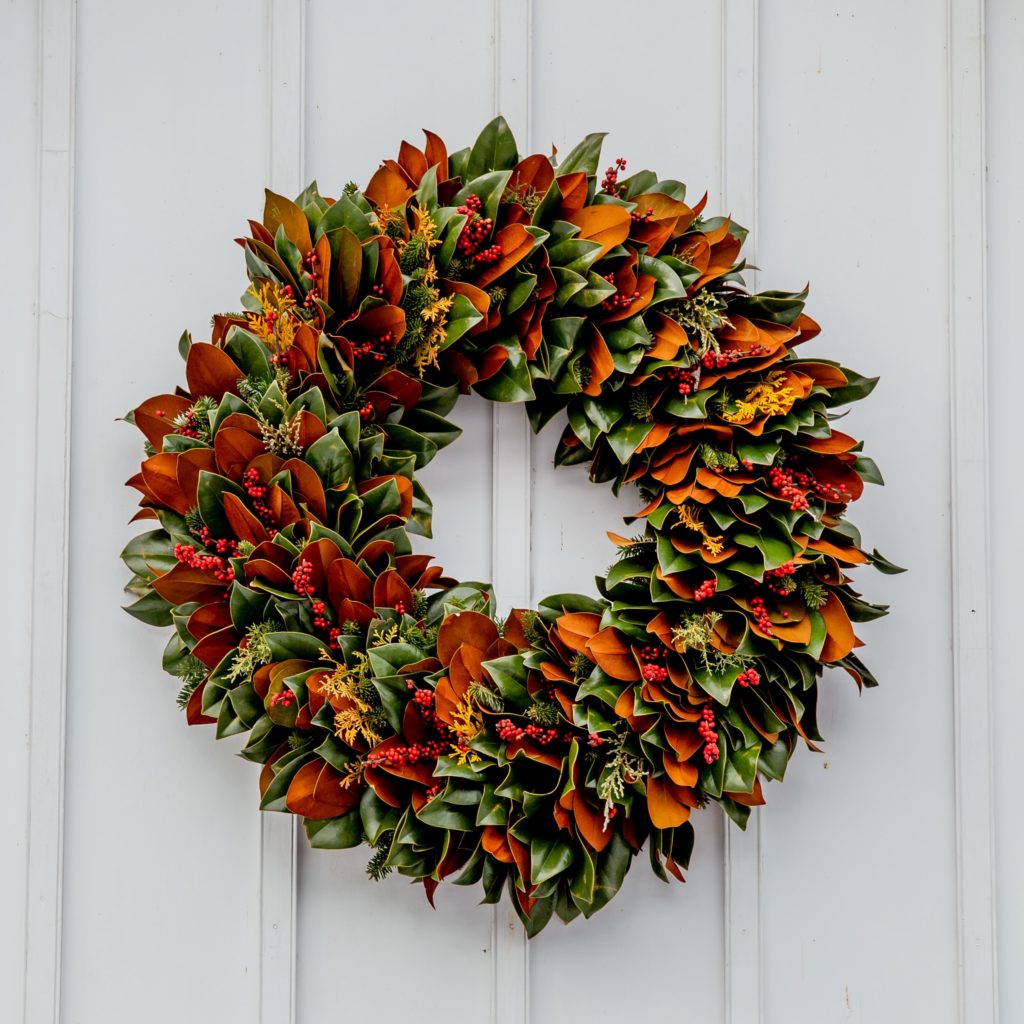 Do you prefer improving something rather than making it from scratch? Consider buying a plain wreath (real or fake) and making it your own! Stick with a holiday theme by adding small ornaments and bows to it, or let your personality shine with something eclectic. For example, want to show your inner-nerd? Decorate your wreath with Star Wars memorabilia. Want a woodsy vibe? Adorn your creation with pine cones, fake birds, and twigs. 
Who says it has to be a circle? 
Okay, technically, we did in the intro, but let's think outside the…circle. With the right holiday flare, a square can work just as well as a circular wreath. Or, maybe a triangle fits your creation better. As long as it's not enclosed and can hang on your door, then it's your holiday wreath. Traditionalists may disagree, but you do you! 
Fabricate With Fabric 
Sewers rejoice! We have a solution for all of your fabric scraps. Whether you tie them in bows or scrunch them in a design, leftover fabric makes for a beautiful wreath. Don't worry about all your fabrics matching; a varied group of fibers will give a recycled vibe. Now that's a whole different kind of "green" for your wreath. 
As we mentioned, your wreath making can go as far as your creativity will take it. Don't get us wrong; nothing is boring about an evergreen wreath. We just want you to know that there are many DIY options. Now go and spread some holiday cheer. You don't even have to leave your apartment.
While we are on the topic of holiday projects, read our list of ten ways to winterize your apartment.