Read every day. No, really, you should pick up a novel, comic, magazine, etc., at least once a day. Why? Because reading is an extraordinary experience, too many of us take it for granted. Try thinking of reading this way: a book is an opportunity to experience the impossible, from time travel to visiting planets far away. Further, reading is beneficial, so bookstores and libraries and the people who work at them are also valuable. For this reason, we've put together a list of the best bookstores in Orlando, Florida. Shop local!
Through reading, you can empathize and connect with an author that has long since passed. Or you can relate all too well with a contemporary writer. Moreover, picking up a book is a way to cultivate compassion, learn new ideas, and escape your troubles. That's why reading should be accessible and attainable for everyone; and one of the many reasons why bookstores and public libraries are so critical to our society.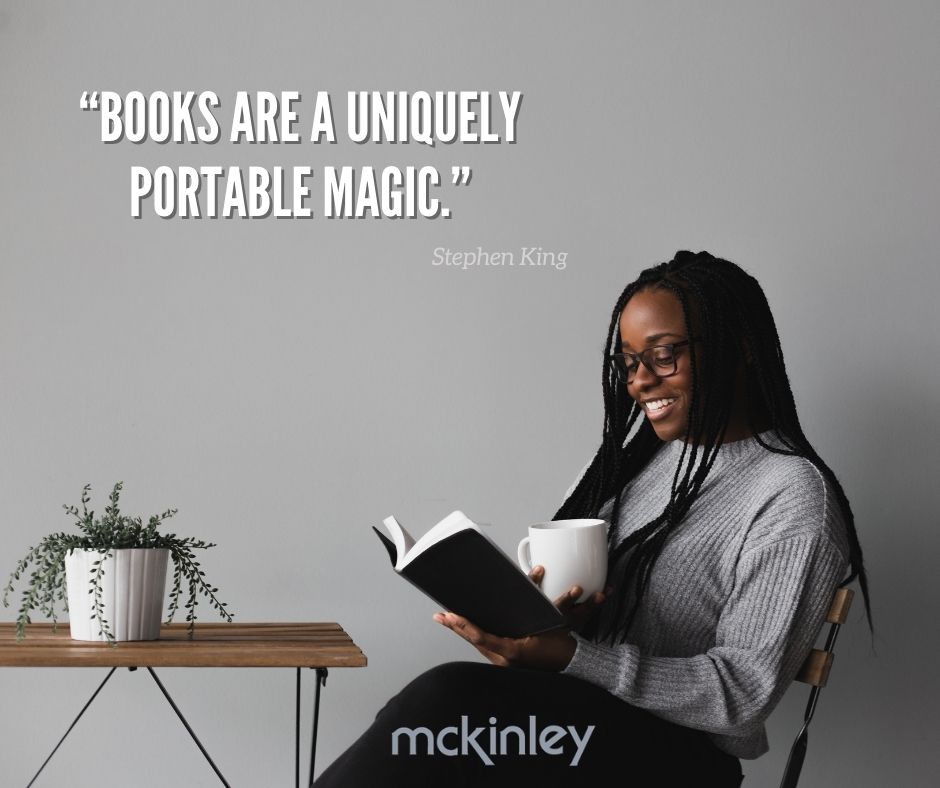 Before we get to our list of Orlando's best bookstores, here are five interesting facts about reading: 
Please check out our McKinley Living list of how to read more this year. 
Okay, let's get to our list of the best bookstores in Orlando, FL. 
316 N Park Ave, Winter Park, FL 32789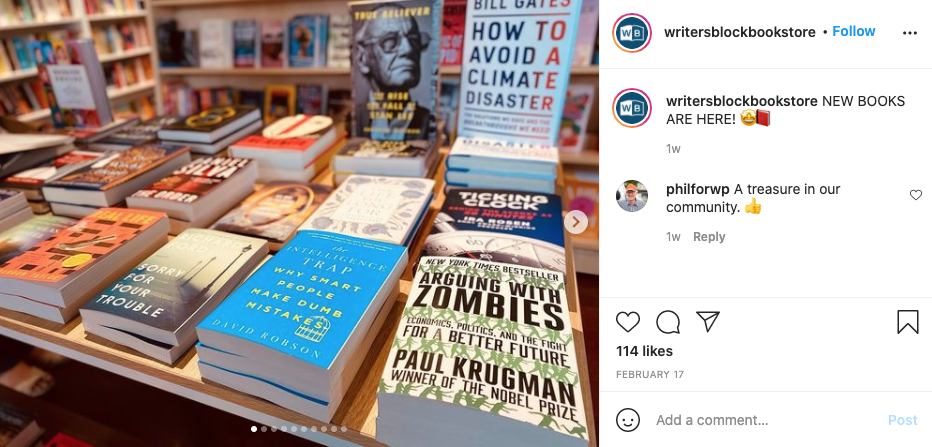 Though it would be fitting to walk into a store named Writer's Block and find it filled with frustrated authors staring at a paltry string of words on a blank paper, the name is more tongue-in-cheek. We'll blame that cliche on writer's block. Anyway, Writer's Block is a salt of the earth (there we go again with the cliches), unpretentious, and community-focused bookstore located in Winter Park. Here you'll find bestsellers, classics, and an impressive collection of kids and teen books. 
We admire Writer's Block Bookstore's many avenues for readers to discover new authors and genres and connect with fellow bookworms. For example, you can join its book club or enroll in its "Book of the Month" subscription service. To explain, subscribers will receive a curated book each month for six months. The selections will be hand-chosen by the owner and selected from established authors and compelling debut authors. When possible, Writer's Block will send signed first editions.
460 E New England Ave #1, Winter Park, FL 32789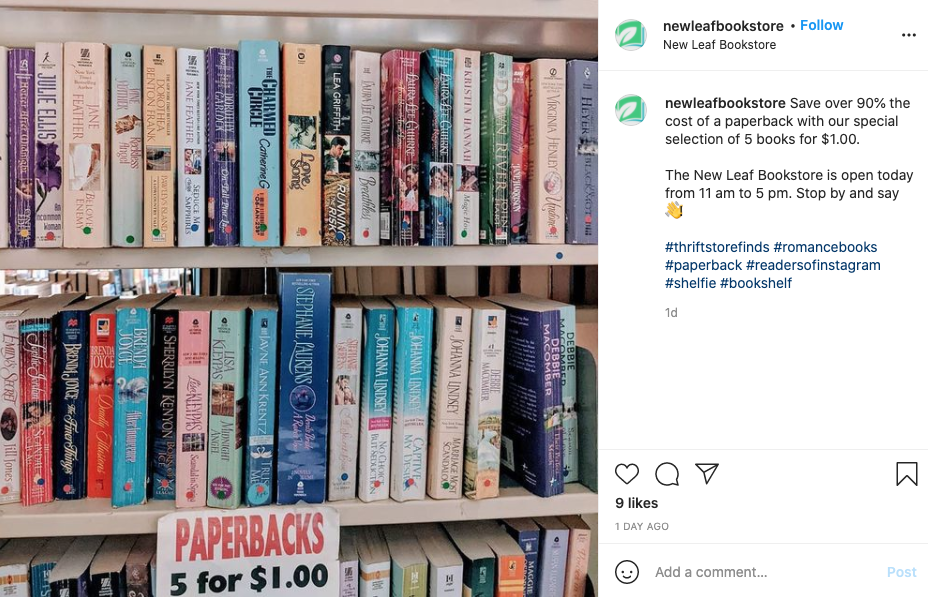 You can find the Polly Seymour New Leaf Bookstore nestled in the Winter Park Public Library. Selling secondhand books to help support the library, New Leaf is an excellent bookstore to discover something new, collectible, or surprising. Moreover, generous neighbors sustain the bookstore by contributing books, records, magazines, DVDs, and other items. The friendly staff is here to help you find a book or provide a tax-deductible receipt for a donation. 
What a lovely thought. Donating used books so a reader can purchase them, thus sustaining a library for the community. This circular model keeps Winter Park well-read. Thanks, New Leaf! 
4672 Millenia Plaza Way, Orlando, FL 32839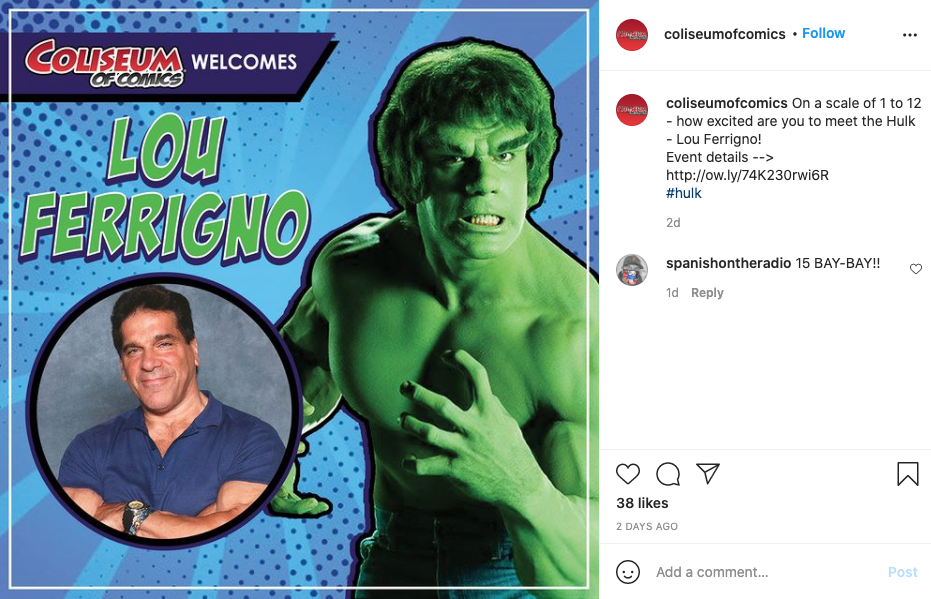 Why include a comic store on a list of best book shops in Orlando? Well, for one, comic books increase literacy and offer an engaging form of reading. Secondly, it's a spectacular store. Coliseum of Comics is a well-known franchise around Florida, and the Orlando location is a must-see for comic book fans and curious readers alike. Zap! Bam! Boom! There you go, Coliseum more than deserves a place on this list. 
Make sure you keep an eye on its website for in-store celebrity meetings. That's right; not only can you score the latest graphic novel you've been anticipating, but meet the likes of Lou Ferrigno and Sam Jones. 
1301 E Altamonte Dr, Altamonte Springs, FL 32701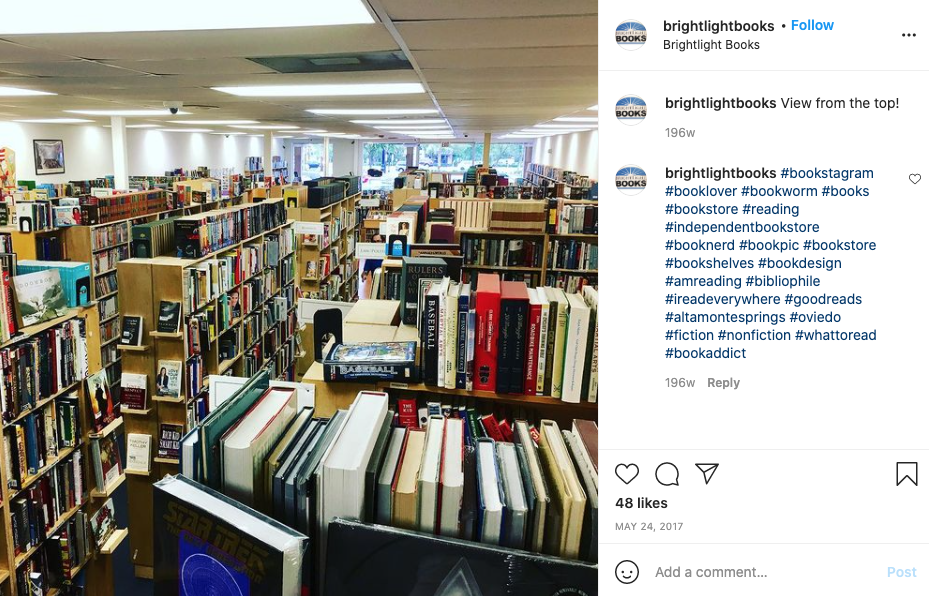 Where else can you get a DVD of Star Wars: Episode I – The Phantom Menace, KISS' Alive on vinyl, and a $1 paperback romance novel all in the same place? Brighlight Books Overstock Center, of course. This used book, vinyl, CD, and DVD store is your one-stop-shop for media. 
Moreover, you'll make a day of searching through shelves of used books and bins of used vinyl and paperbacks. Finding a hidden gem; that's one of the great thrills of used bookstores, right? Perhaps you'll find the first edition of a book you admire. And since the prices are affordable, it's the perfect chance to try a new author or genre. Finally, buying used books is better for the environment. There are nearly two billion new paper books produced in the United States each year; that's a lot of trees. 
750 N Thornton Ave, Orlando, FL 32803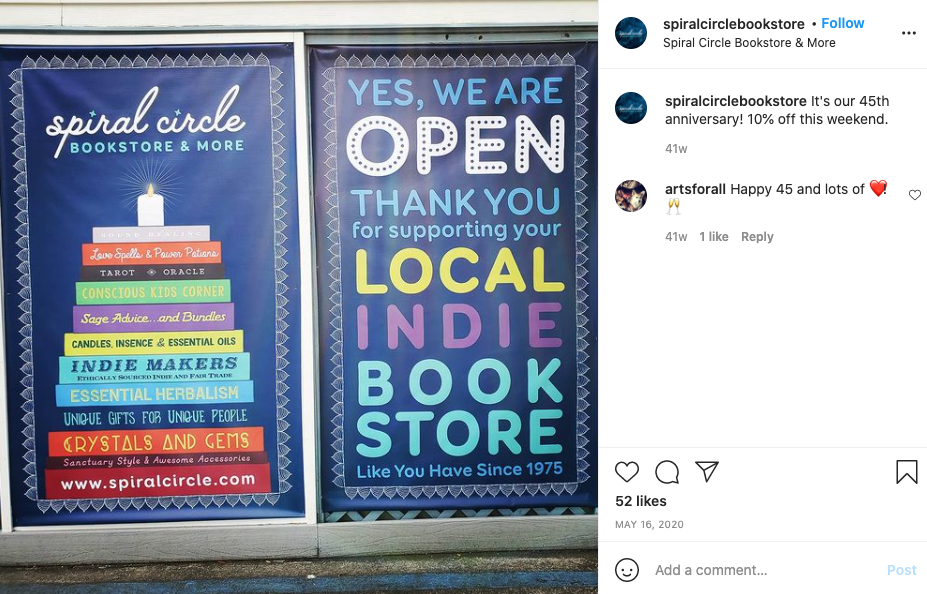 Spiral Circle on Thorton Avenue is Orlando's longest-running independent spiritual bookstore. And while Spiral Circle stocks myriad gifts, jewelry, candles, and tarot cards, you won't want to miss its eclectic book selection. From biographies to ancient texts, Spiral Circle has something for everyone. And yes, they stock a book about surviving Mercury Retrograde. 
So light that cedarwood incense, crack a book, and learn something new about the world and yourself. Spiral Circle Bookstore is an excellent place to open new doors and explore your spiritual and temporal curiosities and education. 
We hope our list of the best bookstores near Orlando leads to some quality reading time. Enjoy! 
Are you looking for a new apartment in Orlando? Please view our available McKinley properties.