Let's talk about our favorite part of Halloween: candy! While most stomach aches are unwelcome, something is rewarding about the "I can't sleep because I overate candy" belly rumble we all get on Oct. 31st. That's why we put together a guide of our favorite places to get Halloween candy near Ann Arbor and Ypsilanti. 
"Who's in charge of all the candy corn?" 

"The Kernal." 
Halloween 2020 will be different from any we've ever experienced. Organizers have canceled large Halloween gatherings and events, trick r' treating is a no-go in some communities, and putting on a mask has been the norm for months. While we might not pass out candy to neighbors, we can still indulge safely from our homes. For our residents with kids, plan a Halloween candy hunt by hiding sweets around your McKinley apartment. Feel free to try this even if you don't have kids (we won't judge). 
By purchasing sweets from Ann Arbor and Ypsilanti candy stores, you're supporting the local economy. That's right, stuffing your face with chocolate bonbons and sour cherry gummies is a heroic act this year. 
Halloween = Candy, Candy, Candy 
Americans love their sugar on Halloween. According to The Daily Meal, the top ten most popular Halloween candies are: 
Skittles

Reese's 

M&M's

Snickers

Starburst

Candy corn 

Hot Tamales

Tootsie Pops

Sour Patch Kids

Hershey's Kisses 
While these are all classic Halloween candies, given the circumstances this year, we don't blame you if you plan on treating yourself to something a bit fancier. 
The Best Candy Stores Near Ann Arbor and Ypsilanti 
Before we get to our list of the best candy stores in Ann Arbor, oblige us with one more cringeworthy joke. 
"Why did the M&M go to college?"

"Because it wanted to be a Smartie."
107 East Liberty Street Ann Arbor MI 48104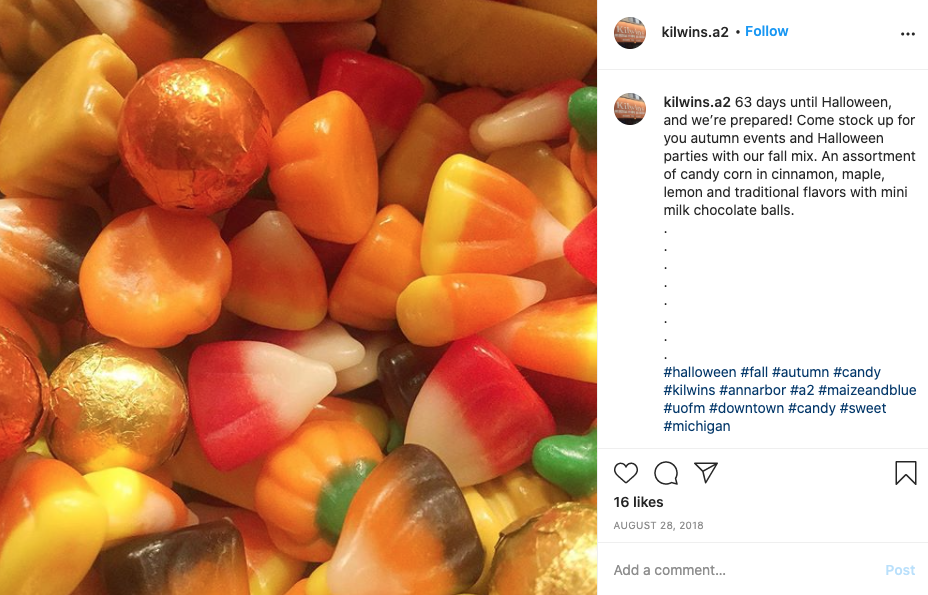 Visiting Ann Arbor's Kilwins is a charming and old-fashioned experience. As you browse its variety of high-quality chocolates, watch employees hand paddle fudge and make brittle and caramel in large copper kettles. In other words, the store smells delicious. 
Try Kilwins chocolate-dipped cookie assortment featuring fun Halloween decorations. 
3723 Plaza Dr Suite 3, Ann Arbor, MI 48108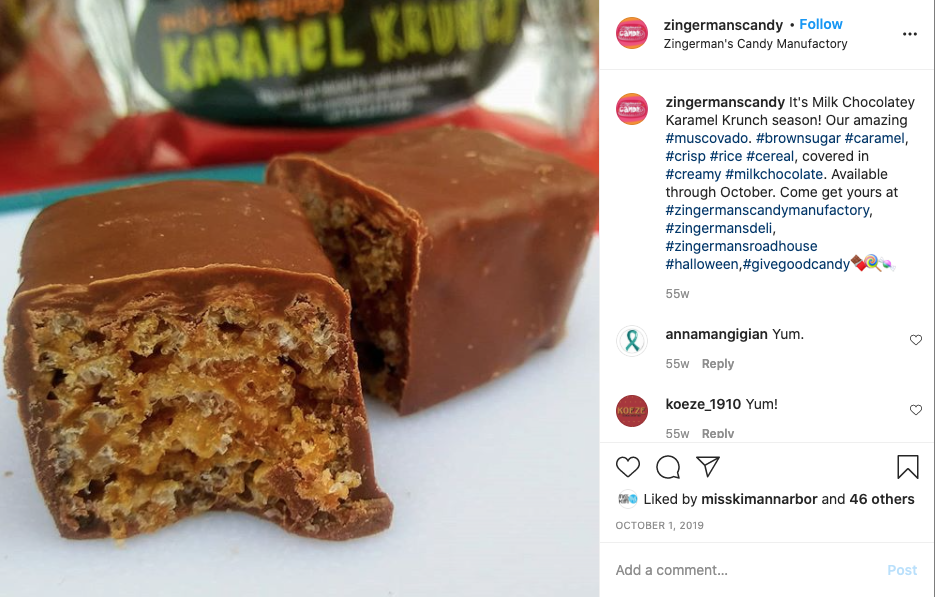 If you love candy bars, Zingerman's Candy Manufactory is your scene. The Manufactory offers five tasty varieties, including flavors ranging from raspberry chocolate ganache to cashew brittle enrobed in dark chocolate.
Try the Milk Chocolatey Karamel Krunch — the Candy Manufactory's seasonal Halloween treat. Devour muscovado brown sugar caramel mixed with crisped rice then drenched in milk chocolate. Are you drooling yet? 
Heads up! Zingerman's Candy Manufactory has temporarily moved a pop-up version of its candy store to the cafe at Zingerman's Coffee Co, right next door. They also offer contactless delivery. 
896 W Ann Arbor Trail, Plymouth, MI 48170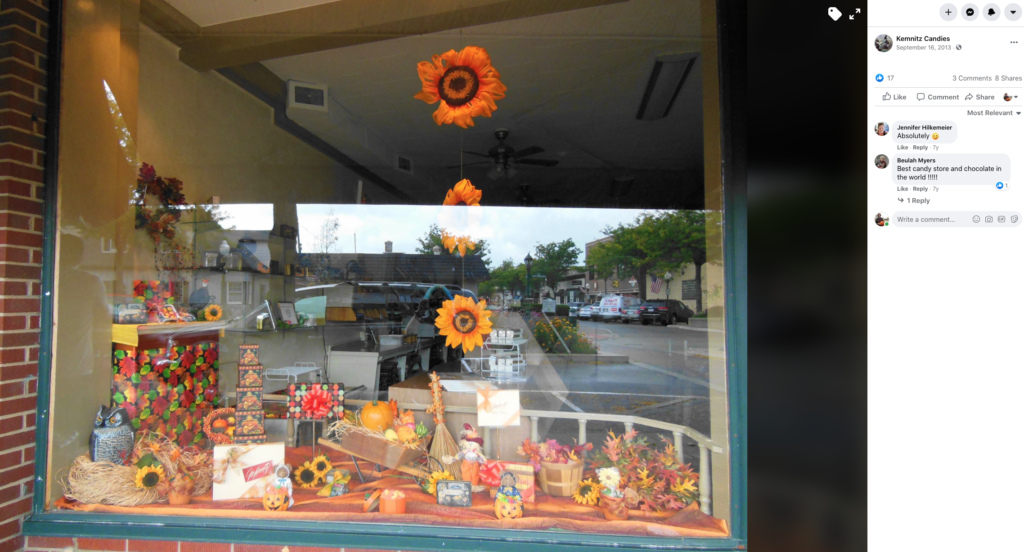 The fine folks at Kemnitz have been crafting high-quality chocolates and candy for over 50 years. Talk about experience!  Further, you always know what season it is at Kemnitz, thanks to its festive storefront decorations. Quaint, small, and smelling of chocolate, Kemnitz is a must-visit during the Halloween season. 
You'll find many Halloween-themed treats, from chocolate shaped like ghosts and skeletons to traditional pumpkin mellow creme confections. 
223 S Main St, Ann Arbor, MI 48104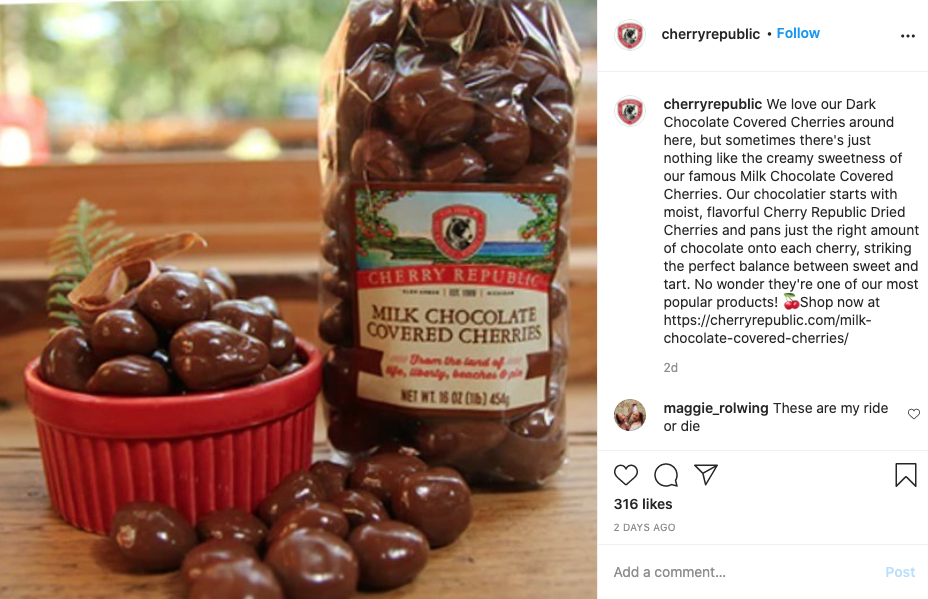 Michiganders love cherries, which isn't surprising since 50% of the nation's cherries are grown in Northern Michigan. Luckily, you won't have to drive to Glen Arbor to taste Cherry Republic's dark and milk chocolate-covered cherries. 
If you're not a big fan of chocolate, the store offers various cherry-flavored candies such as gummies, sour balls, licorice bites, and pretzels. 
122 W Michigan Ave, Ypsilanti, MI 48197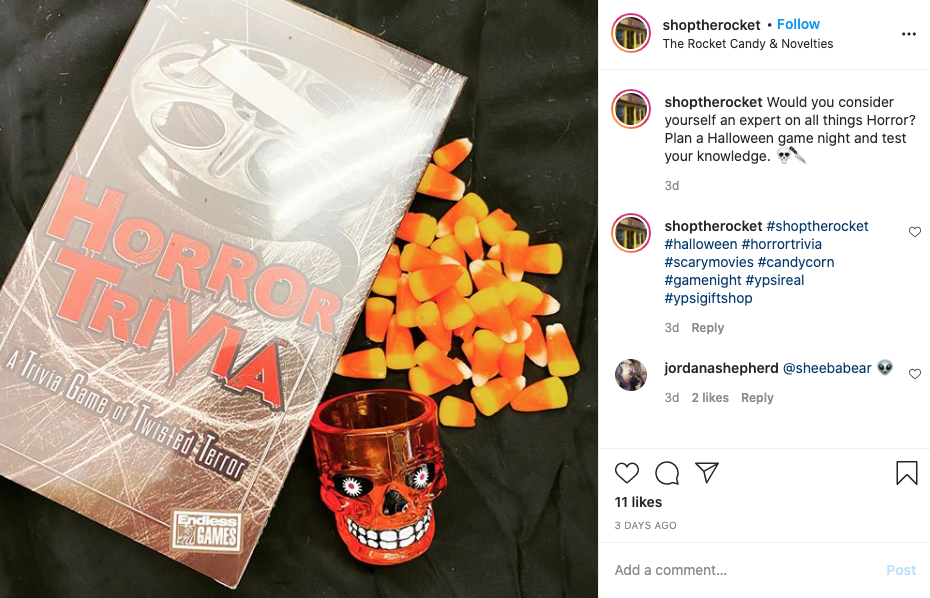 The Rocket in Ypsilanti is your one-stop-shop if you're looking for Jason Vorhees socks, zombie bandages, and candy corn. Wait, that's not your shopping list? Fortunately, there's something for everyone at this quirky location. 
You'll find that the shop's eclectic and unusual variety of candy makes for great gifts. Where else can you try sour gummy french fries and pickle jelly beans? Don't worry, they have classics such as sour rainbow belts and mallow cups, too. 
11061 Trinkle Rd, Dexter, MI 48130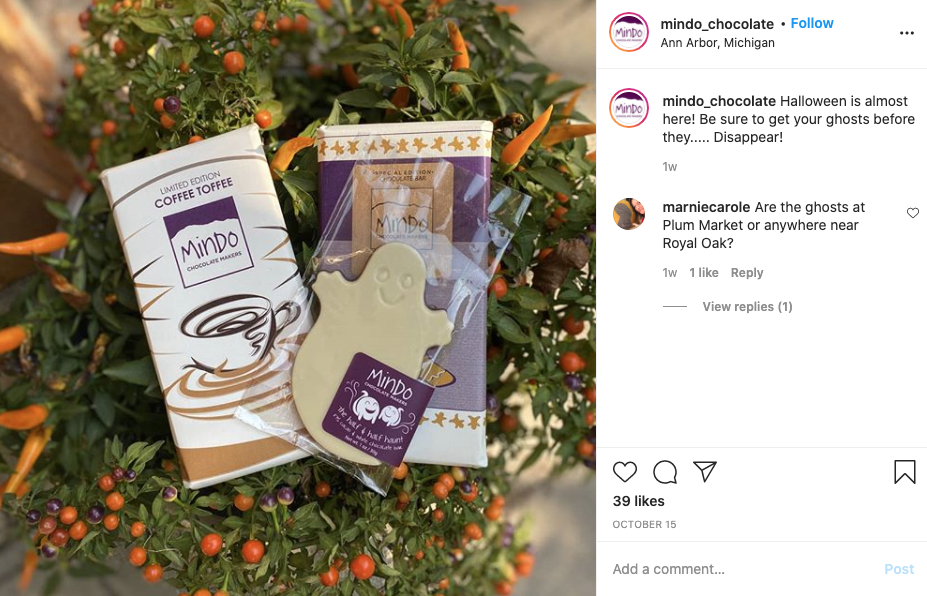 Mindo is a culinary treasure in Washtenaw County.  According to its website, Mindo "searched for native, fine-flavor Nacional variety of cacao grown in an environmentally friendly way. On their property, they set up facilities that allowed them to ferment, dry roast, and winnow cacao. In 2009, Mindo Chocolate Makers opened in Dexter, Michigan." 
While you can't go wrong with Mindo's pure and flavored chocolate bars, for a spooky treat, try its Coco the Ghost — 87% chocolate layered in white chocolate and shaped like an adorable ghost. 
You can order Mindo chocolates for delivery or find them at a local grocery store! 
If you've got it, haunt it! 
Okay you ghosts and goblins. Now that you have the best places near Ann Arbor for Halloween candy, get out there and have a sweet time.
Have a fun and safe Halloween!